Spice up Your Yoga Routine in Asheville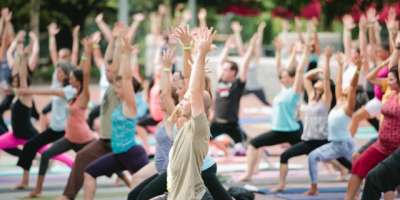 Asheville Yoga Festival: July 26-29, 2018.
Spice Up Your Yoga Routine in Asheville: A Yogi's Guide to Asheville
Keep things fresh and exciting in your yoga practice by bringing your yogi talents to Asheville, where sun salutations meet fresh air, bodies of water and even beer!
Long known as a destination for wellness and rejuvenation, Asheville is quickly building a reputation as the yoga mecca of the Southeast. The Asheville Yoga Festival, now in its second year, is helping the cause. This year's lineup features notable local and nationally-recognized instructors. The instructors will lead more than 90 offerings, from yoga to music to meditation to outdoor recreation. The festival will utilize indoor and outdoor venues throughout downtown Asheville.
Throughout the year, yogis looking to spice up their routine can now perfect their warrior pose in majestic surroundings that go beyond the typical yoga studio. Here are the most unique yoga experiences in Asheville.
Yoga in a Cave
Have you ever wished you could find a way to pump up the health benefits of your yoga routine? Ever thought about flexing your downward dog in a salt cave? The Salt Spa of Asheville and Himalayan Salt Cave Sanctuary are combining the respiratory benefits of Salt Therapy (Halotherapy) with yoga to create Halo Yoga – yoga practiced in a Himalayan Salt Cave room. Breathing in the dry, salt air while practicing lung opening postures and pranayama (yogic breathing) techniques helps allergy sufferers, asthmatics, chronic respiratory problems and helps alleviate stress.
Yoga on the Water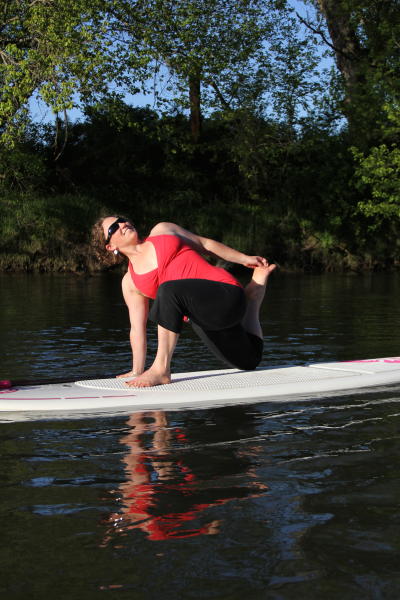 Although the idea of practicing yoga on the water sounds a bit stressful, once you have the peaceful French Broad River as your ground and the sky as your ceiling, you can't help but feel relaxed. Instructor Anna Levesque of Mind Body Paddle helps yoga novices shake their fears and experience the peace of mind that comes with practicing yoga on a stand up paddleboard (SUP). Once students are comfortable and confident, the class is lead through classic yoga poses that are intensified on a SUP board by helping to strengthen alignment, core awareness and balance.
Yoga with Friends
There's no better way to explore a new place than by practicing yoga all over the city with a bunch of like-minded individuals. Visitors to Asheville can do just that with Asheville Wellness Tours, a downtown walking tour that features the best of wellness that Asheville has to offer. Still feeling a bit tight? Asheville Wellness Tours offer yoga and brew events one Sunday a month at Ginger's Revenge brewery. Or, customize your own private group tour with the experiences that sound most relaxing and rejuvenating to you! There is also Yoga in the Taproom offered at UpCountry Brewing in West Asheville.
Yoga in the Park photo courtesy of Yoga Rocks the Park Asheville; Salt Spa photo courtesy of The Salt Spa of Asheville and Himalayan Salt Cave Sanctuary; Mind Body Paddle - Mind Body Paddle/Spencer Cooke​.