Seven Latin Experiences for a Multicultural Trip to Asheville
Asheville is a diverse and multicultural city with a vibrant Latin community. If you're looking for Latin experiences from Salsa (and tango!) classes to authentic tacos al pastor to hiking with Latin groups in the mountains, this guide is for you.
Discover Asheville's Latin side!
1. Take Salsa, Bachata and Tango Classes
Whether visiting with friends, a romantic partner or traveling solo, a fun way to discover the diversity in Asheville is by signing up for a Latin dance class. Here are some best options:
Salsa and Bachata: Salsa and bachata classes occur every Wednesday at 8 p.m. at One World Brewery in West Asheville. Salsa teachers Marco Jeronimo and Emily Easterling lead classes for first-timers and dance lovers of all levels. Learn to dance with a group while challenging yourself to meet new people and dance partners along the way. An open dance floor and craft beers are available after your class. Find more information at Salsa AVL or its Facebook page.
Tango: If you have ever thought about taking a tango class or would love to visit a milonga in Buenos Aires, you can get your first taste of tango in Asheville. Dance instructors Mike Eblen and Mary Morgan await you every Monday with beginner and intermediate-level classes. The night ends with a milonga, an Argentine ballroom dance that will be a highlight of your Asheville adventure. For more information, address and details, write to ashevilliantango@gmail.com.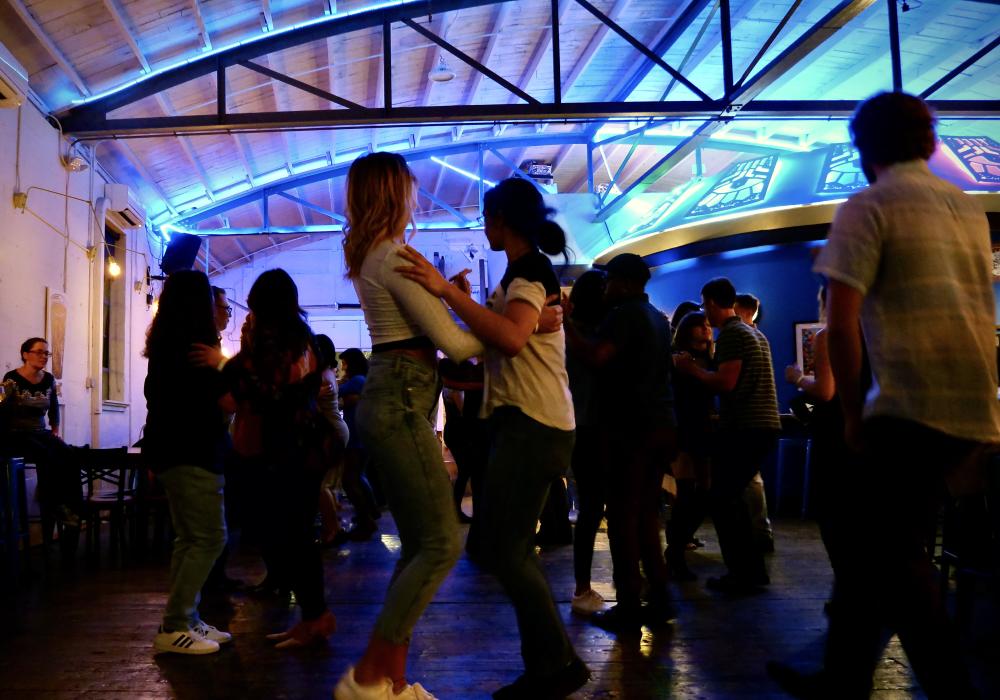 2. Join A Mountain Hike With "Latinos Aventureros"
For Spanish speakers (and non-Spanish speakers welcome!), a beautiful outdoor adventure group, Latinos Aventureros, offers guided hikes to some of Western North Carolina's classic trails. 
Honduran co-founder Sandra Aguirre fell in love with the trails and waterfalls of North Carolina and has visited more than 300 waterfalls. This group is open to everyone and has 1,800 Latin members.
"Our goal is to inform, keep our community active and healthy, enjoy nature and at the same time educate our communities on the importance of caring for our forest environment," she said.
Asheville also has groups like "Riding in Color" or "NC BIPOC Climbers," where you can join and make friends from the Latin community while discovering nature.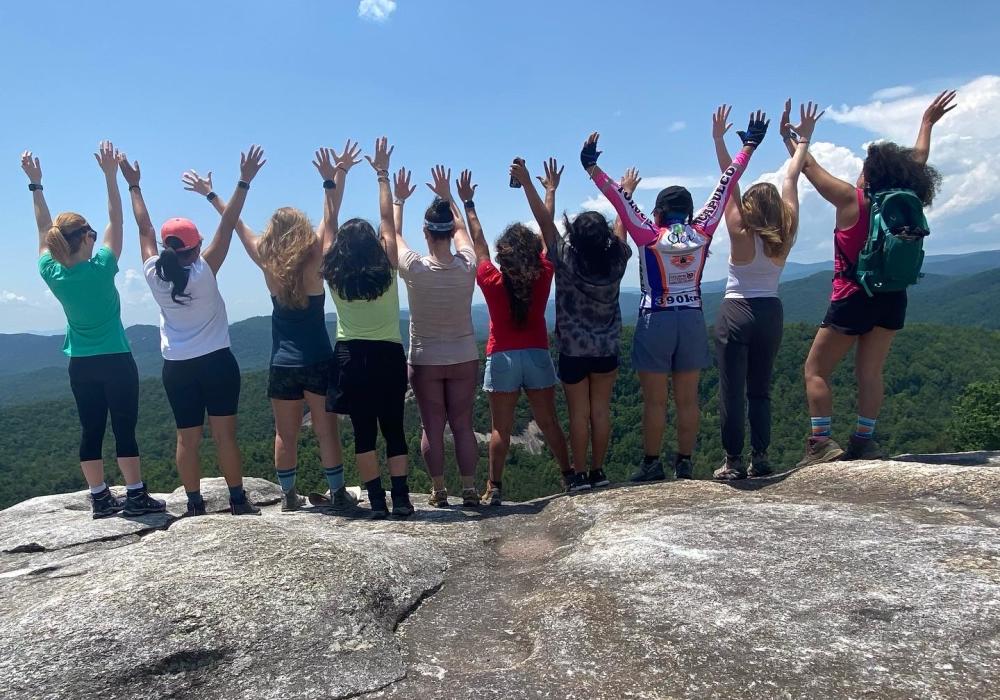 3. Serve Authentic Tacos Al Pastor At Your Party
Traveling to Asheville for a wedding or other events and want to wow the crowd? Check out a local catering service that makes delicious and authentic tacos al pastor. 
Juan Valdez mastered the art of being a "taquero" at 16 when he began working at the famous Taquería El Tizoncito in Mexico City – a restaurant noted for inventing the al pastor taco.  
"I am the only person who can make the al pastor taco, the true al pastor taco in Asheville," Juan said. "It's not the same flavor when it's made with baked marinated meat. I do it with the machine I brought from Mexico, and I also come from a taco family; we are six taco brothers."
If you want authentic tacos al pastor that includes a memorable food prep (ask about the flying pineapple), call Juan (828) 545-4036.
4. Visit Smiley's Flea Market
About 20 minutes from Asheville is Smiley's Flea Market, the largest and most diverse flea market in North Carolina. Walking from vendor to vendor feels like an open-air market in Latin America. Go early to find a parking space and enjoy!
Want to challenge your palate? At Smiley's, you can find edible grasshoppers and worms in the tradition of Mesoamerica. If you've tried them in Mexico and want more or are just looking for a new (yet ancient) culinary experience, this place is for you.
Another recommendation is Taquería Los Gallos (located in the covered part of the market), where you can enjoy authentic pozole, menudo, beef broth, green chicken tamales and all kinds of tacos. Delicious! 
We also recommend a stop at La Conchita, a spot that loyal patrons consider as authentic as it gets. You can find tamales, tacos and more at La Conchita from Tuesday to Sunday.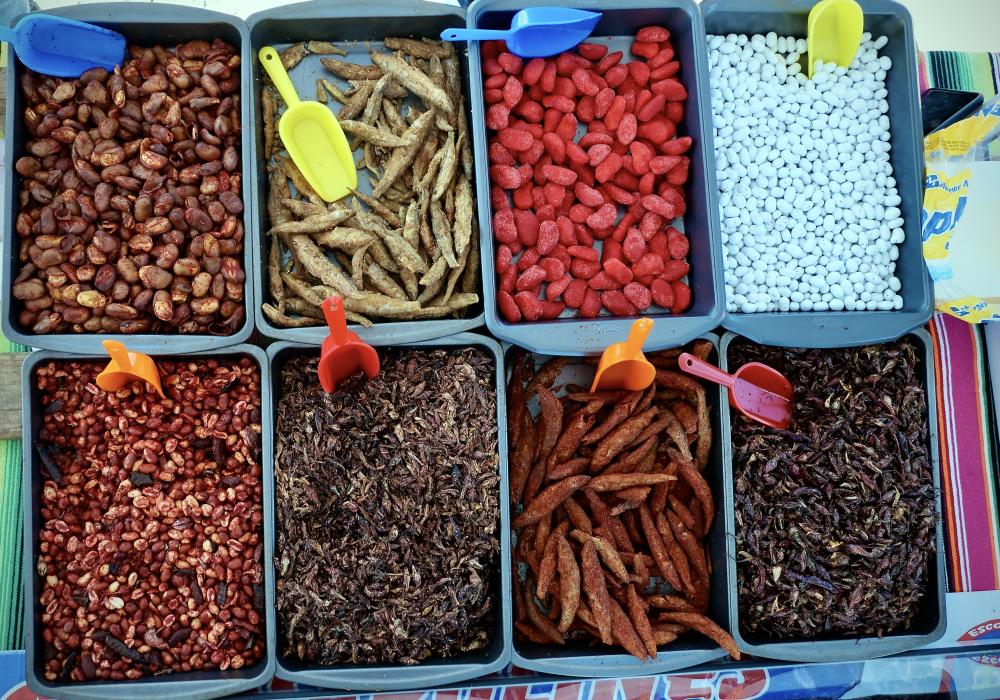 5. Support Latin Owned Businesses In Asheville
On your next visit to Asheville, shop local and Latin. Here are several Latin businesses you will not regret checking out:
Short Street Cakes: This family pastry shop of Olga Pérez Jiménez is located in a cute red brick building in West Asheville. They bake artisan cakes and cupcakes to suit all tastes with vegan options available. 
Buggy Pops: These unique gourmet popsicles combine Puerto Rican and other Latin flavors. Try the cinnamon coconut. Buggy Pops is at the weekly North Asheville Tailgate Market and East Asheville Tailgate Market from April through November.
Tienda Los Nenes: Owned by Luis Manuel Prieto, Los Nenes has a wide variety of marinated meats: carnitas, pastor, chorizo and barbecue, which you can cook at home or buy ready to eat. Their bakery and convenience store are great options for buying Mexican ingredients, fresh produce, bread and pastries.
For more options, check out the guide to Latin businesses in Asheville.
6. Try The Best Latin Food In Town
The Latin food scene in Asheville is growing so fast. It's hard to keep up! You can check out the Latin food guide and choose your culinary adventure.
Here are a few favorites from Latino influencer and Asheville Multicultural creator Luis Serapio:
Salsa's: "It's exquisite. It's also the first restaurant in Asheville where I've seen people line up for dinner long before today's trendy restaurants came along."
Limones: "It's extraordinary, and I dare say that both they and Salsa's are the pioneers in showcasing creative, sophisticated Latin cuisine with quality ingredients."
Ay caramba. "It's terrific. It's special because of its food and because the chef was trained in Mexico. I don't know of anyone else with Enrique's training."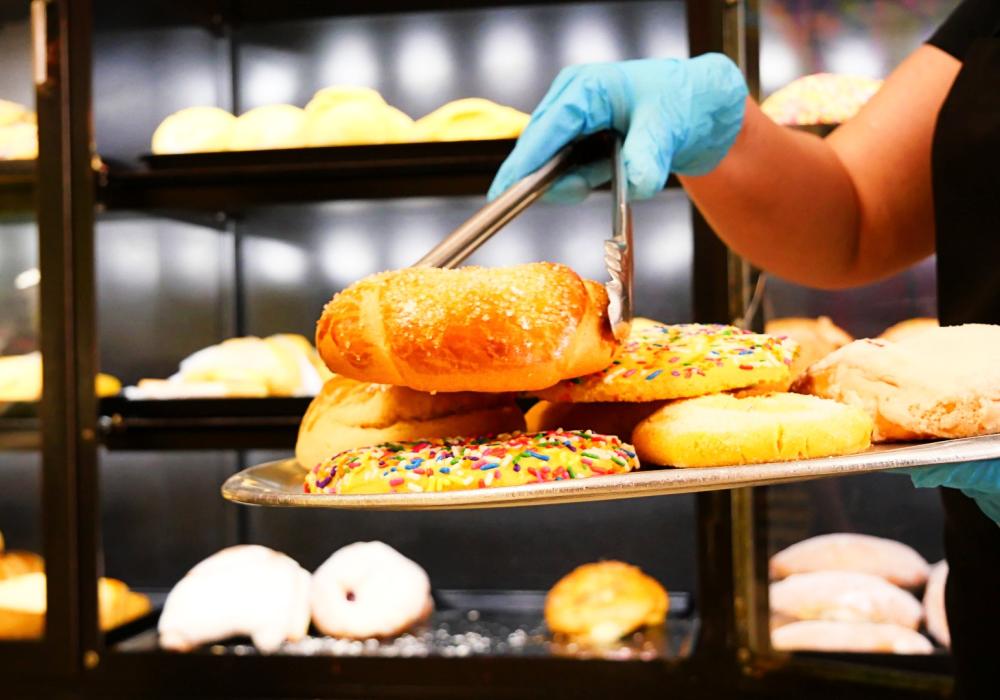 7. Know The Calendar Of Latin Events In The City
Asheville's Latin side is growing so much that it needs its own events calendar. From the hand of Ada Martínez from Muy Mucho Asheville, a digital platform that coordinates and promotes Latin events in the city, here are the events you don't want to miss.
Gozadera Night at Alley Cat Social Club, West Asheville: The event occurs every second and fourth Friday of the month and is organized by Norberto Pizarro.
Latin Night at One World West, West Asheville: Every Wednesday from 8 p.m., Guillermo Moreno organizes the party with music by DJ Mtn Vibez. Info here.
Muy Mucho Late Dancing at Different Wrld, West Asheville: One of the most anticipated and fun Latin parties every month. To know the date, you have to check the Facebook or Instagram page of Muy Mucho. 
Rueda de Casino AVL, once a month, itinerant: Shhh. This event is (almost) a secret. The party location is announced monthly via Facebook. 
Tropical Fridays and Latin Party in Havana Miami: Every Friday and Saturday there are parties with different Latin rhythms in Havana Miami (Downtown Asheville), organized by Hector Hernández.
Updated March 31, 2023