Roasted Eggplant Spread - Melitzanosalata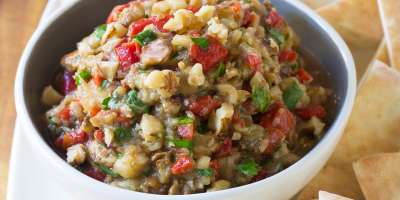 Warm pita or rustic bread just begs to be dipped in this delicious roasted eggplant spread, known as Melitzanosalata, that is served at Golden Fleece.  The mixture of eggplant, oil, lemon, and parsley is a delicious starter to a meal, and perfect when entertaining a crowd.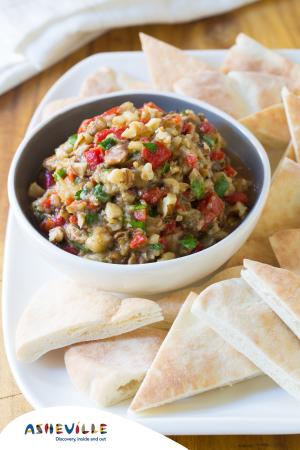 Ingredients:
3 eggplant

1 ½ red bell peppers (can substitute a jar of roasted red peppers)

¼ cup olive oil

¼ cup walnuts, plus more for garnish

2 Tbsp. sherry vinegar

handful fresh parsley, rough chopped

salt and pepper to taste
Directions:
Roast the eggplants and red bell peppers at 450 degrees until charred and softened.

Peel vegetables, discard skins.

Strain the eggplant pulp to reduce liquid, then roughly chop.

Dice the red peppers and mix with eggplant in a bowl.

Mash the walnuts with mortar & pestle, add to bowl.

Mix in the sherry vinegar and parsley.

Drizzle olive oil and mix until desired consistency is reached.

Adjust seasoning to taste; garnish with chopped walnuts, and other ½ roasted pepper, if desired.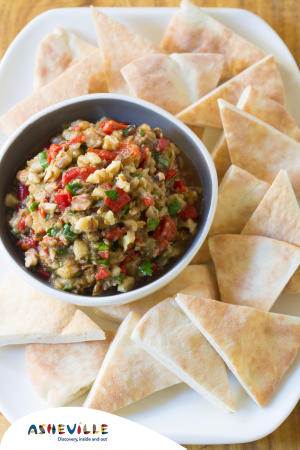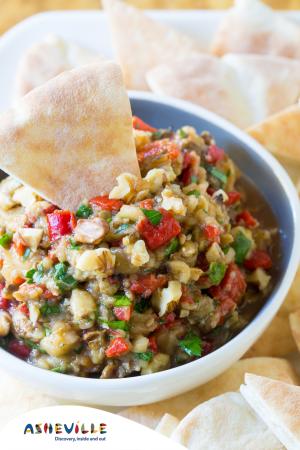 Updated July 16, 2021