From the Earth to the Arts: Hands-On Experiences in Asheville, NC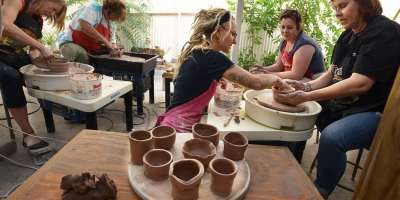 A Hands-On Escape From Your Everyday Life
Asheville is a great place to watch — the people, the events, the crowds and the changing scenery — but it is an even better place to DO. Visitors can explore the natural world, create art and make music.
Here's what can happen in just a day-and-a-half.
Into the Woods
Meet up at a location given to you the evening before by Alan Muskat and his merry band of woods-people with No Taste Like Home. Visitors spend the next three hours learning about more than 300 edible plants, berries, nuts, flowers, roots and mushrooms that are yours for the eating—once you've been tutored by Muskat and his team.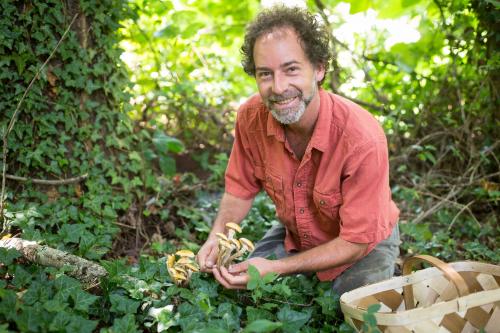 Unique in the U.S., 20-year-old No Taste Like Home has been called one of the best food experiences in the world by Southern Living and Fodor's. It's no accident that the company is based in Asheville; the region is the richest, most biodiverse temperate ecosystem on the planet.
Foraging makes you hungry, so grab lunch in Asheville's River Arts District at White Duck Taco or split a pizza at All Souls Pizza.
Pro Tip: At dinnertime, take your finds to one of Muskat's handpicked restaurants, and the chefs will incorporate the ingredients into a "find dining" experience just for you.
Shaping Clay
You'll have a short walk from lunch to The Village Potters. Discover handmade work from nearly a dozen potters, who are actively creating in their studios for visitors to observe. The studio offers a variety of workshop series for all levels. Up the road, stop in to Odyssey ClayWorks, where artists of all ages can try their hand at the wheel!
A Beautiful Diversion
In the River Arts District, more than 200 artists open their studios and welcome you to join them in the creative process. Watch these artists at work or try your hand at art at The Village Potters, Odyssey ClayWorks, North Carolina Glass Center and other studios throughout the district.
Hot Glass
A short drive from the River Arts District to downtown Asheville serves up the Lexington Glassworks. Visitors watch the artists work, and they can shop, too. 
Hit The Rocks
The next morning, head to Chimney Rock State Park about 30 minutes from downtown Asheville. From the top of Chimney Rock at Chimney Rock State Park, you can see 75 miles out into the Hickory Nut Gorge, look down into the village of Chimney Rock and see Lake Lure where the famous lift scene in "Dirty Dancing" was filmed.
Climbers from age 7 to 60 can book rock climbing lessons with Fox Mountain Guides and Climbing School right in the park.