Banana Bread Pudding Recipe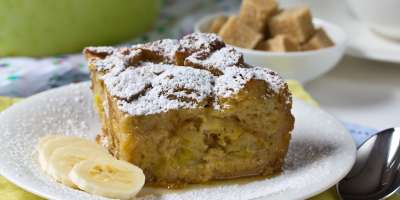 Your friends and family will delight in this incredible and versatile Banana Bread Pudding recipe crafted by the culinary team of the Omni Grove Park Inn. This recipe requires two days to make so prepare accordingly.
Ingredients
2 cups brown sugar
6 whole eggs
2 cups half & half
1 vanilla bean, pod scraped
3 cups leftover croissant, Danish or any other breakfast pastry, medium diced
4 ripe bananas, peeled and sliced thinly
Method
Grease a 13x9x4 inch pan
Mix together brown sugar, eggs, vanilla, and half & half in a bowl
Pour over the diced pastry, cover and let sit in the refrigerator overnight
Next Day
Preheat the oven to 350°
Slice the bananas and fold into the mixture.
Pour bread and banana mixture into prepared pan.
Cover with foil for 20 minutes, remove foil.
Bake for an additional 15–25 minutes, or until set.
Remove from oven.
Can either be served hot or cold.
Try serving with a chocolate or caramel ice cream.