Asheville Authentic Latinx Food Scene: 20+ Latinx Food Spots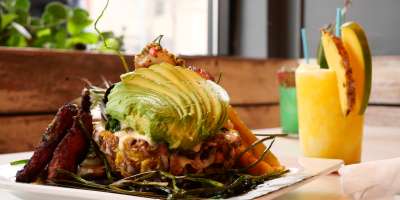 Did you know back in the 80s, Asheville just had two Latin restaurants? Today there are dozens of places bringing flavors and culture from across Latin American to the Asheville area. 
Some of these places are classic sit-down restaurants. But there are also cafés, pop-ups, taquerias, pupuserias, food trucks, and even bodegas. 
Check out these Latinx-owned restaurants and food spots in Asheville with beloved family recipes and great vibes. 
Best Romantic Latin Restaurants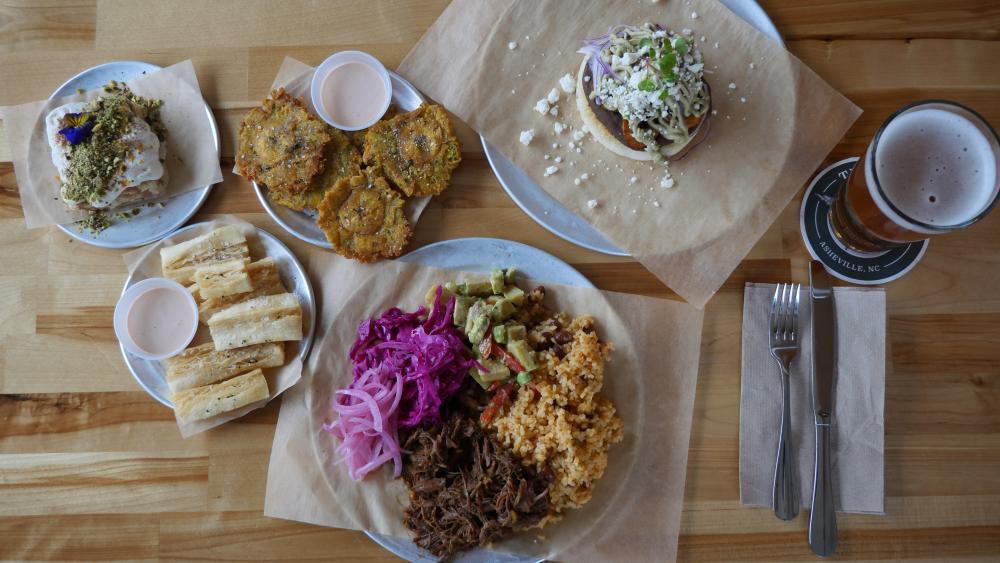 1. Salsa's  | 6 Patton Ave.
This Mexican-Caribbean spot just off Pack Square downtown is a true cornerstone of the Asheville food scene. Chef Hector Díaz opened Salsa's in 1994 and is still executive chef. Salsa's pulls off a vibe that's somehow both sexy and casual, with original recipes that draw from culinary traditions across Latin America and the Caribbean. Plate are served with mountains of rice, beans, plantains, and fresh avocado and salsa, along with locally sourced produce and proteins. 
Favorite Dishes:
Churrasco Argentino (grilled filet mignon with roasted potato, creole sauce)

Del Chamorro (slow-roasted coffee pork shank, annatto sauce)

Pineapple Acapulco Style (mahi, shrimp, crab, oaxaca cheese, plantain, chimichurri, coconut sauce)
2. Limones | 15 Eagle St.
Since moving from San Francisco 18 years ago, Limones chef and owner Hugo Ramirez has brought an innovative combination of his native Mexican and French-influenced California cuisine to Asheville. You'll find flavors here unlike anything you've ever had, for example, an appetizer of Prince Edward Island mussels with chorizo, maiz pozolero (a hominy and tomato broth), and chipotle, served with sourdough. Bring your date here (you'll thank us). 
Favorite menu items: 
Lobster nachos with crema agria, guacamole, black bean sauce, curtido and serrano

Short ribs birria ramen with scallions, bamboo shoots, a sunny side up egg, cucumber kimchi, chipotle chukatare

Cinnamon-brown sugar churros with caramel sauce and sipping hot chocolate
Little Chango opened in the South Slope in 2021 and became an overnight classic. A quaint lunch or casual date spot, Little Chango is the vision of Iris Rodriguez and husband Jose Busto. Their arepas are the best in town, with yuca fries, tostones, and Mamposteao (Puerto Rican-style red beans and rice) rounding things out perfectly. Think craft kitchen meets casual, with every dish begging to be posted on Insta.
Favorite menu items:
Jibara Arepas (Sofrito black bean mash, sweet plantains, red onions, queso fresco, avocado, pepita sauce)

Coconut cardamom flan
Argentine chef Cecilia Marchesini is Asheville's queen of empanadas. While she's well-known for her food trucks and catering, Cecilia's new space on Merrimon Ave. in North Asheville has a sophisticated, café culture vibe – perfect for evening dates when you want to split a bottle of wine and eat a bit lighter.  
Favorite menu items:
La Market - Organic buckwheat batter french crêpe (with mozzarella, eggs, pesto, leeks, potatoes, tomatoes, greens)

Picada Argentina (classic spread of olives, manchego, jamón, and chorizo, served with crostinis and a crispy crêpe)

Empanada de carne (ground beef, onions, olives, hard-boiled eggs)
Most Authentic Tacos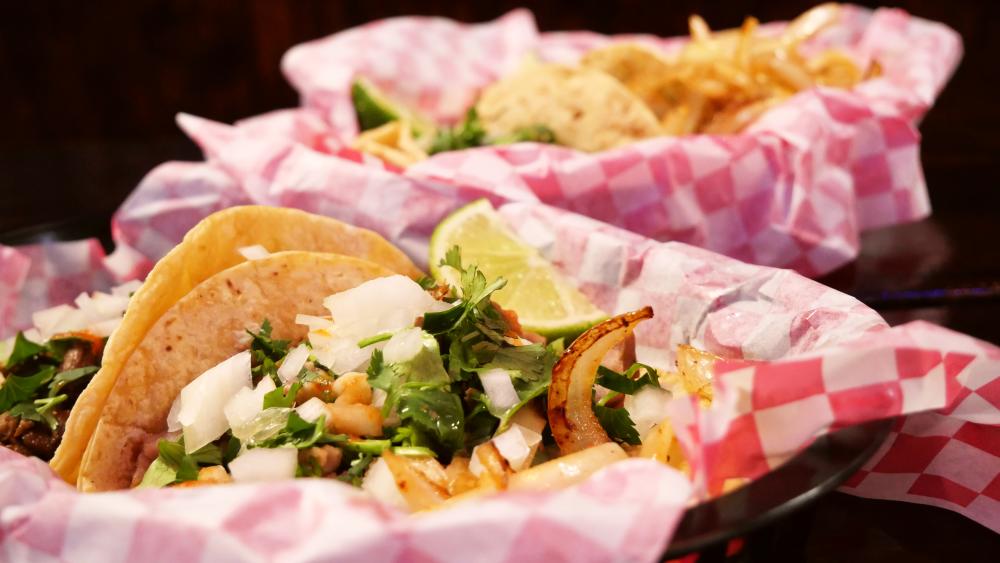 This epically under-the-radar spot is located beside a gas station in Asheville's Emma neighborhood, and it's a picnic table and paper towels kind of place. Don't miss their explosively good tacos de barbacoa, de birria, arrachera, and carnitas. And if they have pozole, tamales, or any other specials, don't hold back. 
Taqueria Muñoz has been killing it as Zillcoah Beer Co.'s resident food truck. But if you haven't visited the Patton Ave. location in West Asheville, you're not getting the total experience. Owner Doña Pilar Muñoz runs a powerhouse kitchen with handmade tortillas, an industrial strength salsa bar, and potent tamales. Some of the most popular orders: tacos de Lengua (beef tongue), birria tacos, and "recetas de la abuela" – a rotating selection of "Grandmother's recipes" including stews, meats, and veggies served with tortillas and rice and beans. Vegetarians can find plenty here, too.
The best Mexican food is all about regionality. Taquería Puebla specializes in cuisine from the Puebla region. You'll find unexpected treats like atole and the kinds of tacos you may have loved in Mexico but couldn't find here, like tacos de huitlacoche and flor de calabaza (squash blossom), and tacos árabes.
8. Taquería Fast | Town & Country Square, 175 Weaverville Rd.
Taquería Fast is a favorite place to pick up lunch on the way to an adventure, heading north of town. Expect to find classic street tacos (carnitas are especially good) and a super tranquilo (chill) vibe. 
Additional beloved and 100% authentic local spots: Tacos Jalisco (1328 Patton Ave. in West Asheville) and Taquería Del Sol (2606 Hendersonville Rd. in Arden).
For a Spicy Brunch with Friends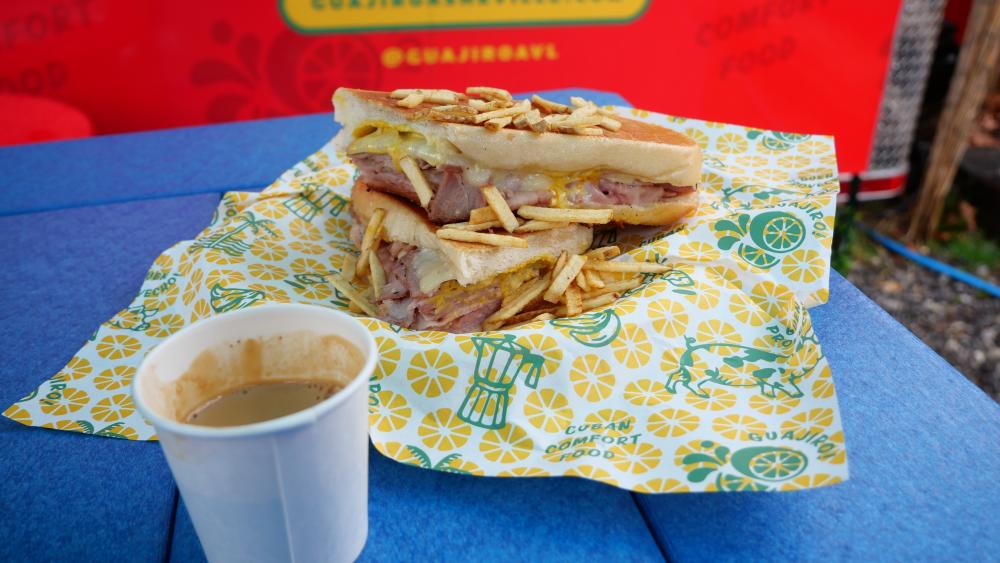 9. Cousin Cuba Café | 108 Broadway Ave., Black Mountain
Owner and chef Beatriz (Betty) Martinez-Sperry and her family have created the perfect brunch spot. You can browse around at their adjoining art gallery while you wait and build up your appetite. Their Cuban sandwiches are solid, but the flavors really come in their lechón asado bowl with white rice, black beans, sweet plantains, and Cuban bread crostini.
As of 2022 Latin food has found a home at RAD (the River Arts District). Owner Chris Barroso turned to his grandmother's recipe for Cuban black beans, and he serves up other homestyle classics, like pastelitos (little pastries), sandwiches (try the media noche), as well as large plates, like lechon asado (marinated tender pork). They've also got fresh juices, Cuban coffees, and batidos.
11. Café Bomba | #1 SW, N Pack Square 
Another one of Chef Hector Diaz's creations, Café Bomba, is at the corner of Pack Square in downtown and maybe the best people-watching spot in town. Since opening in 2012, their menu has evolved from a coffee, pastries, and tapas kind of place, to now serving generous brunch plates all day. A couple standouts: Bomba shrimp and grits (smoked bacon, house chorizo, fried eggs, plantain, green chile sauce) and huevos rancheros.
12. La Rumba | 105 River Hills Rd., Suite C
La Rumba offers brunch all day and has perfect plates, like chilaquiles, to balance out their (excellent) margaritas. Owner Reynaldo Macario brings t the flavors and inspiration of his childhood, growing up in Vera Cruz, Mexico. "When we go out to a fiesta, dance, or party, we say, 'Let's go to la rumba,'" he explains. Menu highlights include mojarra frita (whole fried fish), and carne de puerco en adobo con nopales (braised pork shoulder in a spicy adobo sauce with nopal cactus).
Latin Food Pop-up / Parties / Catering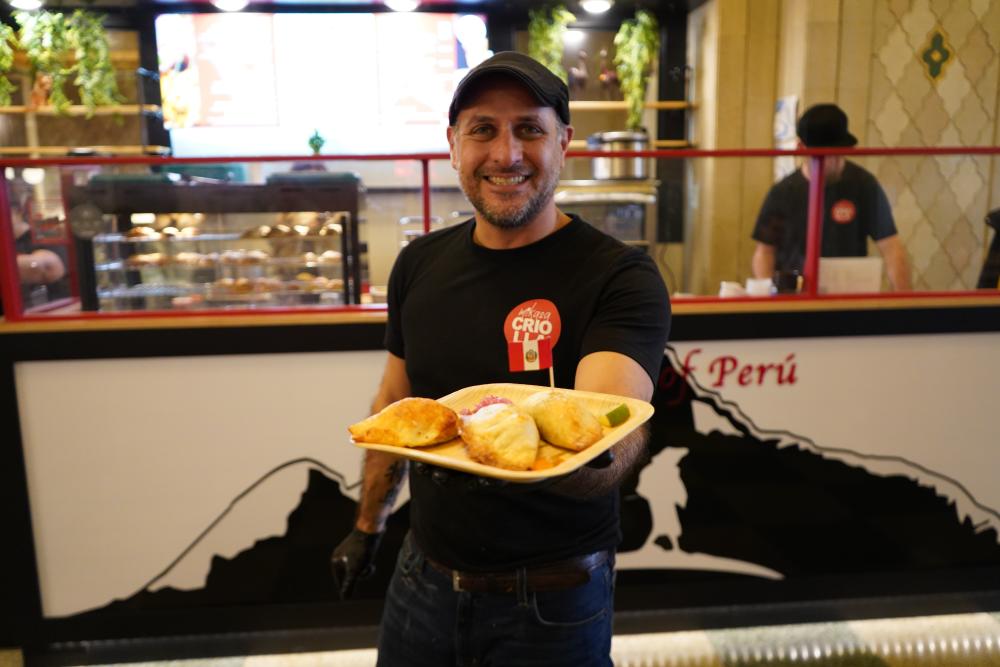 Catering / weddings / pop-ups /  dinner parties 
Mikasa is the vision of celebrated Peruvian Chef Santiago Vargas. His concept highlights s the African, Chinese, Japanese, Spanish, and Italian influences found in  Peruvian cuisine and weaves them into his original fusion dishes. Vargas' inventive cuisine is slated to open its first brickand-mortar location at the S&W Market in Dec. 2022, with the opening of Mikasa Criolla.
Pop-ups / walk-ups / catering
If you've experienced any of Chef Chuck Gutierrez's vegan Peruvian pop-ups at Dissolvr or elsewhere around town, you know why people fall in love with their cooking. They elevate the diverse variety of food represented in Asheville, paying homage to Peru's mix of cultures (for example, a dish called Anticuchos, originally prepared with beef hearts) only remixing the recipes so they're vegan!
15. Tequio Foods / Luis Martínez Creative
Pop-ups 
Chef and social activist Luis Martinez begins by sourcing ancestral corn and beans from sustainable cooperatives in his native Oaxaca, Mexico. With these traditional ingredients, his pop-ups explore various cooking techniques from Oaxaca to Asia, with a commitment to supporting indigenous Zapotec farmers.
Tamales and Latin Food To-go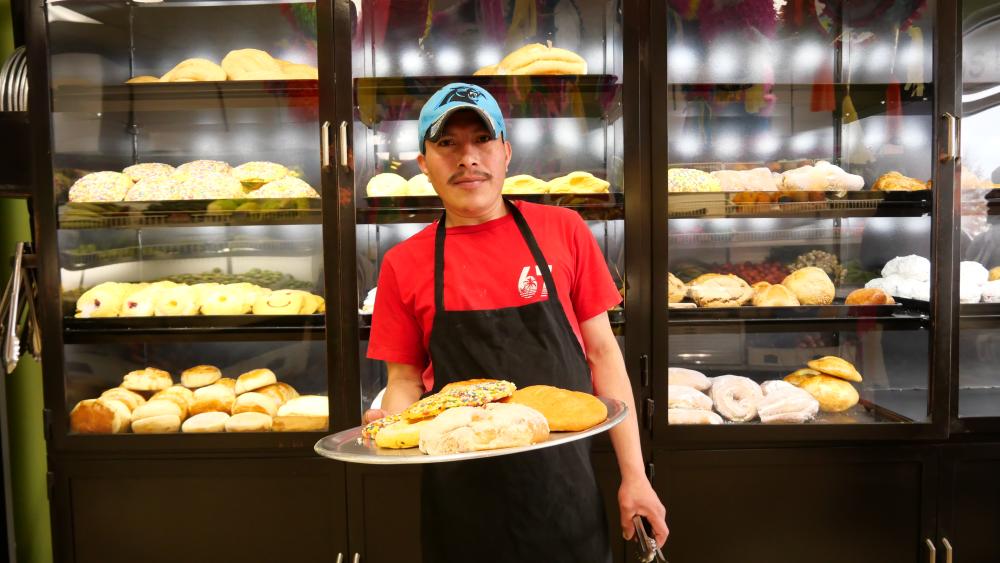 Right by Aldi in West Asheville, you'll find some of the best food to-go in town. Tienda Los Nenes, owned by Luis Manuel Prieto has a huge variety of house-made meats, such as carnitas, pastor, chorizo, and barbacoa. Their adjacent bakery and convenience store are also a great stop for Mexican ingredients, fresh produce and locally-made breads and pastries.
Another classic West Asheville mercadito, La Catrachita is celebrated for their homemade tamales, made fresh exclusively on Friday afternoons. Get them quick because they sell out fast. La Catrachita also carries  specialty products from Honduras and El Salvador.
18. La Gringa Tamalera | West Asheville and East Asheville Tailgate Markets 
Venezuelan-born Maria De Souza and her sister have been making some of Asheville's favorite tamales since 2012, giving a Caribbean and vegan / gluten-free twist to classic Mexican flavors. You can find them at tailgate markets and order online.
Another locally treasured bodega on the North side of town with excellent tortas (sandwiches) and breakfast burritos.
More places to check: Azteca #2 (996 Patton Ave); Tienda Marisol (441 N Louisiana Ave); Tienda Mexicana Rincón Latino (34 New Leicester Hwy Ste C); Tienda Hispana Doña Juanita (1078 Tunnel Rd D).
Pupusas and More
Owner and chef Canduchita Molina has been serving her homemade Salvadoran cuisine in Asheville since 2015. You can find traditional rice flour pupusas, as well as Salvadoran-style tamales (wrapped in banana leaves).
Right next to Taste of El Salvador is Pupusería Patty: a popular stop for travelers, hikers, and locals alike for its convenience, right next to a gas station. It's a great place to grab a meal to-go  or eat at one of the outdoor or indoor seating. Owner and chef Patty Saenz serves a wide range of Salvadoran, Honduran and Mexican Food. Try her famous pupusas, always served with a tangy side of pickled cabbage.
Casual Family Dining 
Sometimes all you're looking for is the classic, never-ending chips-and-salsa Tex-Mex joint. Everyone has their favorite, and the good news is that here in Asheville, there are plenty to choose from. 
For West Asheville, there's the kid-friendly El que pasa (891 Patton Ave). In Leicester, we recommend Ay Caramba (328 New Leicester Hwy. #110). Around Biltmore Village, look no further than El Chapala (777 Biltmore Ave., with a second location at 282 Smokey Park Hwy.).
Or maybe you're a Papa's and Beer fan? Let us know. What are your favorite authentic Latinx food spots in Asheville? 
Updated December 27, 2022