Asheville Artists Create Jewelry You'll Always Treasure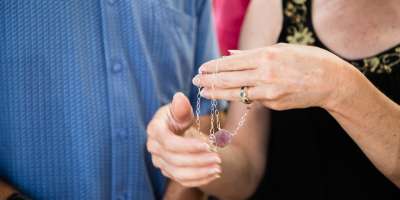 Find a New Statement Piece, or Even Make Your Own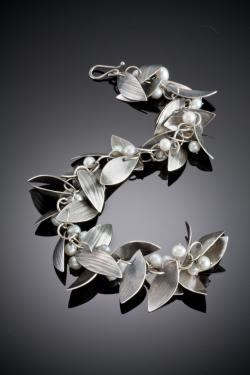 Artists creating jewelry in our mountains are inspired by nature's forms and seasons and practice centuries-old techniques in metalsmithing to create unique, one-of-a-kind keepsakes. Ranging from traditional to cutting-edge contemporary, many of the area's jewelry artists sell their work all over the country through national retailers, high-end galleries and major museum shops.
Area shops and galleries are also filled with the brilliant work of these local artists. One of the oldest studios is Stuart Nye's in Asheville, still making handmade iconic silver jewelry since 1933, most notably the artist's signature dogwood blossom pieces, which you can find at the Southern Highland Craft Guild's shops, the Asheville Visitor's Center as well as the Folk Art Center on the Blue Ridge Parkway. Contemporary jewelry designer Molly Dingledine creates art also inspired by the intricate, delicate forms of leaves and buds, flowers and seedpods.
Make It Your Own
Many local jewelry artists will also welcome visitors into their studios and shops and collaborate to create a customized, personalized piece – just for you.
At Roberto Vengoechea's Visions of Creation Gallery in Black Mountain, for example, you can take a one-day workshop where you'll emerge with a beautiful silver ring you've made yourself. His own Dali-esque designs are also available, including signature mountain-inspired rings, pendants and earrings. Paula Dawkins' Jewels That Dance gallery in downtown Asheville has been creating custom pieces since 1983.
In Weaverville, Suzanne Q Evon, or "Q" as she is known, transitioned from a New York City modeling career to the world of jewelry design and metalsmithing. She employs old-world techniques to create sleek designs, many using locally sourced copper, bronze, steel and other metals. Her work has been featured by such national brand names as Banana Republic, J. Jill and Sundance catalogue as well as in local galleries and shops such as Weaverville's Miya Gallery and Bellagio Art to Wear, New Morning Gallery and the Allanstand Craft Shop in Asheville.
From the River Arts District to Shops and Galleries
Many working jewelry artists make their home in the River Arts District, including Mary Timmer, whose work can be found at Grovewood Gallery. She uses sterling with gold overtones for most of her pieces, often adding the luster and color of pearls or the shimmer of precious stones. You'll also find the work of master gold and silversmiths Thomas Reardon and Kathleen Doyle at Grovewood Gallery ranging from wall pieces to wedding bands.
Also in the River Arts District, explore the fascinating world of reliquaries, wearable shrines inspired by old maps and celestial charts, at S. Rosendale Martin's Hatchery studio. Or the signature bluebirds – both refined as well as whimsical – created by Jessica Hall, who also does custom-design work in addition to selling her art at Woolworth Walk in Asheville and Mountain Nest in Black Mountain. Reiko Miyagi's Tabula Rasa studio showcases this Japan-born artist's signature metal and enamel contemporary jewelry. 
Silver bracelet by Molly Dingledine; photo by Taylor Dabney. Thomas Reardon and Kathleen Doyle at work in the studio; photo courtesy of TRKD Portfolio Metalwork.