A Crossroads of Shopping & Dining at Biltmore Park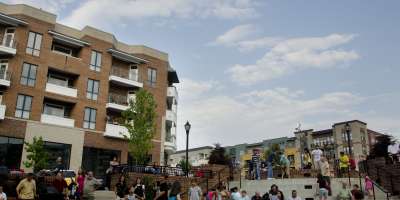 Head south from downtown Asheville, where the French Broad River meanders alongside I-26 and you find the pedestrian-friendly shoping and dining neighborhood of Biltmore Park.
Developed by the great grandson of George Vanderbilt, the area incorporates residences, businesses, schools and retail shops in one planned community that promotes fitness and fun with the best of Southern living.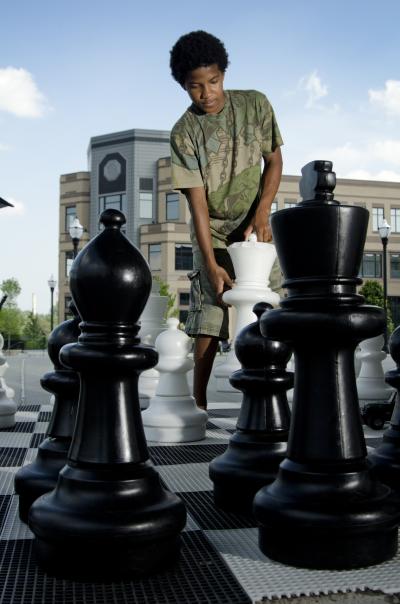 Who can resist the giant chess set outside O. P. Taylor's toy store, or stopping for a bite at one of the many deliciously casual family restaurants that line the streets? Outdoor dining options are plentiful here when the weather permits.
This is also home to one-of-a-kind high-end local boutiques, carrying everything from designer footwear and exotic flowers to wedding gowns and chic fashions, as well as favorite national retailers like REI and Barnes & Noble.
A weekly tailgate market from April through November features fresh seasonal produce, cheese, meat and poultry from area farmers.  From June through October, Biltmore Town Square becomes a sound stage for free Concerts in the Park. Year round, there is great local beer at the Thirsty Monk, an Asheville institution for those who prefer their carbohydrates in liquid form. And, lights help illuminate the area for the holiday season.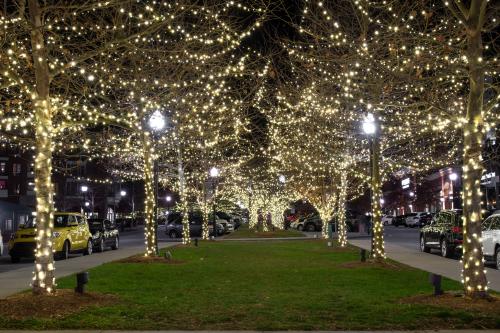 The Hilton Asheville Biltmore Park provides comfortable accommodations in the heart of Biltmore Park and free shuttle service to and from the Asheville Regional Airport, just one exit away. Its Fork Lore Restaurant (formerly known as Roux) offers gourmet meals for breakfast, lunch and dinner, prepared with fresh, local ingredients. And when it's time to relax, the hotel's Sensibilities Spa is ready with a full range of beauty treatments and services guaranteed to rejuvenate and refresh.
Not only is there plenty to do in Biltmore Park, there is plenty to do nearby. Just minutes from the town center is the North Carolina Arboretum. With its acres of gardens and miles of trails, the Arboretum is a favorite getaway for locals and visitors alike.
Along the banks of the nearby French Broad River, tubing and rafting enterprises launch guests on leisurely rides down one of the world's oldest rivers. This stretch of the river barely resembles its much more northern locale that boasts Class 4 rapids. Here the French Broad is soothing, even lazy at times, perfect for visitors of all ages who want to relax and savor the journey.
Biltmore Park's is just an exit away from Sierra Nevada's East Coast brewery and tasting room. Described as an "amusement park for beer lovers," this fantastic addition to Asheville's brewing community includes a tap room, restaurant, outdoor patio and event space and popular brewery tours for a peek behind the scenes.