10 Things You Didn't Know About Asheville-Area B&Bs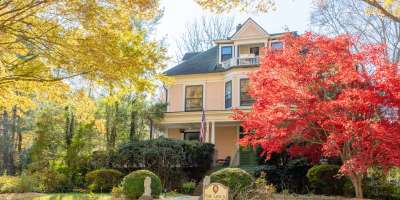 Getting Personal With Some Blue Ridge Boutiques
Asheville's emergence as a national destination is nothing new for this bohemian mountain city. At the turn of the 20th century, Asheville was a favorite playground of America's rich and famous. Look past its landmark buildings, however, and you'll find a rich collection of eclectic B&B accommodations, many with a secret or two.
And, for lovers of the holidays, be sure to see the amazing decorations at area B&Bs by taking our online photo tour!
Best in Show
Chestnut Street Inn: Thanks to its wealth of 5-star reviews, Chestnut Street Inn received the honor in 2021 of best bed & breakfast in the state of North Carolina according to Yelp. The Inn, which is just one mile from downtown Asheville, offers luxe robes, local beer on tap and even a secret stash of ice cream. The Inn is owned by Emilie and Arturo, who speak three languages.  
The Diamond, the Actor, the Author and the Composer
Reynolds Mansion: Built in 1847, this brick mansion has a 20th century matrimonial connection to the famed and ill-fated Hope Diamond. Seems N.C.'s oft-married U.S. Senator Robert Rice Reynolds often stayed at this family home with his fifth wife Evelyn Washington McLean, owner of the Hope Diamond. Today's guests agree that the Reynolds Mansion is a gem not to be missed.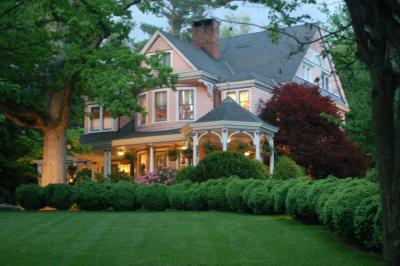 Beaufort House: Charlton Heston was an aspiring actor and manager of the Asheville Little Theater when he and his wife lived in this colorful Queen Anne-style Victorian boarding house. Today this elegant B&B is still an easy walk to downtown Asheville's fine restaurants and music venues and, of course, the Asheville Little Theater—now called the Asheville Community Theater.
Albemarle Inn: The great Hungarian composer Bela Bartok wrote his third piano concerto (the Asheville Concerto) while a guest at the Albemarle Inn in 1943. This grand 1909 Greek revival mansion still attracts guests from far and near who draw inspiration from the spectacular English garden and sumptuous food. November through February the Inn offers cooking classes.
The Lion and The Rose: As one of Asheville's longest-operating inns, this stunning rose-colored Queen Ann/Georgian style home has earned its place as a first stop on Asheville's historic trolley tours. A character of Thomas Wolfe's Look Homeward Angel, Tommy French, was even based on the son of the inn's former owners. The 1898 residence features original leaded and stained glass windows and four fireplaces. Frommer's travel guide has taken note, calling The Lion and The Rose one of the "best run B&B's in the greater Asheville area." 
The Legacy of Richard Sharp Smith
The influence of Richard Sharp Smith, resident architect at Biltmore House, extends well beyond the Estate to Asheville's historic Montford neighborhood and these B&Bs:
Carolina Bed & Breakfast: Built in 1901, this house features the pebbledash stucco exterior made famous at Biltmore Estate and rooms with clean lines that set the Arts and Crafts movement apart from the more ornate Victorian designs. The daily menu includes homemade breads, jams, and sweets and, during social hour, Southern favorites such as fried green tomatoes and sweet potato chips.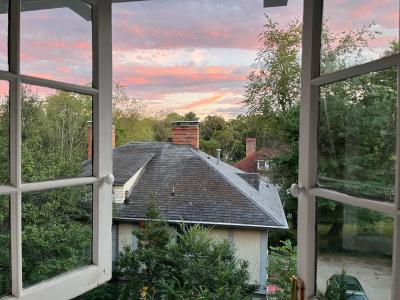 1900 Inn on Montford: This wood-shingled home is furnished with American and English antiques, but its bathrooms are the attention-getters. In 2014, two were featured in SmarterTraveler.com's 10 Gorgeous Hotel Bathrooms Around the World. Their only rival is the recently renovated Thomas Wolfe room that features a stunning roman bath.
Abbington Green: This Colonial Revival-style home was built in 1908. In 1993, it opened as a B&B and has been hosting guests ever since. It has a decidedly English feel that extends to the beautifully landscaped boxwood parterre, oriental, shade, cottage, and chartreuse gardens that surround the house. But when the holiday season rolls around, Abbington Green is All American, with lights, trees, nutcrackers and angels.
Black Walnut B&B: Listed in 1,000 Places to See Before You Die, this 1899 home includes eight guest bedrooms and even a pink marble sink carved by Thomas Wolfe's father, Grant. Afternoon tea and wine tastings are perennial favorites, as Sandra Bullock discovered while a guest during the filming of 28 Days and members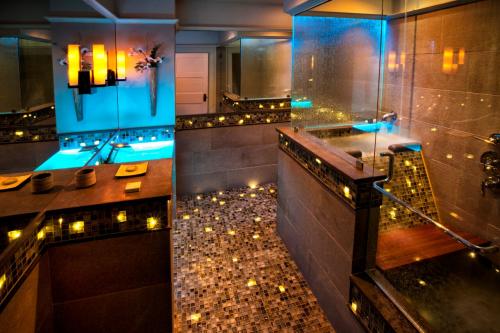 of The Hunger Games crew enjoyed during their stay. 
A Stagecoach Stop Reimagined
Black Mountain Inn: Built in the 1830s as a stage coach stop, this B&B once served as a tuberculosis sanitarium before becoming an artist studio. In the 1940s, when Black Mountain College was at its height, the studio hosted such greats as Ernest Hemingway, John Steinbeck and Norman Rockwell.  Today its ancient oaks and lush mountain landscape invite guests to relax and sit a spell.
These are just a handful of the wonderful Bed and Breakfasts in the Asheville area. See our list of Bed and Breakfasts in Asheville. 
Beaufort House photo by Jim Muth. 1900 Inn on Montford photo by Michael Oppenheim. 
Updated December 12, 2022