Restaurants Open on Thanksgiving in Asheville, N.C.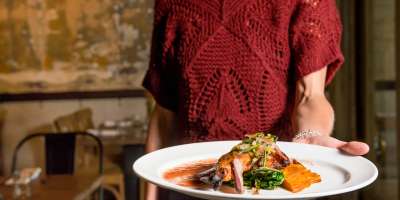 Asheville welcomes you for the Thanksgiving holiday! It's an exciting time to be in town as many of Asheville's favorite holiday traditions have begun.
See our guide to 8 ways Asheville sparkles for the holidays and our guide to the top places to see holiday lights in Asheville.
If you'll be here in the mountains on Thanksgiving Day, you may be asking, "Where can I have a Thanksgiving meal in Asheville?"
We work with the Asheville Independent Restaurant and others to help answer that question for you with this list of local eateries that will be open on Thanksgiving Day.
As with any holiday, we highly recommend calling the restaurant before finalizing your plans to check availability, menus and whether reservations are required. Click on the name of restaurant for contact information.
As we gather information for 2019, take a look at our list from last year (2018) for an idea of restaurants that are traditionally open on the holiday.
Asheville Restaurants Open On Thanksgiving Day (November 22, 2018):
BUFFETS
PRIX FIXE
Enjoy multi-course meals crafted especially for the Thanksgiving holiday.  Reservations are required and seats are limited so call ahead.
The Blackbird: 11 a.m. – 8 p.m.
Butcher Bar Black Mountain: Two seating times: 3:00 p.m. and 5:00 p.m.
The Dining Room (Biltmore): 3:00 p.m. – 9:00 p.m. (Requires estate admission)
Isa's Bistro: Noon – 5:00 p.m.
Post 25: Noon – 9:00 p.m.
Red Stag Grill: 11:30 a.m. – 9:00 p.m.
Storm Rhum Bar & Bistro: Waiting list and first come/first served seating at the bar still available.
SPECIAL THANKSGIVING MENUS
Enjoy your choice of traditional Thanksgiving favorites or items from the regular menu. You may want to call ahead to see if reservations are available.
OTHER OPTIONS
Here are other places that plan to be open serving regular menu items, breakfast, desserts, cocktails, or late night eats.
Updated May 7, 2019