New Year's Eve Events in Asheville, N.C.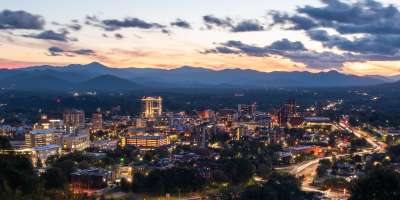 2023 is on the horizon, and in Asheville you can ring in the New Year with a number of spirited celebrations planned throughout town.
Check back frequently for more events and ways to celebrate New Year's Eve in Asheville!
2022 Asheville New Year's Eve Celebrations At-A-Glance
New Year's Eve with 007 with the Asheville Symphony – Thomas Wolfe Auditorium, 8 p.m.: Leap into the New Year like the world-famous spy himself with musical stylings of Bond movie favorites backed by the Asheville Symphony. Classics like the "James Bond Theme," "Diamonds are Forever" and more are the perfect way to ring in 2023.
New Year's Eve Heritage Celebration Package – The Omni Grove Park Inn: Experience a classic New Year's Eve celebration like an Old Hollywood star at the Omni Grove Park Inn this New Year's Eve. Stroll down a red carpet as you say goodbye to 2022 and welcome 2023.  
NYE at The Dolly Disco: Dolly Parton Inspired Country Western Dance Party - The Grey Eagle, 9:30 p.m. - Check out this country disco celebration for NYE where you'll dance to the famous tunes of Dolly Parton, Cher, Whitney Houston, Kacey Musgraves and more! 
Leftover Salmon - Salvage Station, 8 p.m. - Leftover Salmon will be performing LIVE on the Indoor Stage at Salvage Station on New Year's Eve. Root Down will be serving their delicious twist on Southern Soul food and Salvage Station will have multiple bars open for you to enjoy! Doors open at 7 p.m.; show starts at 8 p.m. 21+ only show.
New Year's Eve Tapas Class - Asheville Mountain Kitchen, 6 p.m. - 9 p.m. - Bring the wine and enjoy learning about tapas pairings for a cool New Year's Eve night at the Asheville Mountain Kitchen. 
New Year's Eve Intention Setting Practice - Asheville Yoga Center - Take a deep breath and enter the new year centered and with purpose! Join the Asheville Yoga Center for a New Year's Eve Intention Setting and start the new year off right!
NYE Roaring Twenties - Grove Arcade, 8 p.m. - 1 a.m. - Take a step back into the 1920s with a ticket to the Grove Arcade's New Year's Eve bash. This speakeasy soiree includes live entertainment, a full bar and more. 
Papadosio at the Orange Peel, 7 p.m. - Enjoy a musical New Year's Eve at Asheville's iconic music venue, the Orange Peel. This two-night festival features Mark Farina and Soohan. 
Modelface Comedy at the Asheville Beauty Academy, 7 p.m. - 9 p.m. - A night filled with laughter is the way to ring in the New Year at Asheville Beauty Academy. Modelface Comedy brings in comics from all over the country just for your entertainment! 
NYE Party with DJ GruntWerk - at Vintage Kava, 10 p.m. - 1 a.m. - Get the party started on New Year's Eve with a fun night at Vintage Kava in Weaverville. DJ GruntWerk will be performing starting at 10 p.m. 
New Year's Dinner at Cúrate - Limited seating is available at this exceptional dinner on New Year's Eve. This will be Cúrate's first NYE offering and dishes include Catalan seafood stew, Wagyu steak and more. 
Midnight in Paris at the Asheville Beauty Academy, 5 p.m. - 8 p.m. - Experience midnight in Paris at the behest of MetroWines this New Year's Eve from 5 p.m. to 8 p.m. at the Palor at the AVL Beauty Academy. The evening consists of dinner, dancing and a "midnight" toast at 6 p.m. to correspond with midnight in Paris. 
Skate Night at Carrier Park, 7 p.m. - 11;30 p.m. - Enjoy the thrill of rocking and rolling with other skaters at Carrier Park on New Year's Eve. This skate night kicks off at 7 p.m. and goes until 11:30 p.m. 
The Tall Boys at Ginger's Revenge, 7 p.m. - 9 p.m. - Have fun with some live music at Ginger's Revenge with The Tall Boys. This Asheville-based band brings a lively blend of rock, reggae and singer-songwriter styles to the stage. 
New Year's Day Special Events
Winter Break Animal Encounters - Join a Chimney Rock State Park naturalist and meet some of the Chimney Park live animal ambassadors to learn what kind of wildlife lives in the park and how they impact our ecosystems! This even runs from December 26 - December 3 at 2 p.m.
Barn Door Ciderworks Collard Greens & Black-Eyed Peas, 12 p.m. - 6 p.m. - Kick off the new year with some traditional food at Barn Door Ciderworks. 
Resolution Run 5K & 10K - Pack Square Park, 10 a.m. - 12 p.m. - Get your running shoes on and bring in the new year with a refreshing race around the city! The 9th Annual New Year's Resolution Run 5K & 10K takes runners through downtown and nearby North Asheville neighborhoods before heading back downtown to the finish line. 
The Future is Drag Brunch at the Asheville Beauty Academy, Doors open at noon - Kick off the new year with a bit of brunch fun at Asheville Beauty Academy January first with the legendary Ida Carolina, Euphoria Eclipse and guest queen Katarina SynClaire. The show comes with the brunch buffet and complimentary mimosa or bloody mary. 
For more great events, including great live music, see our full events calendar!
If you don't see the event listed for your business, please contact us at news@exploreasheville.com.
Updated December 22, 2022