Things to Do in Asheville This Weekend -- May 7-9, 2021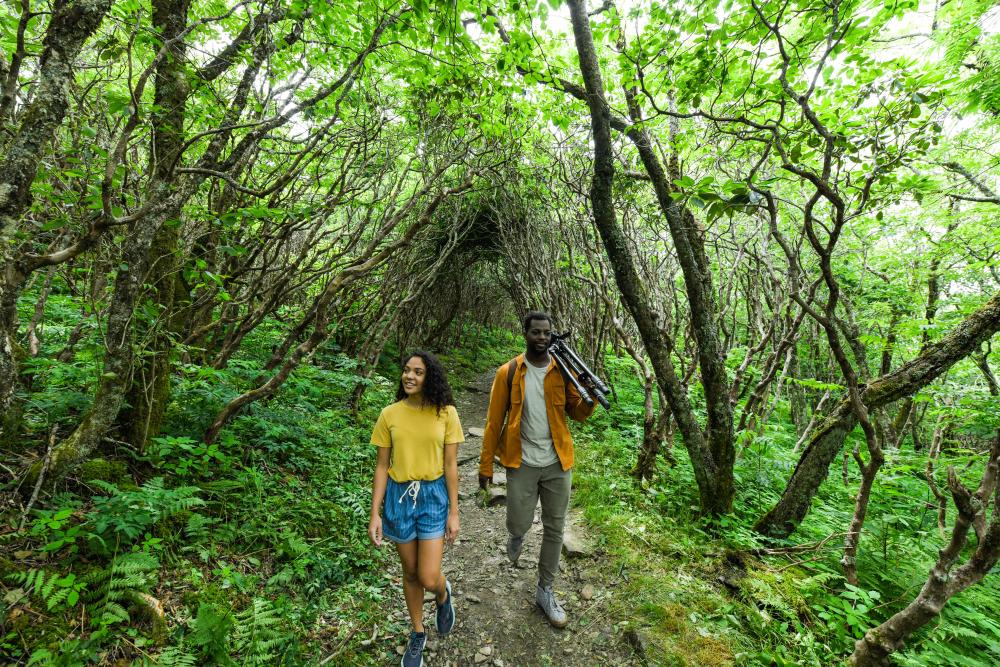 As you make your plans, you may be asking, "What is open in Asheville?" or "What are things to do during my visit?"
We look forward to safely welcoming you back to Asheville. Whether you are visiting us soon or planning ahead, please be aware of the following guidelines and travel precautions currently in place to make your next trip to Asheville healthy and safe. 
Below, you'll find ideas for things to do in Asheville. Also, check out our list of open businesses in Asheville.
With spring officially underway, check out our guide to spring in Asheville!
Asheville area accommodations are taking reservations. Utilize our easy-to-use search feature to check room availability and rates. 
Here are ideas for what to do this weekend:
Show Mom how much you love and appreciate her by treating her to a day in Asheville and the Blue Ridge Mountains! This year, Mother's Day is Sunday, May 9. From pure relaxation to mountain adventure, we have put together a guide to Mother's Day in Asheville that'll give you ideas and helpful tips to help you plan the perfect day. 
The River Arts District is now better than ever thanks to a multi-million dollar redevelopment project completed this spring. Join the artists and businesses in celebrating the completion of this project! A month-long grand opening celebration is planned from April 22-May 20, 2021.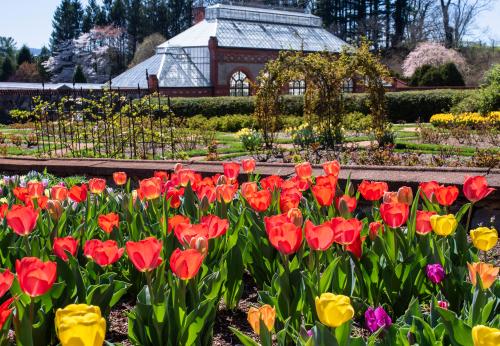 Welcome spring in high style at Biltmore with more than 110,000 flowers blooming in gardens fit for a Vanderbilt. At Biltmore Blooms, the estate's annual festival of flowers, the color and fragrance of orchids and thousands of spring bulbs steal the show. As you explore the gardens this season, experience the whimsical Biltmore Gardens Railway. This popular model train exhibition returns to multiple rooms of the Conservatory.
And, new in 2021, explore a unique outdoor Stickwork sculpture by environmental artist Patrick Dougherty, known as "Stick Man," at Biltmore's Antler Hill Village. Renowned worldwide for his monumental creations, Dougherty has woven willow branches together into an intricate artwork. You are invited to walk through it and around it, which affords you the opportunity to see the the detail up close.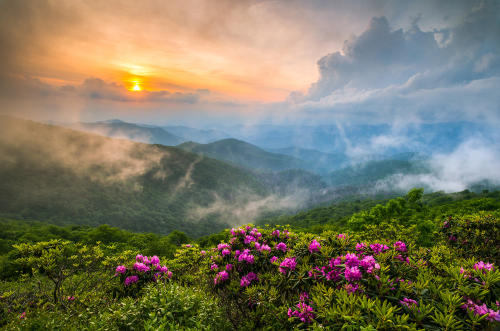 Spring is a time of rejuvenation in the Blue Ridge Mountains. Mother Nature renews herself as the mountainsides green up with fresh leaves. Bright blooms emerge. And, warmer temperatures breathe new life into the city.
It can also be a time for you to personally experience a personal spring rejuvenation. Awaiting you are stunning gardens with thousands of flowers, wellness offerings to boost mind, body and spirit, and culinary delights that tap into the local harvest.
We have put together a guide to spring in Asheville to help you discover the best wildflowers, events and tours that the season has to offer here in the Blue Ridge Mountains.
Discover carefully crafted experiences led by Asheville's community of local creatives and adventurers. With safety at the forefront, our "Curated Asheville" personalized experiences highlight some of Asheville's best activities and tours while maintaining proper social distancing and safety protocols.
From outdoor yoga to intimate cooking tutorials with expert chefs, there are a variety of things to do in Asheville for solo adventurers, couples and families alike. Choose from private or semi-private activities that are personalized just for you!
With the coming spring, art blooms at local galleries at museums.
Book a tour with the Smith-McDowell House Museum and you'll also be treated to an exhibit celebrating the lives and music of African American people in Western North Carolina. Ann Miller Woodford's, "When All God's Children Get Together" reveals the powerful story of African Americans in the area by utilizing extraordinary images and gripping narratives.
At the Asheville Gallery of Art, the exhibit "Seeing in Color: Life on the Bright Side," enters its second weekend. This show features the vibrant acrylic paintings of gallery artist Bee Adams. You can expect to see the colorful artwork Adams is known for, saturated with optimism and bursting with sunny hues. 
The YMI Cultural Center features artist Micah Mackenzie. Mackenzie has explored composition, color, layering, and textures through drawing, painting, and wood burning. With photography, he continues to creatively manipulate his chosen medium using a rich, multi-layered approach, focusing on portraiture and people. See his work daily between 3-5 p.m.
At the Center for Craft through May 28, see "Desire Paths," which showcases works that reclaim the concept of craft from its historical associations with the decorative, frivolous, feminine, indigenous, and the other. The makers use the medium of craft, and the action of crafting, to produce powerful representations and counter narratives to dominant culture. Also at the Center for Craft, experience "FABRICated," an exhibition with works that merge fiber-based art with other mediums. FABRICated presents the work of two established artists, Virginia Derryberry (Asheville, NC) and Marcia Goldenstein (Knoxville, TN), along with five emerging artists.
The Contemporaneo Gallery highlights the vision of 3 renowned Contemporary artists from Chile: Filipa Chi, Francisca Valenzuela, Veronica Byers. The exhibition is on display through May 31.
And, in Black Mountain at the Red House Studios and Gallery, showcases work embracing the realm of Living Things. The artists have drawn from the world around them, plants, trees, animals and people have been carefully observed and used as a source to inspire.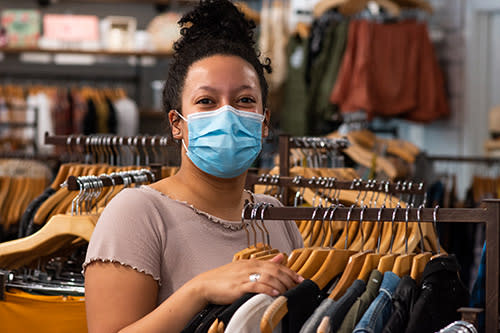 Head to one of Asheville's shopping districts including downtown, Biltmore Village and the River Arts District to discover unique, one-a-kind finds. Please remember that you'll need to wear a mask to shop. 
On Friday night (May 7) from 4-8 p.m., explore the Mother's Day Market and Drink Pink Night at White Labs Kitchen and Tap for last-minute gifts for the special women in your life. This pop up market features fresh flowers, locally made goods, fermented food items, handcrafted jewelry, and more. Stay for a pint of delicious (& healthy!) hard kombucha to help raise funds for breast cancer research & cancer patient support! 
Black Wall Street Marketplace at GRIND AVL
Saturday, May 8, from 10 a.m. to 4 p.m. 
The Black Wall Street Marketplace at GRIND AVL in the River Arts District on Saturday (May 8) from 10 a.m. to 4 p.m. is a great chance to find a gift for mom while also supporting Black-owned businesses in Asheville. The Marketplace will feature beauty products, couture chocolates, African-style clothing, books, essential oils, self-care items, paintings, jewelry, candles and more. While you're there, enjoy a coffee or beverage! 
Saturday, May 8, from 10 a.m. to 4 p.m.
Shop for a variety of fine craft from members of the Southern Highland Craft Guild during this event at the Folk Art Center on the Blue Ridge Parkway.. Types of craft available will include: bladesmithing, glassblowing, wheel-thrown and hand-built ceramics, woodturning, metalsmithing, leatherwork, and furniture making. You'll see beautiful craftwork in a fun, casual setting.
As we enter the heart of spring, Asheville's numerous tailgate and farmers markets come to life each weekend.
Here's a look at some of the markets you can enjoy:
Saturday, May 8 from 12-4 p.m.
The Summer Camp Expo is a free, family friendly event featuring more than a dozen camps! The event will feature interactive booths and displays and give parents the opportunity to learn more about traditional overnight, sports, arts, day, and academic camps. The Expo will be held in the parking lot behind the Food Court to accommodate social distancing. Face coverings are required. Performances will be held by students of the Rock Academy as the event is a benefit for Give to the Music.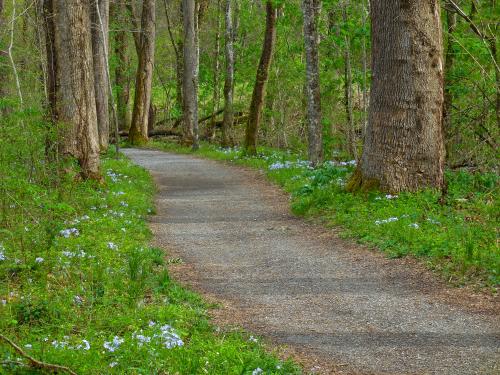 Feel the brisk mountain air with a refreshing hike. During winter, you'll notice fewer hikers on the trails -- making it easier for you to find your Zen. In addition, see the best views of the year thanks to leafless trees and clear blue skies.
Here are our picks for the best spring hikes in Asheville.
At the Adventure Center of Asheville, just five minutes from downtown, experience the Kolo Bike Park and receive professional mountain bike skills instruction. These outdoor facilitated clinics by experienced mountain bike counselors are for riders ages 8-15. Campers must be comfortable riding bikes on purpose-built and natural trails and pump tracks.
Lovers of art, history and architecture will enjoy the 1.7-mile self-guided, downtown Asheville walking tour: The Asheville Urban Trail. On the Asheville Urban Trail you'll find 30 historical stations to explore. And, along the way are many local shops.
The famous Orange Peel music venue in Asheville is back hosting live shows! This Friday night (May 7) at 8 p.m., Jeff Santiago & Los Gatos will be joined by Lovely World. The Bronx born musician grew up playing between NYC and Los Angeles before settling in Asheville, NC.
The Montford Park Players, Asheville's tradition of outdoor Shakespeare performances, opens up its season with A Comedy of Errors at the Hazel Robinson Amphitheatre. The plot of A Comedy of Errors is typical of a Shakespearean comedy, involving mistaken identities, angry lovers, false arrests, and much, much confusion. Only this time it all occurs with two sets of identical twins!
The Magnetic Theatre puts on, "In the Middle of Nowhere." This exciting world premiere drama is the theatre's grand reopening performance. The story centers on Cynthia Scott, a retired art professor who escapes to the Black Mountains of North Carolina after a harrowing experience in her "previous" life. Despite her fiercely independent nature, she eventually forms a relationship with Del, a young man who has recently been released from prison. They challenge each other in unexpected ways. But the question remains: Will either of them accept forgiveness?
Isis Restaurant and Music Hall is offering live music with a dinner reservation. On Friday night (May 7) at 7 p.m., you'll see a performance by Gaslight Street, who offer a soulful sound that melds pure Southern rock with charismatic vocals, traipsing the boundaries of blues and funk. On Saturday (May 8) at 7 p.m., see Brother and The Hayes, siblings hailing from north Texas. Their love of the blues, country music, and bluegrass is the perfect vehicle for their playful and honest, story-driven songwriting. And, on Sunday night (May 9) at 7 p.m., "journey to" the Andaluz region of Spain for an authentic experience with music, food, wine, and flamenco dance with Eduardo de Rosamarie's Noche Flamenca.
Every Friday night beginning at 6 p.m., masters of bluegrass, The Sons of Ralph, play at Jack of the Wood.