Things to Do in Asheville This Weekend -- November 26-29, 2020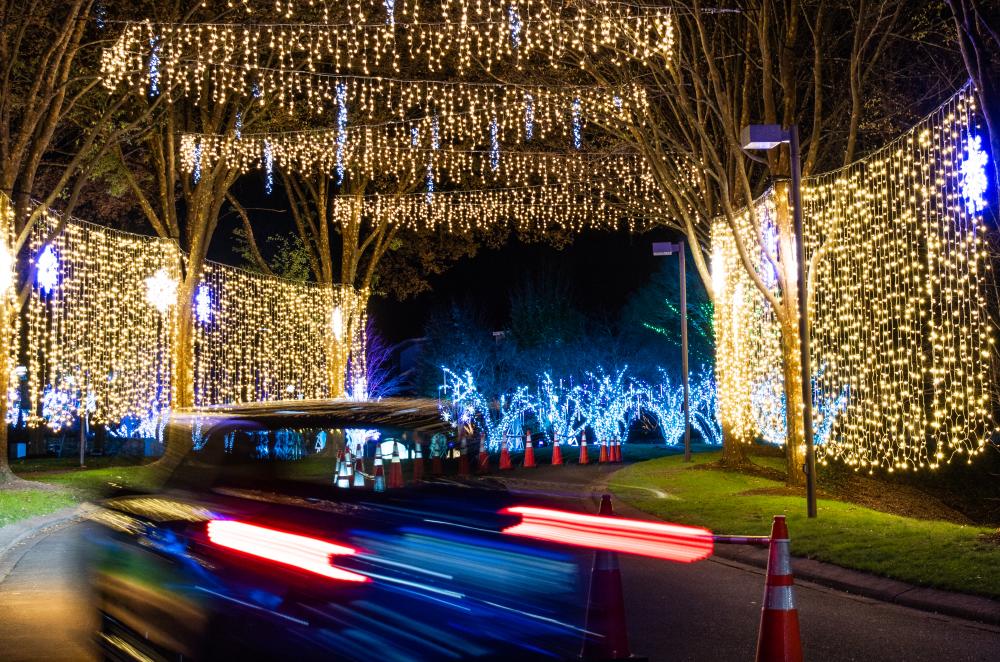 If you are making plans to enjoy the serenity of the mountains, you may be asking, "What is open in Asheville?" or "What are things to do during my visit?"
We know you may have questions about visiting Asheville during the Coronavirus pandemic. For answers to frequently asked questions, check out our Asheville FAQ page.
Below, you'll find ideas for things to do in Asheville. Also, check out our list of open businesses in Asheville.
As fall gives way to the sparkling holiday season in Asheville, some of area's favorite holiday traditions are getting underway. Christmas at Biltmore kicked off on November 6. Winter Lights at the Arboretum (pictured above), which has shifted to a drive through experience in 2020, got underway this past weekend. For more holiday events, traditions and things to do, see our complete guide to the holidays in Asheville in 2020.  
Please remember to bring and wear your mask. Masks are required statewide inside public places, and masks are required outdoors where social distancing isn't possible.
Asheville area accommodations are taking reservations. Utilize our easy-to-use search feature to check room availability and rates. 
Want to enjoy Asheville from home? Explore our guide to virtual experiences and virtual events.
Here are ideas for what to do this weekend: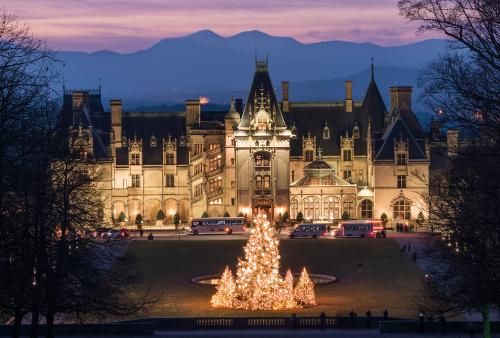 America's largest home transforms each holiday season for an awe-inspiring tradition that dates back more than 120 years. More than 100 hand-decorated Christmas trees adorn the home and the estate, the centerpiece being a 35-foot Fraser fir in the grand Banquet Hall. The more than 25,000 ornaments and 100,000 holiday lights twinkling throughout the Estate provide a magical ambiance. And, the 1,200 live poinsettias and 6,000 feet of fresh evergreen garland give the estate an aroma that completes this feast for the senses. The Christmas at Biltmore celebration is spread across the estate with everything from holiday blooms in the gardens to an illumination display at Antler Hill Village to commemorative Christmas wine at the Winery. Biltmore glows in the evening with candlelight and firelight, giving you the opportunity to experience Christmas at Biltmore in a different light. At Candlelight Christmas Evenings, you'll experience Christmas at the Estate much the way the Vanderbilt's did on Christmas Eve 1895 when Biltmore welcomed its first guests. See our complete guide to Christmas at Biltmore for more information.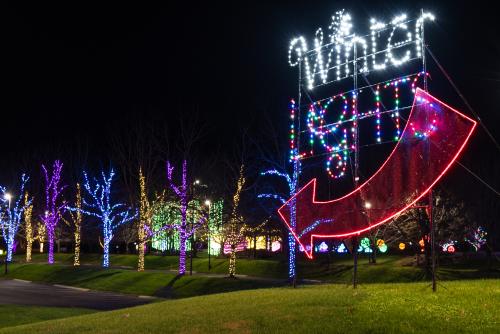 From the comfort and warmth of your car, experience a sparkling winter wonderland at The North Carolina Arboretum. For the first time as part of Winter Lights, you'll have an opportunity to take a dreamy ride through this enchanted forest, which is inspired by the the designs of the famed landscape architect Frederick Law Olmsted. The mile-long stretch of lights will illuminate the natural landscape. The displays will feature colorful native butterflies and winter wildlife displays, as well as a special insect-themed lantern exhibit. See our complete guide to Winter Lights at the North Carolina Arboretum for more information.
Start stocking up on holiday gifts by heading to one of Asheville's shopping districts including downtown, Biltmore Village and the River Arts District to discover unique, one-a-kind finds. This is Small Business Week and many stores are offering specials. Please remember that you'll need to wear a mask to shop. 
In downtown, the Grove Arcade's Winter Wonderland celebration is underway. This architectural gem that is home to shops and restaurants, is decorated beautifully for the holidays.
NEW in 2020, shop Asheville from home with our online gift guide: Handmade Holiday: A Gift Guide from Asheville Makers. Choose from more than 50 unique gifts crafted by Asheville artists and businesses.
The popular Show and Tell Holiday Pop Up Shop has gone virtual this year. Featuring some of the area's best in craft, design, and vintage, the online shop has curated more than 100 local + indie makers, designers, and collectors goods including clothing, jewelry, decor, greeting cards, and more.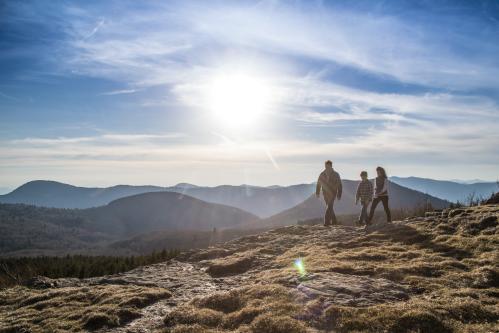 Feel the brisk mountain air with a refreshing hike. In late fall and winter, you'll notice fewer hikers on the trails -- making it easier for you to find your zen. In addition, see the best views of the year thanks to leafless trees and clear blue skies.
Here are our picks for the best winter hikes in Asheville.
Lovers of art, history and architecture will enjoy the 1.7-mile self-guided, downtown Asheville walking tour: The Asheville Urban Trail. On the Asheville Urban Trail you'll find 30 historical stations to explore. And, along the way are many local shops.
Asheville is known for its incredible local dining scene, lovingly referred to as "Foodtopia." While experiencing Asheville during the holidays, treat your taste buds to delicious dishes carefully crafted by creative chefs. You can dine-in or takeout.
Want to sit outside? Here's a list of Asheville restaurants offering outdoor dining this winter.
Looking for a restaurant open on Thanksgiving? Our friends at the Asheville Independent Restaurant Association have helped us put together this list of Asheville restaurants open on Thanksgiving.
Highland Brewing Company kicks off Black Friday (Nov. 27, 12-9 p.m.) with its Black Watch Double Chocolate Milk Stout release. This popular limited-release brew is basically a brownie in a glass, overflowing with smooth and rich chocolatey flavors. They'll also have the Axeville Mobile Unit on site for some axe-throwing fun from 3-8 p.m.
Asheville is pleased to be the host city for the mainland move of the 2020 Maui Invitational men's college basketball tournament. While there will be no fans at this year's event, the tournament receives national coverage each year by ESPN and is considered a premier event around the Thanksgiving holiday. The tournament will take place November 30-December 2, 2020.
Small businesses, including many in the historic Grove Arcade building are celebrating this event with special Hawaiian-themed food and drink. Taste the Pineapple Mimosas at the Battery Park Book Exchange, the Nutty Zombie cocktail at Carmel's or Luau Pig Beignet Sandwich at Bebette's New Orleans-Style Coffeehouse. See a full list of Hawaiian-themed food and drink from businesses at the Grove Arcade.