Things to Do in Asheville This Weekend -- September 11-13, 2020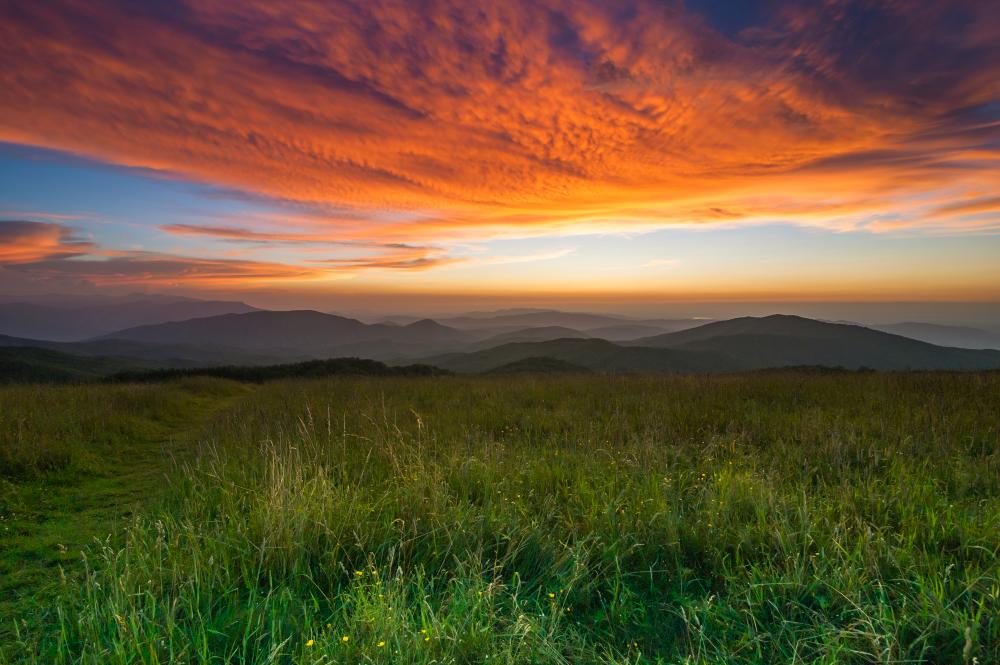 If you are making plans to enjoy the serenity of the mountains, you may be asking, "What is open in Asheville?" or "What are things to do during my visit?"
We know you may have questions about visiting Asheville during the Coronavirus pandemic. For answers to frequently asked questions, check out our Asheville FAQ page.
Below, you'll find ideas for things to do in Asheville. Also, check out our list of open businesses in Asheville.
Please remember to bring and wear your mask. Masks are required statewide inside public places, and masks are required outdoors where social distancing isn't possible.
Asheville area accommodations are taking reservations. Utilize our easy-to-use search feature to check room availability and rates. 
Want to enjoy Asheville from home? Explore our guide to virtual experiences and virtual events.
Here are ideas for what to do this weekend: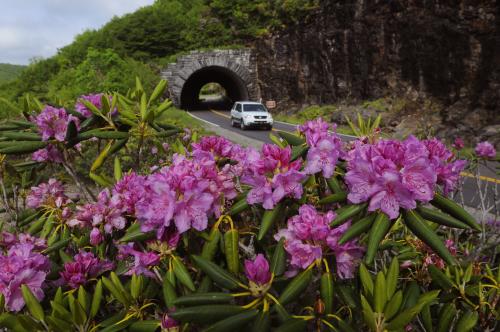 The Blue Ridge Parkway is known as "America's Favorite Scenic Drive." As of May 28, the entire road is open -- with the exception of a small stretch near Roanoke, Virginia (more than 200 miles away from Asheville).
Take in breathtaking views of some of the highest peaks east of the Mississippi River and enjoy access to the area's best hiking trails. The Parkway is easy to explore with no admission fee and frequent, paved overlooks.
See our guide to the Blue Ridge Parkway near Asheville. And, gain inspiration from Blue Ridge Parkway experts with our interactive Explorers of the Blue Ridge Parkway.
Please note that while the road is open, campgrounds, visitor centers, some restrooms  facilities and the Crabtree Falls picnic area remain closed at this time (July 28, 2020).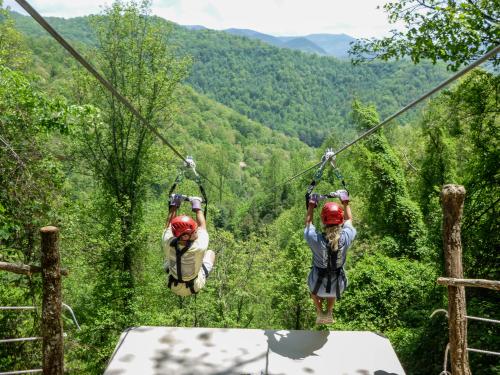 The Adventure Center of Asheville, located just two miles from downtown Asheville, offers outdoor adventures for people of all ages. Make your way through the Treetops Adventure Park, fly through the air on a zipline (including the KidZip for young children) and ride through the Kolo Bike Park.
Zipline enthusiasts will love Navitat Canopy Adventures. The longest zipline is more than 3600 feet and is 350 feet high, offering beautiful views of the forest below. 
Take to the water on a stand-up paddle board (SUP) with Wai Mauna SUP.
For a private and customized outdoors experience, choose from tours of waterfalls to foraging to wellness/yoga. Many companies are just beginning to start up tours again. Please call the company directly in advance to check on the current status. 
Experience the outdoors at local, state and national parks and forests. The North Carolina Arboretum, Chimney Rock at Chimney Rock State Park and Grandfather Mountain are all open at this time. So, too, are Pisgah National Forest and Great Smoky Mountains National Park.
As you explore these beautiful areas, take the trail less traveled by checking out lesser-known hikes. Or choose your own hiking adventure with the help of our Asheville Hike Finder.
Feel the open air at mountain balds -- beautiful grassy mountaintops that offer 360-degree views because they are without trees. Balds are great places for a scenic picnic. 
Or, make a refreshing visit to an area waterfall. With recent rain this past week, the waterfalls will be flowing strong. Please review our waterfall safety tips before heading out on your adventure.
Biltmore is an 8,000-acre estate that not only features the iconic Biltmore House but a network of manicured gardens, trails and outdoor park settings. Biltmore's House, Gardens, Grounds, and Antler Hill Village are now open to guests with reduced hours and limited capacities.
Downton Abbey: The Exhibition has reopened at Biltmore. The exhibition has been extended through September 2020.
For the latest details on Biltmore operations, go here.
When you visit the 434-acre North Carolina Arboretum this summer, you'll have the opportunity to experience a fun, toy-filled outdoor adventure. The exhibit, Nature Connects: Art with LEGO Bricks, features more than 500,000 LEGO bricks crafted into 16 nature-inspired sculptures. Renowned artist Sean Kenney constructed the larger-than-life sculptures.  
Lovers of art, history and architecture will enjoy the 1.7-mile self-guided, downtown Asheville walking tour: The Asheville Urban Trail. On the Asheville Urban Trail you'll find 30 historical stations to explore. And, along the way are many local shops that are beginning to welcome customers again.
Head to Asheville's shopping districts including downtown, Biltmore Village and the River Arts District to discover unique, one-a-kind finds. Please remember that you'll need to wear a mask to shop. 
Mel Chin's Wake
44 Collier Avenue, Asheville (South Slope District)
Experience Mel Chin's larger-than-life animatronic sculpture just blocks south of downtown Asheville in the growing South Slope District. The Wake sculpture was last on display in New York's Times Square. Now, it's an open-air setting next to Burial Brewing Co. here in town. Wake depicts the hull of a shipwreck crossed with the skeletal remains of a marine mammal. That structure is linked with a 21-foot-tall sculpture replica of a Jenny Lind figurehead that was once mounted on the 19th century clipper ship USS Nightingale. As a nod to our current times, you'll notice the Jenny sculpture is now wearing a mask. A team of UNC Asheville students, faculty and staff led by artist Mel Chin engineered, crafted and installed the sculpture. Wake is interactive and features decks and places to sit and contemplate.