Friday, July 1, 4 - 8 p.m.
The Block, Downtown
Head downtown to The Block - Asheville's historical Black business district - and enjoy an evening of arts, community and culture at their monthly First Friday Evening on The Block art walk and celebration. This month, The Block will be celebrating National Indie Retailer Month, by offering meet and greet opportunities with artists at Noir Collective's gallery. Get to know and shop from Asheville's local businesses, including Benne on Eagle, Noir Collective, Sole '82, Skinny Beats, Penny Cup at YMI and LEAF Global Arts Center. 
Friday - Saturday, July 1-2, 1 p.m.
DSSOLVR
Grush's Cajun Dino Grill is a fun new collaboration with Chef Matt Grush, and Artist Amanda Cloyd, in Asheville NC. Originally from New Orleans, Chef Grush is bringing to Asheville a much needed, authentic, yet fresh look of classic and new age Cajun Cuisine. Using as much local produce, breads, meats, and cheeses from Asheville, and its surrounding area farmers, Grush hopes to bring a sense of support and community into each dish served.
Friday - Sunday, July 1-3, various times
Highland Brewing Company
Take an immersive tour of Asheville's original craft brewery. In this 50-minute tour and guided tasting, guests will explore the brewery, hear Highland's history, and taste 5 beer samples along the way. Tour space is limited. Tour guests must book tickets in advance.
Saturday, July 2, 1 p.m. - 6 p.m.
Dalton Distillery
Join Dalton Distillery for their 11 year anniversary party! Owner Adam Dalton will be smoking a variety of meats with the 100% French oak chips used to age the award winning Hammond Oak Rum. Food is free to enjoy with purchase of a $5 tour and tasting! Franny's Farmacy will also be celebrating by passing out CBD samples, coupons, and hosting a Tourist ticket raffle.
Monday, July 4, various times
Various Locations
Celebrate Independence Day with multiple festivals, parades, and fireworks. Here's a sampling of events happening around the mountains.
Downtown Asheville: a full day of free, family-friendly activities and entertainment are planned. Activities include the Ultimate Air Dogs, the Splashville Fountain, Live Music at 5 p.m. and fireworks at 9:30 p.m.
Lake Julian Park: In South Asheville you can catch one of the largest fireworks show in the area. Arrive by 7:45 p.m. to find parking and bring a jacket as the temps are cooler in the evenings by the lake.
Downtown Weaverville: North of Asheville, Weaverville will host a downtown party with fireworks. Live music begins at 7:30 p.m.
Downtown Black Mountain: East of Asheville catch a July 4 parade in the nearby community of Montreat at 10:30 a.m., and then stick around for fireworks later in the evening.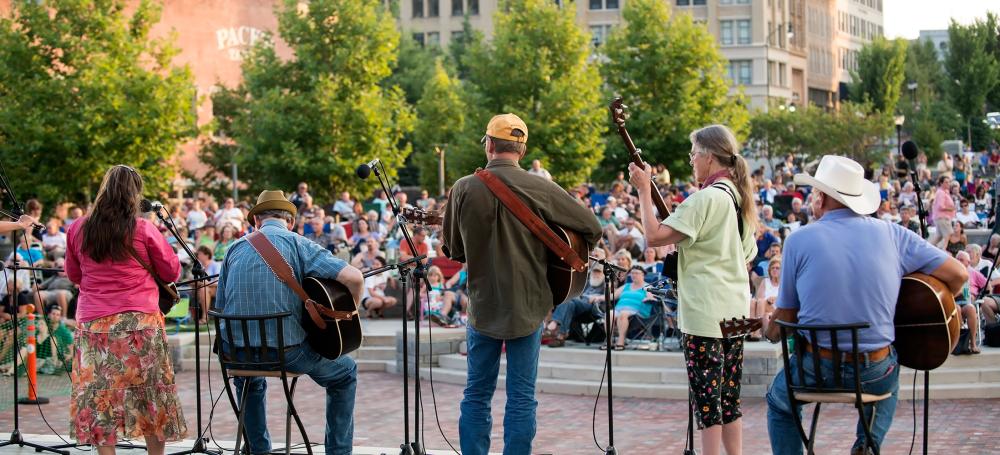 Recurring Events:
Saturday, July 2, 7 p.m.
Pack Square Park
Enjoy an outdoor, mountain bluegrass music and dance festival. In addition to scheduled stage shows, Shindig features informal performances and jam sessions on the stage and around the park. Bring a lawn chair or a blanket. See our guide to Shindig on the Green for more information.
Friday - Monday, July 1-4, various times
Warren Wilson College
This month-long festival is a celebration of Celtic music. Attend one of the many workshops and public performances of Scots-Irish music and dance and the many musical forms they have inspired.