The Top 9 Things to See and Do at Biltmore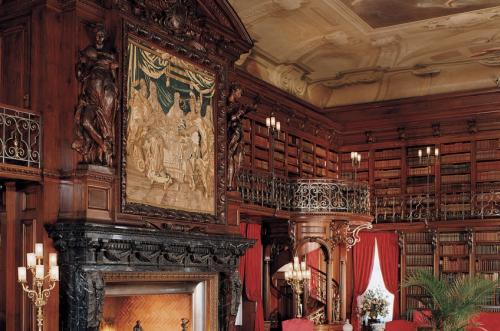 1. Biltmore House: Discover the elegance and charm of Biltmore house on a self-guided tour that weaves through four floors. On your way, marvel at the original furnishings, art and artifacts collected by George Vanderbilt. Favorite rooms of the mansion include the Library with 10,000 books and the grand Banquet Hall with its 70-foot high ceiling! An in-depth audio guide and guided behind-the-scenes tours are available at an additional cost.   
Guided tours of Biltmore House are also available. New for 2020 is the Biltmore Exclusive Experience, a custom, two-hour tour for small groups. The tour is led by an expert guide who specializes in Vanderbilt history and estate stories. You'll visit areas off the main tour that are based on your interests. The Biltmore Exclusive Experience is one of three House tours now offered.
2. Gardens: Take a stroll through meticulously manicured gardens designed by America's foremost landscape architect, Frederick Law Olmsted. Begin in the Italian Garden, which features a series of reflection ponds, before heading down to the patterned Walled Garden. The Walled Garden features a rose garden with more than 250 varieties. In the spring as part of the Biltmore Blooms celebration, see the bright blooms in the Azalea Garden, one of the largest azalea collections in the country. Don't forget to head inside the Conservatory greenhouse, which showcases a wide variety of exotic plants including stunning orchids--and in through September 2019, will include a unique model train display.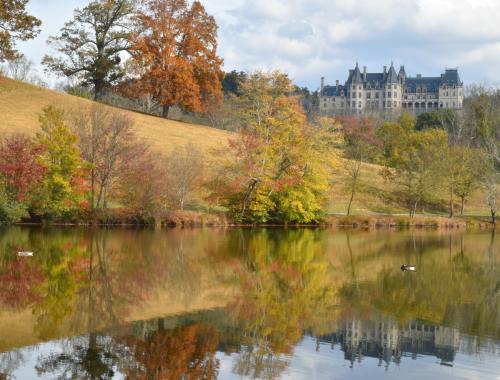 3. Bass Pond and Trails: From the gardens, the Bass Pond is just a short walk away. Sit a spell at the historic boathouse. Or choose a bench along the shore of the pond that offers a view of the beautiful red brick bridge that was featured in the movie, Last of the Mohicans. At the far end of the pond, you'll find a man-made waterfall – a perfect place to sit and relax. The trail to the Bass Pond is part of a 22-mile network of walking and hiking trails on the Estate. All trails are pet-friendly (leashed dogs welcome). Trail maps are available at the main ticketing center when you arrive on the Estate, or from information kiosks located in front of the house and at Antler Hill Village.      
4. Biltmore Winery: From the house and gardens, follow a beautiful drive with pastoral and mountain views to Antler Hill Village, the location of Biltmore Winery. With your admission to Biltmore, you receive a complimentary wine tasting. At the winery, you'll find more than 20 handcrafted vintages including reds whites and rosés. The true wine enthusiast will love the opportunity to take a guided tour of Biltmore Winery's production facility or a guided tour of the breathtaking vineyards.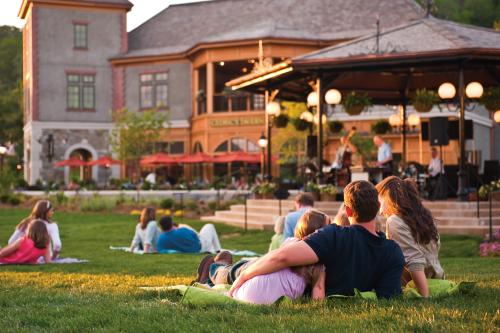 5. Antler Hill Village: In addition to the winery, Antler Hill Village is home to the farm, where you can get a taste of what life was like for those who lived on the estate raising livestock and tending crops. Children will delight at the opportunity to meet the farm animals and play on the playground. In the heart of the Village, stop in at The Biltmore Legacy museum to see special historical exhibits, grab an ice cream at The Creamery, shop at the stores and or dine at Cedric's Tavern. The Village is also where you may find artist demonstrations or live music.
6. Guided Outdoor Adventures: Play in Biltmore's 8,000-acre backyard! Choose from Biltmore Estate tours and adventures such as fly fishing, river rafting/kayaking, biking, Segway tours, Land Rover tours and falconry. All these experiences (and more) are available to daytime guests, overnight guests and annual passholders for an additional charge. Many of the experiences do require making a reservation in advance.
7. Biltmore by Horse: Biltmore has been named one of the top places in the world to go horseback riding. Biltmore offers a variety of guided horseback rides and tours for a truly memorable adventure. Or, enjoy a relaxing journey on a horse-drawn carriage led by Belgian draft horses.
8. Dining: Choose from six restaurants that range from fine to casual dining. Biltmore Estate's working farm provides the fresh herbs, salad greens, meats and eggs for many of the dishes served. Biltmore sources prime cuts of hormone-and-antibiotic-free beef and lamb from estate-raised Angus cattle and White Dorper sheep. Other ingredients such as mountain trout and farmstead cheese are sourced from local farmers.
9. Shopping: Discover treasures and purchase unique gifts at the estate's charming shops. Shop arts and crafts, fashion, home accents, wines, books, toys and Christmas wares. There's even a confectionery where you can choose from a tempting array of sweet treats.
Biltmore Estate Events:
An immersive exhibition featuring set recreations, costumes and exclusive multimedia from the show Downton Abbey opens at Biltmore in November 2019. This exhibition gives you the chance to step inside the world of the global television phenomenon and the highly anticipated feature film. 
Biltmore's South Terrace provides for a magical concert venue for big-name, national performers.
Biltmore Gardens Railway – May 22-Septemeber 27, 2020
An enchanting botanical model train display features small-scale replicas of the Biltmore Estate's most iconic places.  
Kick off the holidays with this annual tradition in which a 35-foot tree is brought to the estate on horse-drawn carriage before being lifted into place in the grand Banquet Hall.
Biltmore shines with holiday grandeur with stunning decorations. In Biltmore house, see more than 65 hand-decorated trees, including the 35-foot tree in the Banquet Hall. Fresh poinsettias brighten the rooms. And, Antler Hill Village lights up with light displays outside and beautiful decorations inside Biltmore Winery.
At night during the holidays, Biltmore lights the dozens of fireplaces and candles in Biltmore House, and live music adds to the special ambiance.
Easter Egg Hunt – April 2021
Biltmore's South Terrace provides for a magical concert venue for big-name, national performers.
Welcome spring in style with more than 130,000 flowers blooming across Biltmore Estate.