Winter Squash Dip Recipe
This flavorful appetizer is perfect for cold weather entertaining. This dip recipe comes from Winter Sun Farms, a program of Blue Ridge Food Ventures in Asheville.
Ingredients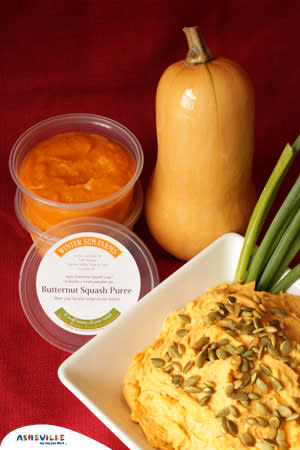 2 heads garlic, tops cut off to expose cloves

2 tablespoons olive oil

4 tablespoons unsalted butter

8 scallions, white and pale-green parts only, sliced ¼-inch thick

1 package (16 ounces) WINTER SUN FARMS frozen roasted squash puree, thawed

2 chipotle chiles (canned in adobo sauce)

1 cup (8 ounces) sour cream

8 ounces cream cheese, room temperature

1¼ cups grated Parmesan cheese (about 4 ounces)

1 tablespoon fresh lemon juice

Coarse salt and freshly ground pepper, to taste

Paprika, for sprinkling

Roasted pepitas (pumpkin seeds), for garnish

Breadsticks, for dipping
Method
Preheat oven to 400°. Place garlic on a large piece of foil. Drizzle with oil, and wrap loosely. Bake about 50 minutes. Let cool slightly.

Meanwhile, melt the butter in a small skillet over medium heat. Add scallions, and cook, stirring occasionally, until softened, about 4 minutes.

Place thawed squash in food processor. Squeeze garlic from skins, and add to squash. Add scallions and chipotles, and pulse until smooth. Add the sour cream, cream cheese, Parmesan and lemon juice, and pulse until just combined. Season with salt and pepper.

Pour into a serving bowl or for a unique presentation use a hollowed-out squash. Refrigerate for 1 hour. Sprinkle with paprika, and garnish with pepitas. Serve with breadsticks or warm pita wedges.