Why Asheville? 6 Reasons Travel Experts Are Talking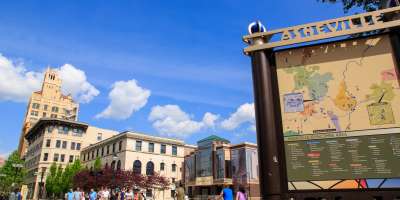 Make 2017 Your Year to Visit Asheville, N.C.
Why does Asheville draw an eclectic mix of both locals and visitors to its mountain lifestyle? Just take a look at some of the recent accolades bestowed upon "The Land of the Sky" and you'll see why foodies, music/beer/pet lovers, and people of all ages escape to Asheville year-round. 
Ask 10 people who've been to Asheville what the highlight of their trips were and you could very well get 10 different answers. Why? Because Ashevillians continuously unveil new experiences, serve up award-winning food, and stay on top of the latest trends. In 2017, don't miss the June celebration of the Centennial Anniversary of craft traditions at Grovewood Village. Soak in the rooftop views and savor the bites at the Hilton Garden Inn's Pillar Bar or the soon-to-be-opened AC Hotel's Capella 9. And, visit Biltmore's new exhibit, "Designed for Drama: Fashion from the Classics," which features costumes from iconic films (including Sherlock Holmes and Pride and Prejudice) on exhibition alongside never-before-displayed books from George Vanderbilt's personal collection.
Need an outdoor escape after being cooped up in the winter? Asheville delivers with endless trails, umpteenth waterfalls, and new-to-you watersports. Try your hand at Bellyaking (you guessed it -- kayaking on your belly!), join a six-person paddleboarding tour, or keep your feet on the ground and hike through Craggy Gardens or Graveyard Fields. See what will bloom, and when, by checking the Asheville wildflower bloom schedule or by seeing for yourself on a secret garden tour. Ready to sit back and be entertained? Try one of Asheville's many great city tours, including the hilarious LaZoom City and Kids' Comedy Tours.
Many world-class, James Beard-recognized chefs and authors have opted to bring their talents to Asheville, including Rhubarb's John Fleer, Ronnie Lundy (author of Victuals), and Curate's Katie Button. But these professional foodies aren't the only ones shining a spotlight on Asheville's Foodtopia. Every restaurant in town, from high-end to casual eateries, brings their "A game." Many chefs serve up their signature dishes in a sustainable, farm-to-table way. From the authentic international cuisine at Chai Pani and Red Ginger to the vegetarian delights at Plant and Laughing Seed, Asheville's acclaimed independent restaurants benefit from access to local producers. These local producers, such as Hickory Nut Gap Farm and Sunburst Trout, are joined by an abundance of artisanal food producers who whip up kombucha, chocolates, and local cheeses, keeping menus fresh.
Mountains and dogs go hand-in-hand so you'll likely cross a happy pooch on almost every hike you take, or find a new furry friend at one of Asheville's many dog-friendly restaurants, bars, or breweries. These spots include the new Upcountry Brewing in West Asheville (operated by John Cochran, co-founder of Atlanta's Terrapin Brewery) and cozy Battery Park Book Exchange and Champagne Bar. A visit to Three Dog Bakery, the world's first dog-only bakery, is a must with your fur baby. But, leave room for an ice cream at The Hop where they even make a special doggie ice cream! After a day of fun, check in at pet-friendly Aloft, Hotel Indigo, Four Points, Grand Bohemian, Crowne Plaza, or a wide selection of inns and vacation rentals.
While it's true the Asheville beer scene has exploded in the last few years, Asheville was first named Beer City USA in 2009 and has enjoyed heavy recognition for its suds ever since. There are now more than 30 breweries in Asheville alone, not to mention many others within a 30-minute drive. Asheville's famed South Slope district, an easily walkable area of downtown with 11 breweries, includes Wicked Weed's sour side project, Funkatorium, and Green Man's second location, the Greenmansion. Book a fun and educational brewery tour and a guide will the lead the way.
Asheville's music scene rivals cities 10 times its size thanks to its deep musical roots, variety of homegrown or transplanted talent (think the Steep Canyon Rangers and Tall Tall Trees!) tons of specialized music venues, and plenty of outdoor stages. In 2017, Sierra Nevada plans to ramp up its outdoor amphitheater schedule, Highland Brewing will host Elton John's friends St. Paul & the Broken Bones in May, and The Orange Peel continues to bring in top talent with summer concerts by the Indigo Girls and Spoon. Stroll through downtown on any given day and sidewalk buskers will serenade you. In the evening, dance the night away at one of Asheville's new venues, like the Asheville Guitar Bar or riverfront Salvage Station.  
Top photo by Jared Kay. Outside dining photo by Erin Adams. Dogs at the brewery photo by Nathan Chesky. Orange Peel photo by Art Meripol.