Who's Next: Asheville's Grammy Watch List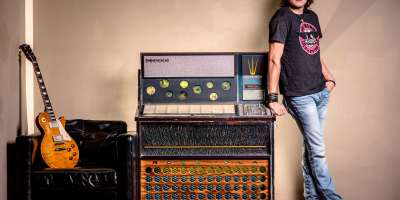 Which local musician will be next to bring home a Grammy? There's no shortage of promising talent. Keep an eye on rising country artist Joe Lasher Jr. who, at 19, is already splitting his time between Asheville and Nashville. And Chase Rice — the songwriter behind country megahit "Cruise" — is also an Asheville native.
Jessica Tomasin, studio manager at Echo Mountain Studios and board member of the Grammy-nominating Recording Academy, points to flatpicking guitarist Jon Stickley, whose trio blends bluegrass, jazz and rock. Stickley has been garnering media attention and critical acclaim. In February 2016, he performed on NPR's "World Cafe," in a live recording session at Asheville's Grey Eagle Music Hall (local country outfit The Honeycutters share the bill).
Roots and soul collective Rising Appalachia, led by sisters Leah and Chloe Smith, "is primed to take off any day now," says Tomasin. The widely traveled group has already built a devoted following. Fan base is important, Tomasin notes, as are regular releases, a current tour schedule and an established and up-to-date website
Underhill Rose — featuring Molly Rose Reed, Eleanor Underhill and Salley Williamson — is also poised for national acclaim. The hardworking Americana trio reached No. 1 on The Roots Music Report's Progressive Bluegrass Album Chart with last year's release, The Great Tomorrow.
Jazz and gospel vocalist Lizz Wright is more widely known outside of Asheville than she is in her own home town. She's contributed to projects by Amos Lee, Meshell Ndegeocello, Jakob Dylan and others, topped the Billboard contemporary jazz chart and caught the attention of NPR, New York Times and The Wall Street Journal. Wright's latest album — her fifth — is the stunning Freedom and Surrender.
And, although he's largely flown under the radar, Seth Kauffman remains one to watch. If he doesn't win a Grammy for his innovative albums under the Floating Action moniker, he's likely to be recognized for his work as a producer and contributor to projects by the likes of Ray LaMontagne and Lana Del Ray.
Photo courtesy of Joe Lasher Jr.