Warm Kale and Cucumber Salad Recipe
This Warm Kale and Cucumber Salad recipe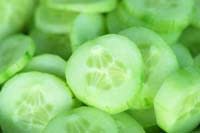 features tastes straight from the farmer's market, with tasty and healthy locally grown produce like cucumbers and kale.
Two bundles of Fresh Kale
1 large Cucumber
¼ cup Shallot Puree
¼ cup White wine
4 Tbsp. Butter
Salt and pepper - to taste
De-stem kale and chop into bite-size pieces. Dice cucumber about ¼-inch. Heat sauté pan to medium heat. Melt butter and add shallot puree. Turn heat up, and add chopped kale. Add wine, splash by splash, and toss. Add cold cucumber at last with salt and pepper, and plate. (The objective is not to cook the cucumber.)
Top with Watermelon Vinaigrette, and serve with Seared Carolina Pompano (Flounder).