Trout with Crab Remoulade Recipe
Ingredients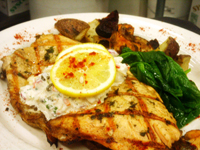 For the trout:
4, 8-10 oz. Sunburst Farms natural trout fillets, pin bone out.
1 tbsp. extra virgin olive oil
Sea salt and black pepper to taste
For the remoulade:
1 cup low fat canola oil mayonnaise
1/4 cup fresh lemon juice
1 tbsp. capers
1/4 cup minced red onion
1/4 cup minced red bell pepper
1 tbsp. chopped parsley
1/4 pound pasturized lump crab meat
1 pinch cayenne pepper
Sea salt and pepper to taste
For the roasted root vegetables:
3 medium sized red beets, scrubbed and diced ½" cubes
1 sweet potato, peeled and diced ½" cubes
2 large carrots, peeled and diced ½" cubes
2 Yukon gold potatoes, scrubbed and diced ½" cubes
2 tbsp. chopped fresh rosemary
2-3 tbsp. extra virgin olive oil
Kosher salt and pepper to taste
Preparation
Preheat oven to 425 degrees.
In a large mixing bowl, toss diced root vegetables in olive oil with chopped rosemary. Season with Kosher salt and pepper. Place on baking sheet lined with parchment paper and roast in oven for approximately 45 minutes.
To make the remoulade, simply mix all ingredients together in a small mixing bowl with a spoon and refrigerate.
For the Trout
Heat up gas grill on high heat or get a good hot bed of charcoals. (If you don't have a grill you can pan-sear or broil the fish.)
Lightly rub each fillet with olive oil and season with salt and pepper. Place fillets flesh side down on oiled grill, cook for about 2-3 minutes then turn fillets 90 degrees to get a nice "cross hatch" design. Cook for another 2 minutes. Turn fish over and cook for another 3-4 minutes till meat is tender and flaky.
Serve with roasted root vegetables and crab remoulade. This dish goes great with a side of sautéed spinach or kale too!
Enjoy!
Recipe provided by Pomodoros Greek & Italian Cafe. Both the owner's mother and Executive Chef Cookie Hadley have gardens which provide fresh herbs and vegetables for the restaurant. Fresh seafood is delivered to Pomodoros six days a week. The salmon they serve is always Wild Sockeye Salmon rather than farm raised, and they only use pure oils that are not partially hydrogenated and have zero trans fats. They choose extra virgin olive oil in the same manor that a sommelier would choose a fine wine. It is Pomodoros' philosophy to purchase the best products available for the recipes, and they prepare almost every item on the menu from scratch using only the finest ingredients. They never use any products that the owner wouldn't want his own family to eat.
January 1, 2011