Feel the Love at Asheville's Local Businesses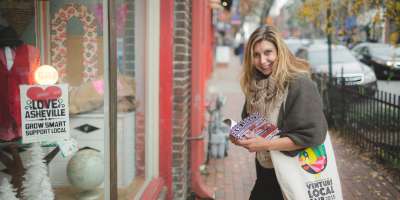 Love Asheville Go Local Celebration: February 2021
Walking through downtown Asheville is a feast for the senses. The scent of fresh coffee emanates from cozy local hangouts. A slew of wildly creative dresses and shoes peek out from boutiques like Hip Replacements Clothing and Minx Boutique. Each business is unique, yet unified by a movement that preserves and celebrates Asheville's local culture.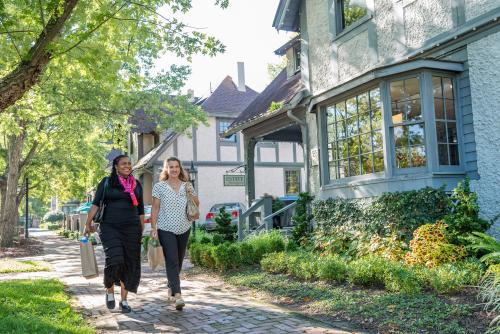 To celebrate and support the local businesses that are the lifeblood of Asheville, Love Asheville Go Local Week around Valentine's Day has become a tradition. In February 2021, the celebration extends the entire month of February! Take the 828 Challenge (828 is the area code in Asheville) to support 8 local businesses in Asheville during the 28 days of the month of February. Use the hashtag #828golocalchallenge to share your experiences.
Follow @golocalasheville and keep an eye out for contests and giveaways including ways to win a 2021 Go Local Card (discounts at more than 400 businesses) and Love Asheville Go Local t-shirts. 
Q&A with a Go Local leader
Franzi Charen (pictured at the top) owns Hip Replacements clothing boutique and is a devoted advocate for local businesses. She's also the director of the Asheville Grown Business Alliance and one of the masterminds behind the Go Local movement.
ExploreAsheville.com caught up with Franzi to ask her why keeping it local matters and to share her tips for a perfect local weekend.
Explore Asheville: What does "Go Local" mean for someone who might be experiencing Asheville for the first time?
Franzi Charen: When somebody sees a "Love Asheville, Go Local" poster in the window, that's a locally owned, independent business. Local businesses are part of the reason that so many people fall in love with Asheville because they reflect the culture of our unique city. You can walk into many shops and find artisan goods, locally baked goods and restaurants using local farms' products. All of this creates a healthier, more vibrant culture.
Let's say you're out shopping and see one of the Go Local posters in a store window. What does that say about the type of business or experience you will encounter?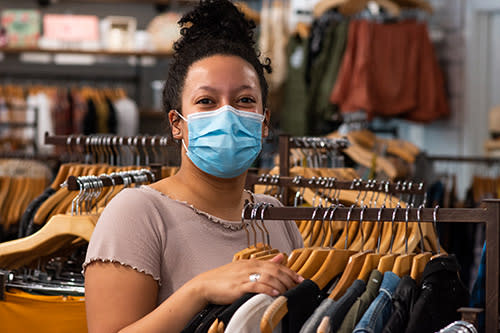 When you see those posters you know that the business is part of our campaign. So you know when you're walking down Lexington Avenue, you're not going to see the same brands in every boutique store. You're not going to smell the same fragrances.
We're harboring that unique vibe that we all strive for. One of the unique things about Asheville is that so many businesses collaborate and they choose collaboration over competition. Yes, a locally owned business is more likely to hire local artists and use food from local farmers, but they also tend to collaborate within and amongst each other. We do it collaboratively. We work together.
Why did the Go Local movement get started and what were the early days like?
We believe strongly that Asheville is one of the very unique downtowns and people love it and people flock here because it's so unique. We felt it was imperative that we create a movement and a campaign around advocating for locally-owned businesses and branding locally-owned businesses.
It was December of 2009 and it really started with a holiday campaign. A few of us created an image that at the time said "Asheville Grown, Buy Local." We had a local printer print the poster and a local t-shirt printer print t-shirts that about 12 downtown businesses purchased at cost. Everybody put in a lot of volunteer hours.
How can people get involved if they're just in town for a few days?
They can look for our signs and posters in the windows. They can also pick up a Go Local card. The Go Local card offers discounts at over 425 locally owned businesses.
They can also go to golocalasheville.com to find out the businesses that accept the Go Local card and learn more about our campaign and what we do.
Also, look for our partner businesses' signs like the Just Economics living wage program so you know those businesses pay their employees a living wage. Look for the ASAP (Appalachian Sustainable Agriculture Project) sign for local food. It really helps to keep an eye out for the branding that highlights which of our businesses are local, so visitors know they're supporting the local community.
Tell us about your perfect local Saturday. Where would you go, who would you see, and most importantly what would you eat?
Sure! I'd wake up and walk over to the North Asheville Tailgate Market where I treat myself to a steaming hot cup of coffee from Asheville Coffee Roasters. We always get a dozen eggs and a freshly fished trout from East Fork Farms. Cecilia's Kitchen has a little seating area where we congregate with neighbors over a crepe or tamale.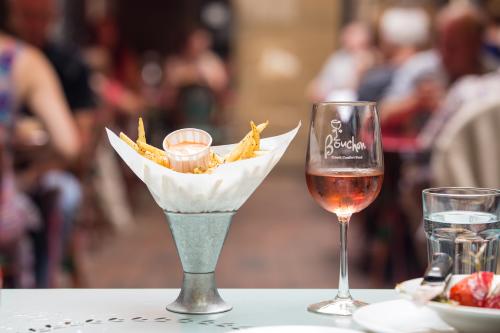 Lunch will include a stop in downtown to our neighborhood eatery, Bouchon (some of the best French fries in town). I'll pop by our shop, Hip  Replacements Clothing, to make sure things are going smoothly. If we have friends in town we'll definitely book a Band and Beer Bus Tour with LaZoom (bus tours postponed until March 2021) and head down to South Slope. My sweetie's band Pleasure Chest often plays on the bus and he is such an entertainer. 
We might head over to the River Arts District to take in an art opening and sit outside at The Wedge for a pint of Iron Rail for sunset while watching the train pass by. For dinner we could easily swing over to the Smoky Park Supper Club* and enjoy a beautiful locally sourced meal by the river. *Smoky Park Supper Club is currently only open to local residents and their guests.
Franzi's Top 5 Asheville Shopping Destinations
This interview has been edited and condensed for clarity and length.