Unique Theater Experiences in Asheville, NC
Fresh Works That Spark Imagination
Asheville is a haven for originality. From breathtaking aerial arts to vibrant reinterpretations of Shakespeare, Asheville is driven by artistic vision and bold risk-taking. Artists push boundaries to delight visitors and locals with original works that inspire discovery. Sitting in the audience is like stepping into a new world where creativity reigns supreme.
Magnetic Theater Pulls in Audiences
Original works are at the center of The Magnetic Theatre's force field. Talented playwrights are drawn to theater's dedication to new works. It's one of the few theaters in the country that is exclusively devoted to world premieres.
This season's offerings include their Fourth Annual Festival of Short Plays. Featuring a variety of stories, emerging and seasoned playwrights, local directors, and incredible performers, there's sure to be something for everyone!
Asheville's jovial spirit makes The Magnetic Theatre's productions a hot ticket for anyone who wants to see the city at its best. Catch a show at the theater's home in the River Arts District.
Montford Park Players Shake Up Shakespeare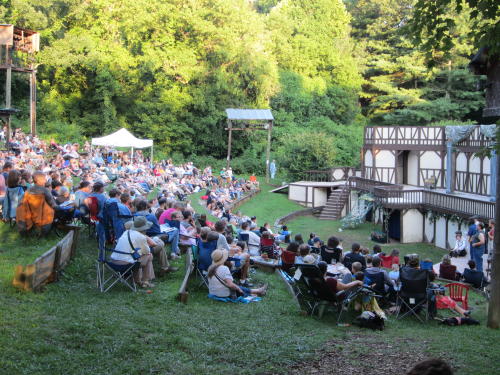 The power of the Bard is unparalleled, but each production explores new territory in the hands of the Montford Park Players. In the past, Richard II was reinvented as a steampunk opera; Taming of the Shrew boasted a "Shakespearean flash-mob."
The outdoor Hazel Robinson Amphitheatre fosters a relaxed atmosphere where t-shirts, dogs and picnics are encouraged. The summer performances are free (donations are encouraged) and a palpable sense of joy and humor permeate the air.
Notoriously Creative Nutcracker at ACDT
Theater doesn't stop during the winter months. The Asheville Contemporary Dance Theatre reinvents The Nutcracker each season to wide acclaim. Some years it's an entirely original production. Other years it features long-forgotten versions of this classic story.
ACDT presents several special events throughout the year, including the Asheville Butoh Festival and the Asheville Fringe Arts Festival. These multi-location events invite audiences to experience theater in wildly imaginative ways.
Magnetic Theatre photo courtesy of Magnetic Theatre. Fox & Beggar Theater photo by TazDigital.
Updated June 29, 2023