Squash Casserole Recipe
Courtesy of Early Girl Eatery and re-printed from Eatin' in Season in Mountain Xpress
Ingredients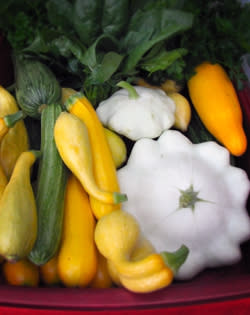 2 tbsp butter
3 zucchini, thinly sliced (about 4 cups)
3 yellow squash, thinly sliced (about 4 cups)
1 cup onion, diced
½ cup celery, diced
1 clove garlic, minced
4 eggs, beaten
1½ cups cheddar cheese, grated
½ cup Parmesan cheese
1½ tbsp fresh basil, chopped
1½ tbsp fresh parsley, chopped
½ tsp Tobasco
½ tsp salt
¼ tsp freshly-ground black pepper
1⁄8 tsp nutmeg
¼ tsp sugar
3 cups dried bread crumbs
Preparation
Preheat oven to 350 degrees.
Grease an 8x8 baking dish, dust with bread crumbs and set aside. Heat butter in a large skillet over medium-high heat.
Add onion and celery and cook, stirring occasionally until edges of onion turn golden brown.
Add garlic and cook another minute, then add squash and cook until tender and slightly brown, approximately 10 minutes.
Set aside and let cool. In a medium bowl, combine the beaten eggs, cheeses, basil, parsley, Tabasco, salt, pepper, nutmeg and sugar, then set aside.
Pulse a third of the squash mixture in a food processor until chunky-smooth.
Add to the bowl with the rest of the squash, egg, and cheese mixture, and stir to combine. Pour the mixture into the prepared baking dish and top with a coating of bread crumbs.
Bake 35-40 minutes.