Spend a Memorable Summer Evening with the Montford Park Players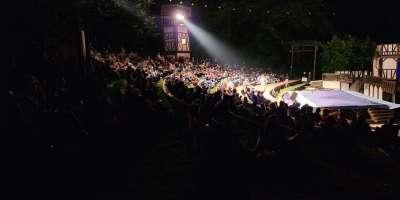 John Russell pauses for a moment, considering a question he works every day to answer as the Executive Director of the Montford Park Players.
"Why is it important to support performing arts in Asheville?"
It's been nearly 20 years since Russell began heading North Carolina's longest running Shakespeare theatre company, providing free annual entertainment to a growing city hungry to find its artistic voice.
"The arts are what make us human," Russell said. "When people can come together and celebrate their culture and their differences, it really reinforces our humanity. It's part of what makes Asheville such a special place."
Run by a cast of talented volunteers, the Montford Park Players have the ability to transform the classic works of Shakespeare into modern-day expressions of truth and passion while infusing laughter into an important message.
Here are five reasons why your summer weekend nights should include a trip to the Hazel Robinson Amphitheatre.
It's Free!
While some outings can break the bank, a night with the Montford Park Players is as budget-friendly as it gets. Yes, it's free to attend. Built into a natural hillside, the Amphitheatre can accommodate over a thousand patrons with a sloping lawn perfect for a picnic blanket or a portable chair.
If you prefer to sit close to the stage, you can rent an Adirondack chair for $7, but truly, there's not a bad seat in the house. Seating is first come, first served, so we recommend showing up at least 30 minutes before the 7:30 p.m. curtain to snag your perfect spot. Shows take place on Friday, Saturday and Sunday during the summer, but check here for what's currently playing.
Speaking of free, there is ample free parking at the Amphitheatre with additional parking at the Tempie Avery Montford Center at 34 Pearson Drive.
While the event is totally free, as a non-profit organization, the Montford Park Players rely on community donations, so if you're in the giving mood, you can donate here or show your appreciation to the actors with a donation during intermission.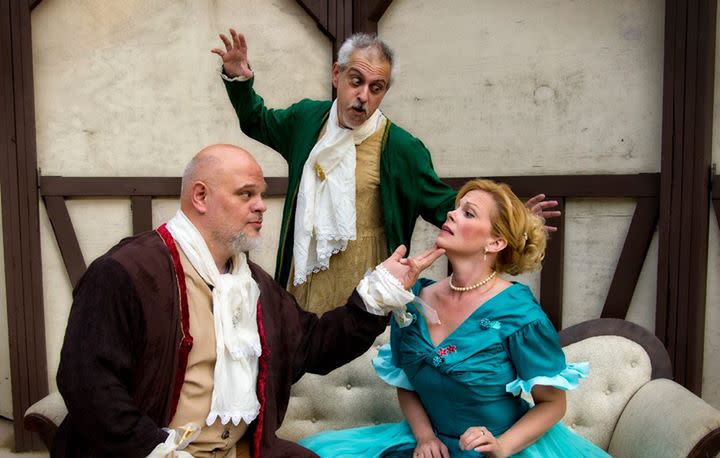 Pack a Picnic
A night with the Montford Park Players is a perfect time for a picnic. Feel free to pack your own, including alcoholic beverages, which can be enjoyed responsibly during the show. A pop-up tavern also provides a selection of local, beers, wine and non-alcoholic offerings as well as salty and sweet snacks. Cash and credit cards are accepted. 
Want someone else to do the packing for you? Check out Asheville Picnic Company which puts together a wonderfully packaged meal consisting of some of the best foods Asheville has to offer.
Pup Friendly
Sometimes the worst part about going out is leaving your furry best friend behind. Not so with the Montford Park Players. As long as your pet is kept on a leash, they're more than welcome to enjoy the show with you, bringing a new meaning to "Shake"speare. Woof, I know.
Supporting the LGBQTIA+ community
The Montford Park Players have always been a strong advocate of Asheville's growing LGBTQIA+ scene, with 75% of its current cast of Shakespeare's Twelfth Night belonging to the community.
"It's important that we feature people that are other gendered," Russell said. "This has to be a safe and welcoming space for actors of all sizes, shapes and colors."
That freedom of expression shows itself through the passion of the actors and has made MPP a mainstay of Asheville's art scene.
More than just Shakespeare
The Montford Park Players first took the stage in 1973 with a rendition of Shakespeare's ever-popular comedy As You Like it. They've since celebrated 50 years of making art in Asheville.
"We've been doing this a long time," Russell said, chuckling. "We're proud to be a part of the fabric of Asheville and its art scene."
It's important to note that, while Shakespeare's work is highlighted each year, local playwrights can also have their voices heard on the MPP stage.
Once Twelfth Night concludes on July 22, the Montford Park Players will unveil a world premiere of Treasure Island written by Asheville native Honor Moor. That show will run from July 28 to August 26.
Updated September 15, 2023