Sour Cream Mashed Sweet Potatoes Recipe
Sour Cream Mashed Swe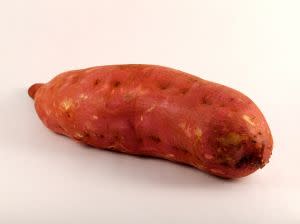 et Potatoes recipe from The Madison Inn
Ingredients
1 dozen large sweet potatoes - peeled and cut in chunks
1 cup sour cream
¼ cup light brown sugar
¼ cup pure Vermont maple syrup
¼ cup sweet whipping cream
¼ cup melted butter
½ teaspoon chicken base (or salt and pepper to taste)
Preparation
In a large stock pan, boil sweet potatoes until tender.
Pour all water, mash potatoes using electric mixer, and add sweet cream and butter.
Using a large spatula, fold in sour cream, brown sugar and maple syrup, then add chicken base or salt and pepper to taste.
Serve immediately or put in a casserole dish and reheat when ready to serve.
Pairs nicely with Bourbon and Vanilla Marinated Pork Loin with Pecan Gravy.