Silver Screen Romance Meets Gilded Age Splendor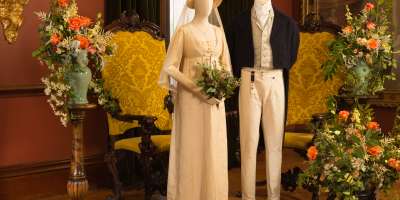 Love Is In the Air
Biltmore's iconic 8,000-acre estate and grand 250-room home, built for the Vanderbilt family and loved by the world for its history and architecture, espouses a level of grandeur usually reserved for the silver screen. So it's fitting that this spring, Biltmore is unveiling a new exhibition that brings together the unforgettable stories of the Vanderbilt family with the timeless glamour of 19 Hollywood weddings.
Following on the high heels of last year's Dressing Downton exhibit, which featured more than 40 costumes from the hit period drama Downton Abbey, Fashionable Romance: Wedding Gowns in Film, will feature wedding gowns and groom's attire from beloved films such as Out of Africa, Pride and Prejudice, and Sense and Sensibility, the captivating romance starring the late Alan Rickman, Kate Winslet, Emma Thompson and Hugh Grant.  
Costumes worn by Kate Winslet and Alan Rickman in Sense and Sensibility will be on display in Biltmore House during "Fashionable Romance: Wedding Gowns in Film." SENSE AND SENSIBILITY ©1995 Columbia Pictures Industries, Inc. All Rights Reserved. Courtesy of Columbia Pictures.
The costumes span 300 years of fashion, with 40 costumes from 19 films. Several of the outfits were designed by Oscar-winning costume designers, and they were worn on screen by actresses such as Meryl Streep and Gryneth Paltrow. Fashions range from the subdued styles of beloved Jane Austen films to the very elaborate wedding attire worn by Keira Knightley and Ralph Fiennes in The Dutchess, to Frances O'Connor's wedding dress worn in Madame Bovary.
"There will be the taste of Hollywood magic combined with the historic splendor surrounding the romance and majesty of Biltmore," said Biltmore Curator of Interpretation Leslie Klingner. "We love working closely with renowned British costumer Cosprop Ltd. and are thrilled with how the costumes illustrate the changing fashions of marriage."
Each grouping of costumes displayed throughout the main house has its own floral display inspired by the film and its history. For example, alongside the beautiful costumes from the swashbuckling Pierce Brosnan romance, The Deceivers, you'll find bright flower arrangements inspired by an India much loved by the Victorians.
Biltmore has long been a romantic destination for weddings, honeymoons and romantic getaways, so showcasing wedding dresses and groom attire made sense. "It's no coincidence that Hollywood's most classy and fashionable films usually happen to have a wedding ... and thus a wedding dress," said Klingner. "I am astonished how the authenticity, accuracy and attention to detail in each of these costumes brings the characters to life."  
Putting together an exhibition of this caliber is no easy feat. The research, creativity and hard work from the Biltmore team took well over a year to get in place. "From the mannequins custom-made in Italy, the elaborate arrangements created by the floral team at Biltmore, to the selection of costumes from Cosprop, plus our engineers and builders completely rebuilding display areas, pretty much all our Biltmore departments were involved in this exhibition," said Klingner.
A wedding party held in Biltmore's winter garden for Cornelia Vanderbilt's marriage to John F. A. Cecil in 1924. Courtesy of The Biltmore Company.
And of course, Biltmore was itself the setting for one of the 1920s' biggest celebrity weddings––that of Cornelia Vanderbilt to John F. A. Cecil on April 29, 1924. Guests arrived from around the world, with 500 guests invited to the ceremony in neighboring Biltmore Village and 2,500 more invited to the wedding reception in the house.
Stories and treasures from that and other Vanderbilt and Cecil family weddings will be highlighted in a new exhibit at The Biltmore Legacy in the Antler Hill Village on the Estate.
Here you'll find the first-ever display of the wedding veil worn by Mary Lee Ryan Cecil and her cousin Jacqueline Lee Bouvier Kennedy, along with a recreation of  Cornelia Vanderbilt's own wedding gown. Klinger and her team shared a unique collaboration with John Bright and his team at Cosprop to create a breathtaking likeness of the Vanderbilt family heirloom.
"The finished product is truly eye candy," said Klingner. "We couldn't be more pleased with the outcome."
"We wanted to honor the history of romance that is a part of the Biltmore experience," said Klingner. "To blend the Hollywood wedding costumes, along with the authenticity of the Vanderbilt's own love and romance, all here on the elaborate settings of the Biltmore Estate, makes for a truly one-of-a-kind experience."
Fashionable Romance: Wedding Gowns in Film runs February 12 through July 4 and is included in the regular admission price for Biltmore Estate.
Photo at top, depicting Jennifer Ehle's wedding gown from Pride & Prejudice, courtesy of The Biltmore Company.