Share Something Good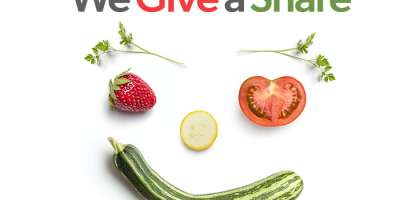 Local Farmers and Chefs Feed the Community with Your Help
Local farmer Aaron Grier found inspiration at the end of a phone call with an award-winning Asheville chef.
Grier had called friend and James-Beard nominated Chef John Fleer to talk about his concerns in the wake of the Coronavirus closures. As restaurants closed due to Coronavirus, he was worried about how his Gaining Ground Farm in Leicester, just 10 minutes outside of Asheville, would continue to operate, maintain jobs for workers, and provide for the community. As they prepared to end their call, Grier said to Chef Fleer "Be Safe." Chef Fleer responded, "And, do something good in the world."   
In that moment, the seed was planted in Grier's mind to find a way to serve his community at this time of crisis.
He and his wife Anne developed an innovative, grassroots initiative called "We Give A Share." Through the program, you make a donation (in the form of a farm share) through the We Give a Share web site. Your donation helps Gaining Ground farm to provide food for some of Asheville's top chefs to prepare at the Southside Kitchen to serve those most in need. 
Impressively in just a matter of weeks, the We Give a Share team was already building a model for how the program can be replicated in communities across the nation. In just over two weeks the effort raised more than $82,000.
A true partnership between local farmers, chefs and community activitists
While Coronavirus has brought with it many challenges, the Asheville response has shown the resiliency and the collaborative, powerful spirit of the community.
Before that fateful call Grier shared with Chef Fleer, three Asheville chefs and a leader with the Housing Authority of the City of Asheville dove into action together, alongside nonprofit Green Opportunities, to begin helping some of the city's most vulnerable communities.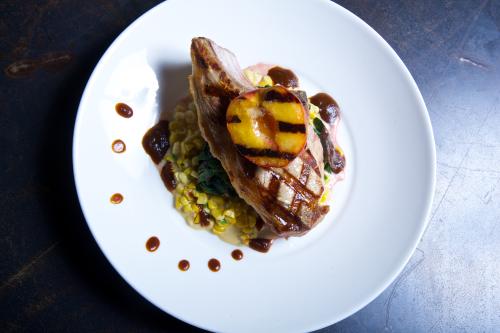 As restaurants shut down, David Nash from the Housing Authority reached out to beloved local chef Hanan Shabazz (Benne on Eagle) to see if she could help reopen the Southside Community Kitchen -- which had been closed for about six months. Southside Kitchen, started in 2012 by former Asheville restaurateur Mark Rosenstein, is a community center and commercial kitchen that serves some of those most in need in the Asheville area.
Shabazz then reached out to Rosenstein (founder of The Market Place restaurant), and friends/fellow chefs John Fleer (owner of Rhubarb, The Rhu and Benne on Eagle) and Kikkoman Shaw (chef for Blackbird) for backup.
In record time the group teamed up to make sure Southside Kitchen was power washed, sanitized and organized so they could begin cooking nutritious meals for their community. And, just one week after the Governor had ordered North Carolina restaurants closed due to the virus, they had the kitchen up and running on March 24. 
The region's local food bank, MANNA, had been generously donating what they could to the effort, but fresh produce was still difficult to obtain.
That's where Grier and the We Give a Share initiative stepped in. Through donations of farm shares, Grier is able to put fresh ingredients in the hands of the chefs to utilize at Southside Kitchen to feed the community. 
A Vision for Change
In years past, Southside Kitchen had been used as a training facility under the inspiring leadership of Rosenstein to help people put their lives back on track. 
A chef-activist to his core, Rosenstein's impact on Asheville's culinary landscape goes back to the late 1970s when his was the only fine dining restaurant in town. He was building growers networks and buying from farmers long before farm-to-table was a popular idea.  
In the modern farm-to-table era, James Beard Award nominated chef John Fleer has enabled farmers such as Aaron and Anne Grier to make a living on their land.
Fleer has placed generous weekly orders of Gaining Ground Farm's vegetables and helps connect the farm with other chefs seeking local organic produce.  
Aaron Grier had long wanted to thank Chef Fleer for his support.
Following that impactful phone call, Grier has found a way to do just that with We Give a Share.
We Give a Share Promo from Will Eccleston on Vimeo.
Do Something Good: How Give a Share Works 
Similar to a CSA (Community Supported Agriculture) subscription where memberships enable participants to receive a regularly scheduled box of fresh produce, eggs, bread, flowers and other farm offerings, We Give A Share offers supporters an opportunity to buy a nominal "share" of the farm dedicated to growing specifically for the Southside Kitchen.   

Local farms will deliver fresh organic produce to the chefs at the kitchen weekly so their community meals are as nutritious and delicious as possible.  

We Give A Share has a vision beyond this crisis. The team is already at work building a sustainable framework for the program in the hopes it can be replicated in other communities as well as continue to thrive and grow in Asheville for years to come. 
Writer Elizabeth Sims contributed to this story.