Santa on the Chimney at Chimney Rock State Park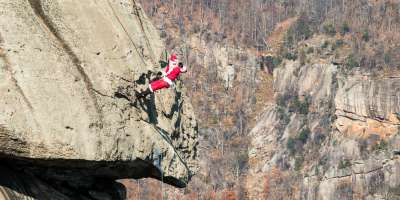 2023 Santa on the Chimney Dates: December 2 & December 9
Before traveling the world to climb down chimneys and deliver presents on Christmas, Santa practices in the Asheville area on one of the biggest chimneys of all!
The first two Saturdays in December mark
Santa on the Chimney
, a tradition that gives you and your family the opportunity to watch Santa rappel down the 315-foot granite outcropping that gives
Chimney Rock State Park
its name. Santa is assisted by his professional rock climbing buddies from Fox Mountain Guides. 
Chimney Rock State Park goes all out to welcome Santa for this only-in-Asheville holiday tradition. While the main event is watching Santa practice on the Chimney, you'll also enjoy live music, family-friendly activities, and the opportunity to take family photos on Santa's sleigh.
Experience the Tradition
In 2023, Santa rappels down the Chimney on December 2 & December 9. On those Saturdays, you can see him on the Chimney at 11:30 a.m., 12:30 p.m. and 1:30 p.m.
After each trip down the Chimney, Santa will take a well-deserved break so that he and Mrs. Claus can take pictures with children and families. Complimentary hot cocoa and cookies will be provided, courtesy of Mrs. Claus. 
What to Know: Santa on the Chimney 2023
2023 Dates: December 2 & December 9
Location: Chimney Rock State Park (25 miles from downtown Asheville)
Time: 11:30 a.m., 12:30 p.m. and 1:30 p.m.
Admission cost: Regular park admission does apply but there is no additional cost to attend Santa on the Chimney
Please note: The event is weather dependent.
Updated October 13, 2023