Santa on the Chimney at Chimney Rock State Park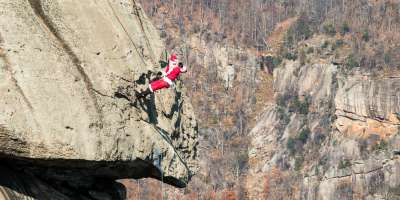 2018 Santa on the Chimney Dates: December 1 and December 8
Before traveling the world to climb down chimneys and deliver presents on Christmas, Santa practices in the Asheville area on one of the biggest chimneys of all!
The first two Saturdays in December mark Santa on the Chimney, a tradition that gives you and your family the opportunity to watch Santa rappel down the 315-foot granite outcropping that gives Chimney Rock State Park its name. Santa is assisted by his professional rock climbing buddies from Fox Mountain Guides.  
Chimney Rock State Park goes all out to welcome Santa for this only-in-Asheville holiday tradition. While the main event is watching Santa practice on the Chimney, you'll also enjoy live music, family-friendly activities, photos with Santa and Mrs. Claus and complimentary refreshments/snacks.
The Park is just 25 miles from downtown Asheville.
Experience the Tradition
In 2018, Santa rappels down the Chimney on December 1 and December 8. He'll be rappelling at 11:30 a.m., 12:30 p.m. and 1:30 p.m. At the top of each hour between 11 a.m. and 2 p.m., Santa will take a break from climbing the Chimney so that he and Mrs. Claus can visit with children and families. You and your family can take complimentary photos with Santa (which will be available to download the next day). Local poet Eddie Cabbage will be available with his vintage typewriter to help children put together their Christmas wish lists. And, choirs will perform live from 11:30 a.m. to 12:30 p.m. Make sure to grab complimentary cookies and hot cocoa throughout the event!   
Before you see Santa on the Chimney and enjoy these activities, the day begins in Chimney Rock Village at the Old Rock Cafe. Eat Breakfast with the Elves from 7:30-10:30 a.m. Kids can write or draw their wish list for Santa, listen to holiday music and hear Mrs. Claus read them her favorite Christmas story (10 a.m.). Santa won't make an appearance at breakfast because he'll be getting ready for his afternoon practice on the Chimney.
The event ends both Saturdays at 2 p.m. with a hike guided by an elf on the Great Woodland Adventure Trail.
What to Know: Santa on the Chimney 2018
2018 Dates: Saturday, December 1 and Saturday, December 8
Location: Chimney Rock State Park (25 miles from downtown Asheville)
Time: 11 a.m. to 2 p.m.
Admission cost: Regular park admission does apply but there is no additional cost to attend Santa on the Chimney
Updated November 19, 2018