Polvorones - Marcona Almond Cookies Recipe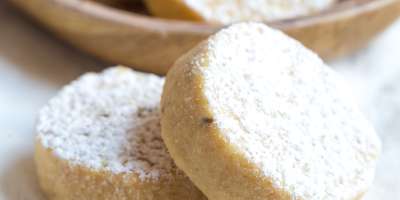 Enjoy melt-in-your-mouth delicate Marcona Almond Holiday Cookies known as Polvorones as made by Curate's Chef Katie Button. The name polvorones comes from the Spanish word, "polvo" which means dust. The classic recipe calls for regular almonds, but Chef Katie puts her its own twist on this favorite with buttery roasted marcona almonds. In keeping with the Spanish tradition, this recipe does not change the use of lard, which yields the melt-in-your-mouth crumbly round that still retains a toasty cookie appeal. Polvorones are traditionally baked for Christmas and make ideal holiday gifts because they keep well in cookie tins or other hard containers.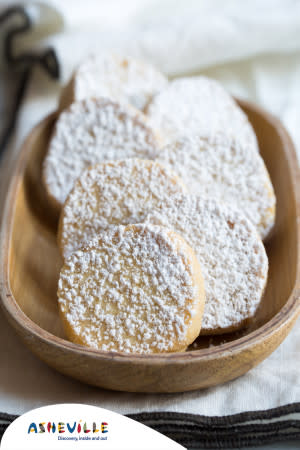 Ingredients (makes
2 to 3 dozen

):
2½ cups all-purpose flour

1 cup roasted salted marcona almonds, preferably skin on

1¼ cups lard (high-quality rendered leaf lard), chilled and cut into chunks

1¼ cups packed confectioners' sugar

1 tbsp. lemon zest

1 tbsp. fennel seeds
Directions:
Preheat the oven to 350 degrees.

Spread the flour on a half-sheet pan. Place in the oven and bake, stirring once or twice, until lightly toasted and fragrant (about 15 minutes). It will smell toasty, but have no color at all.

Cool completely on the pan on a wire rack.

Process the almonds in a food processor until finely ground, scraping the bowl occasion­ally.

Beat the lard and confectioners' sugar in a large bowl with an electric mixer on low speed until well-blended. Once the sugar is completely incorporated into the lard, add the ground almonds, cooled toasted flour, lemon zest, and fennel seeds. Beat on low, scraping the bowl occasionally, until the mixture is completely blended and crumbly with a few larger clumps.

Transfer the clumps and crumbs to a clean work surface. Gather together and press firmly into a 1-inch-thick rectangle. Flatten to ½-inch thickness by rolling with a rolling pan or pat­ting with your hands. Cut into 1½- or 2-inch rounds using a round cookie cutter.

Transfer to ungreased cookie sheets by sliding a thin offset spatula or bench scraper under each round and placing on the sheets, spacing 1 inch apart. Press together, flatten, and cut out the scraps.

Bake, one sheet at a time, until just barely starting to brown on the sides and on the bot­tom, 15 to 20 minutes. Cool completely on the sheets on wire racks.
The polvorones can be stored in an airtight container at room temperature for up to 1 week. Separat­e layers of cookies with wax paper, because they do crumble easily.
Excerpted from the book CÚRATE by Katie Button with Genevieve Ko. Copyright © 2016 by Katie Button with Genevieve Ko. Reprinted with permission from Flatiron Books. All rights reserved.