Pecan Sticky Buns with Crème Fraîche Recipe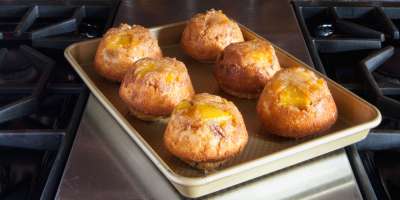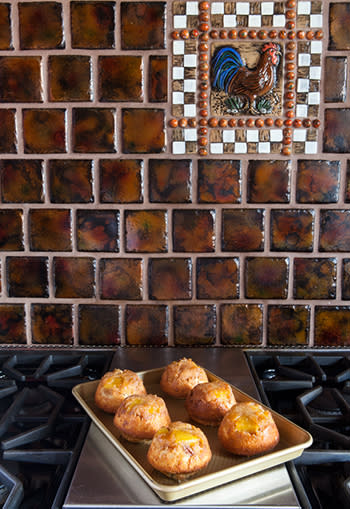 Innkeeper Christina Muth serves these tasty treats as the first course of her elegant Beaufort House Inn breakfast year-round. Baked upside-down and then inverted, the buns are best served hot with a drizzle of crème fraîche and a dusting of fresh nutmeg.
Ingredients
4 eggs

2 cups white sugar

2 cups all-purpose flour

Pinch of salt

2 teaspoons baking powder

1 cup half & half, ½ c butter

1 teaspoon vanilla extract

Chopped pineapple and dried fruit—about 1 cup total
(Tip: consider red & green maraschino cherries for the holidays!)

1 ¼ cups light brown sugar, divided

¾ cup chopped pecan pieces

16 ounces sour cream
Method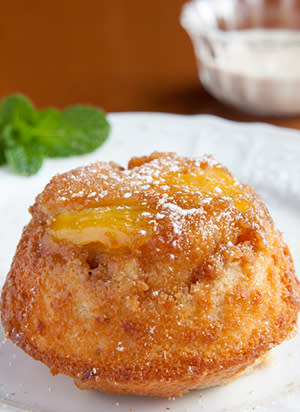 Beat eggs and sugar in mixer with rotary beaters.

Whisk flour, baking powder and salt together in a separate bowl—add to egg mixture a bit at a time until blended.

Bring half & half to a light boil and melt butter into it, whisking all the time. Do not allow mixture to scald.

Add hot cream mixture to the flour and egg mixture. Beat until completely mixed and smooth. Add vanilla and mix until blended.

Place 1 teaspoon of butter in each muffin cup and place tin in oven until butter is melted. Remove from oven, allow to cool slightly, and then brush the butter up and around inside of each muffin cup.

Fill buttered muffin cup, with one layer each, beginning with:

1 Tablespoon light brown sugar

Chopped pineapple, red/green cherries

1 Tablespoon chopped pecans

Fill with batter to about ¼-inch from the top.

Place muffin tin in a 350° oven for 20-25 minutes. Run a small knife around edge of each bun to gently loosen. Invert muffin tin onto cookie sheet.

Prepare crème fraîche—whisk together sour cream and ½ cup light brown sugar. Whisk well and keep cold until ready to serve.

Serve hot sticky bun dusted with confectioner sugar and topped with a dollop of crème fraîche. Grate a little whole nutmeg and garnish with mint sprig if available. Serve immediately.
Yield: 12 sticky buns
Batter can be made the night before. Bring to room temperature just before baking.
---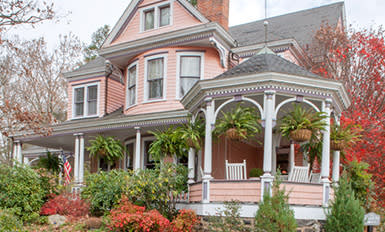 About Beaufort House Inn
The Beaufort House Inn was completed in 1895 and originally built for the wife of one of Asheville's mayors. Today innkeepers Jim and Christina Muth offer what they call the "Beaufort Experience"—including a wine hospitality tour, relaxation on the Victorian wraparound porch, unique furnishings and a two-course breakfast—all located just half a mile north of downtown. Learn more…