One Trip, Two or More Generations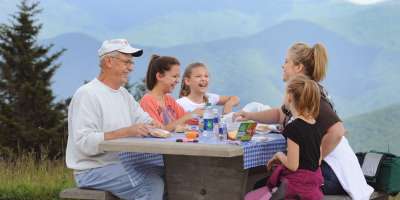 Make the Most of the Multigenerational Getaway
In search of the perfect family-friendly vacation destination for kids, parents and grandparents? Look no further. Asheville has something fun and enjoyable for everyone, regardless of age.
Visitors have been flocking to Asheville since the 1880s when railroad companies transformed it from a wilderness outpost to a destination for those in search of outdoor adventure and fresh mountain air. Now, Asheville attracts both outdoorsy and artsy types with its urban quirkiness and rural charm.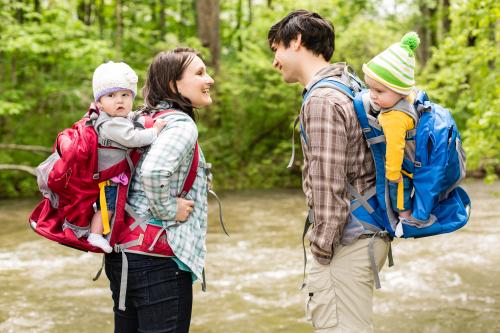 This is one of the best places in the southeast for ziplining, where you soar through the woods 35 stories above ground at up to 60 mph. There are zipline courses for kids as young as four, but if "playing Tarzan with a more secure vine" isn't appealing, there are plenty of other ways to experience Asheville outdoors. Hike one of the many nearby trails, take a mountain bike ride or kayak the French Broad River.
It seems decadent to explore the walkable downtown under any power other than your own, but a ride in the bright yellow Asheville Bike Taxi is hard to resist. During a trip to India, owner Jessie Lehmann thought this urban rickshaw would appeal to visitors who have exhausted themselves shopping, hiking or bar hopping but aren't quite ready to call it a day. She may be right.
Asheville dining itself is also an adventure. The recent influx of young, innovative chefs has put the town on the culinary map. Some restaurants like Corner Kitchen have earned a dedicated following for their updated, refined take on Southern cuisine. Still, others are regaled for perfecting Southern comfort food. The Early Girl Eatery serves up farm-to-table breakfasts all day. And 12 Bones Smokehouse is a slow-cooked barbeque joint in the River Arts District offering the scrumptious Hogzilla—everything pig on a bun—plus family favorite Southern sides.
Don't leave Asheville without exploring its many literary and film ties, beginning with the Thomas Wolfe Memorial, the museum and turn-of-the-century boarding house of the town's most famous native son.
Asheville has its share of Hollywood close-ups, too. Much of the movie adaptation of The Last of the Mohicans was filmed here, as well as scenes from Patch Adams, Forrest Gump and Hannibal. The teens in your party may be happy to know that the area also served as District 12 in the blockbuster movie The Hunger Games. There's even an online interactive map detailing the places frequented by stars Jennifer Lawrence and Josh Hutcherson.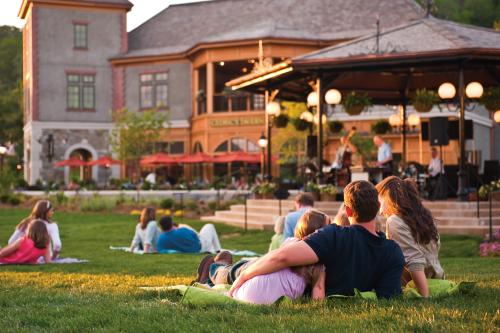 Of course, no trip to Asheville is complete without a visit to the palatial Biltmore Estate and its shops, restaurants, gardens and winery. The three-mile drive from the entrance gate winds along the French Broad River, through the natural woodlands before the fabulous French Chateau, finished in 1895, appears. Stroll the miles of both paved and wood chipped paths in the lush formal English and French gardens where something is always abloom, and be sure to stop for a visit with the animals at Antler Hill Farm.
Antler Hill Village photo courtesy of The Biltmore Company.