Meletzanes Papoutsakia Recipe
Ingredients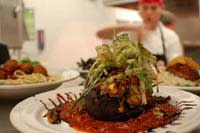 2 large eggplants, (a couple nice Rosa Biancas from the garden if its summertime)
 tops cut off, then halved lengthwise
1 cup quartered artichoke hearts
2 portabella mushrooms, small dice
1/2 cup Kalamata olives pitted, then rough chopped
1 leek, small dice
1/2 cup julienne sun-dried tomatoes
1/2 cup crumbled feta cheese
1/4 cup shredded Parmigiano Reggiano cheese
2 tbsp. shredded Parmigiano Reggiano cheese
2 tbsp. each fresh basil and oregano
2 cloves fresh garlic sliced very thin
Extra virgin olive oil
Sea salt and pepper as needed
Preparation
Preheat oven to 350 degrees.
With a pastry brush, lightly cover the flesh sides of the split eggplant, then season with sea salt and pepper.
Place eggplant, skin side down in a large baking dish then cover with foil. Bake in oven for approximately one hour, until eggplant is tender yet firm, not mushy.
While eggplant is baking, prepare the stuffing. In a large skillet or sauté pan, heat up about 2 tbsp. of extra virgin olive oil, then sauté the garlic and leeks till tender.
Add the mushrooms and white wine and cook till mushrooms are soft, take care not to over cook, you want them still large and plump! Take off heat, then add artichoke hearts, sun-dried tomatoes, both cheeses and fresh herbs. Mix together with a wooden spoon or rubber spatula.
Turn oven up to 450 degrees. Place stuffing on top of eggplant halves (still skin side down), packing snugly onto each half with your hands. Place in lightly oiled baking dish and cook for 10 to 15 minutes until a light "crust" forms on the top of the stuffing.
Serve on a plate covered with your favorite tomato sauce (a simple tomato-basil pomodoro sauce is a restaurant favorite). Garnish with Parmigiano Reggiano and some fresh herbs. If you're feeling daring, some julienne leeks (about 2" long) soaked in cold water then drained, dusted lightly with cornstarch, then deep fried in a high heat, expeller pressed canola oil at 350 degrees for just about 30 seconds. Season lightly with sea salt and place gently on top of each eggplant, this makes for a more dramatic presentation and adds a whole new texture to the dish!
Enjoy!
Recipe provided by Pomodoros Greek & Italian Cafe. Both the owner's mother and Executive Chef Cookie Hadley have gardens which provide fresh herbs and vegetables for the restaurant. Fresh seafood is delivered to Pomodoros six days a week. The salmon they serve is always Wild Sockeye Salmon rather than farm raised, and they only use pure oils that are not partially hydrogenated and have zero trans fats. They choose extra virgin olive oil in the same manor that a sommelier would choose a fine wine. It is Pomodoros' philosophy to purchase the best products available for the recipes, and they prepare almost every item on the menu from scratch using only the finest ingredients. They never use any products that the owner wouldn't want his own family to eat.