Planners: Leverage Your Relationship with CVBs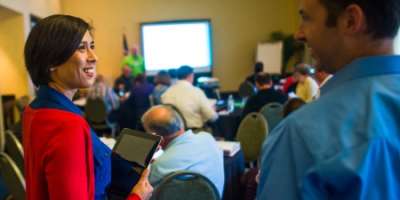 WHY DO PLANNERS CONTACT A CVB?
Planners are busy people, often juggling multiple planning obligations simultaneously. When they contact the CVB, they are looking for customized, time-saving assistance to help them quickly understand the options available to them. They want fast facts --- accessibility, climate, meeting options, etc --- and we can provide this information quickly. The CVB will also distribute a meeting's RFP and coordinate the hotel responses, saving planners from making multiple phone and email outreaches. Additionally, a planner will contact the CVB to coordinate site visits and accompany them while they are in town. Planners want local connections for everything -- from how to incorporate a social responsibility program into the itinerary to securing a local official to welcome the group to town -- and the CVB staff delivers.  
WHAT CAN A PLANNER EXPECT FROM THE ASHEVILLE CVB?
The Asheville CVB staff truly are local experts with long-term, in market relationships. Our CVB offers a comprehensive, multi-faceted view of Asheville, tailored to a groups specific needs. We have the inside knowledge on what is available now AND what will be coming available down the pipeline. While we don't make the final choice for a planner, we will help them understand all the options available to them and there is no charge for our services. 
We love the client who wants to inject some Asheville authenticity into their program. The ACVB can offer suggestions ranging from hosting an off-site event at an iconic attraction to suggesting an Asheville busker to perform at the opening session. Unless attendance is mandatory at the event, attendees can decide if they want to attend or not. Our goal is to help the client build attendees' excitement about the event in Asheville, NC by injecting some Asheville authenticity into it.
ADVICE FOR PLANNERS
Start by simply approaching the CVB in the destination you are considering placing your event in. Help them help you by including them in the initial planning stages of the event. In Asheville, we offer a planner additional exclusive services if we are brought in at the beginning of the sales process as opposed to waiting until the event is sourced and contracted. You may find the CVB can provide added support/services if they are involved from the initial inquiry.