James Beard Connections in Foodtopia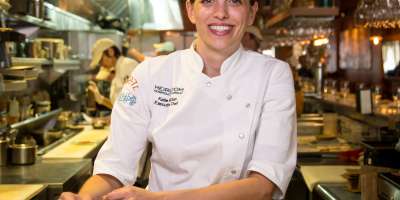 Top Asheville Restaurants Earn National Honors 
Think of American food and one name comes to mind. James Beard. Julia Child called him the "Dean of American Cuisine," and he was.  Three decades after his death, The James Beard Foundation continues his work by recognizing regional chefs who are taking American Cuisine to new heights. So it comes as no surprise to see Asheville's Foodtopians honored by the Foundation.
James Beard Awards:  Oscars of the Culinary World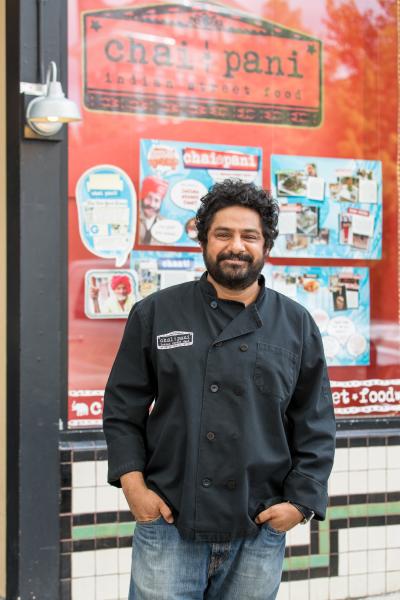 Being nominated is an honor many aspire to but few achieve. Jacob Sessoms of Table was the first Asheville chef to be nominated for Best Chef Southeast in 2010. Three years later, two Asheville chefs were on the list: Eliott Moss, then at The Admiral, for Best Chef Southeast, and Curate's Katie Button for Rising Star Chef of the Year (she received a second nomination in 2014).
Like the Fibonacci Series, the numbers keep increasing. In 2015, Rhubarb's John Fleer, Katie Button (pictured above) and Chai Pani's Meherwan Irani (pictured to the right) were all nominated for Best Chef Southeast, out-performing much larger foodie cities, such as Charleston. For Irani, it was his second nomination. Fleer is a four-time James Beard Award finalist.
The 2016 Awards added two new names to the roster of Beard semifinalists. Rhubarb's Cynthia Wong was nominated for Best Pastry Chef, a repeat recognition for the dessert designer, who was last nominated in 2012 while at Atlanta's Empire State South. And Brian Canipelli of Cucina24 was tapped for the Best Chef Southeast list after almost eight years of serving up delicious Italian fare on Asheville's Wall Street.
And in 2017, John Fleer, chef of Rhubarb and The Rhu, and Elliott Moss, chef of Buxton Hall Barbecue, were again nominated for Best Chef of the Southeast. Western North Carolina's Ronni Lundy won two James Beard Foundation Awards, including Book of the Year, for her book, "Victuals: An Appalachian Journey, with Recipes."
In 2018, four Asheville area chefs/restaurateurs were named semifinalists: Leah Wong Ashburn of Highland Brewing Co., David Bauer of Farm & Sparrow, Meherwan Irani of Chai Pani and Katie Button of Nightbell/Curate. Button made the short list of five nominees for Best Chef Southeast. The winner will be announced May 7, 2018. 
The James Beard Celebrity Chef Tour
This prestigious nationwide tour pays homage to the unforgettable meals James Beard served his friends at his Greenwich Village home. In 2014 and 2017, William Dissen, chef/owner of The Market Place, hosted an evening of sublime food and wine at his sleek Wall Street restaurant as part of the Tour.
Foodtopians Elliott Moss of Buxton Hall and nationally-acclaimed chocolatier Daniel Rattigan of the French Broad Chocolate Lounge, have joined along with other Southern stars from Raleigh and Louisville.
In May 2018, Posana and Chef Peter Pollay hosted the James Beard Celebrity Chef Tour which will include Asheville chefs Katie Button and John Fleer. For more information, please visit the James Beard Foundation web site.
Advocating for Sustainability and Seasonality
When it comes to sustainability and farm-to-table cooking, James Beard was a man ahead of his time, which is why he would feel right at home in Asheville. Before these terms became part of our culinary lexicon, Beard was advocating for both. He would appreciate that Asheville was the first city in the U.S. to be certified as a Green Dining Destination. He would applaud the Asheville independent restaurants that consistently make the list of "greenest restaurants in the U.S.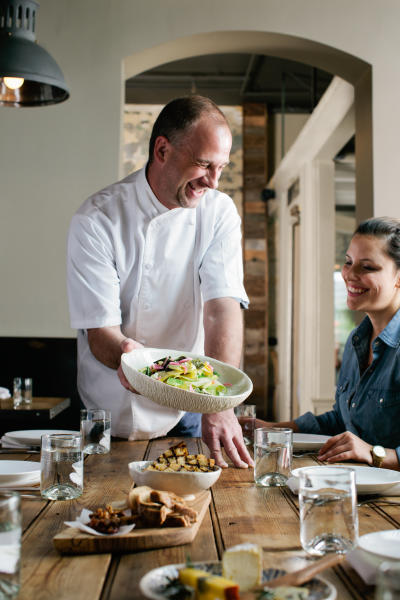 Beard would also embrace the "100-mile diet" that is standard fare for chefs like John Fleer (pictured) whose creations pay homage to Western North Carolina's seasonal bounty. Thanks to the independent restaurant community, small family farms are thriving.
Asheville is now a city of neighborhood tailgate markets and where regional grocery store chains tout their wide selection of local produce, meat and cheese.
James Beard never visited Asheville, but his influence is evident in every delicious forkful of food prepared by a new generation of Asheville chefs who share his belief that food should be fresh, local, delicious and authentic. It's what brings guests to Asheville and what keeps them coming back. Proof positive that the legacy of James Beard is alive and well in Foodtopia.
September 1, 2015