How to Virtually Experience Asheville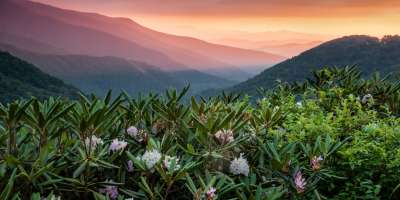 Having trouble viewing on mobile? Click here to see the Google Street View version.
Explore Biltmore Virtually in 360 Degrees
Biltmore is a place that can easily take your breath away. From the awe-inspiring details inside the home to the beautifully-manicured gardens and trails, you'll find there's so much to explore.
Biltmore has created a series of Biltmore Virtual Tour Playlists on the Biltmore YouTube Channel featuring beautiful and inspiring videos. In the videos, you'll see the gardens, Downton Abbey: The Exhibition, and more. And, keep your eye out for new virtual tour playlists expected to be uploaded in the next couple of weeks.
Explore Asheville has also developed a way to help you discover Biltmore from afar. Through a partnership with Biltmore and Google Street View, check out these 360-degree looks at iconic locations across Biltmore Estate.
360 View - Terrace
Having trouble viewing on mobile? Click here to see the Google Street View version.
Experience the Blue Ridge Parkway in a New Way with this Interactive Online "Explorers" Guide
The Blue Ridge Parkway is a 469-mile roadway known as "America's Favorite Scenic Drive." This incredible scenic road passes right through Asheville, providing a gateway to stunning sweeping views of endless mountain ridges. We've collected the stories of seven people (past and present) who have truly made it their mission to explore the Blue Ridge Parkway.
From stories to videos to interactive maps, experience the Parkway in a new manner with our Explorers of the Blue Ridge Parkway Guide.
Find Peace with Free Online Yoga and Meditation Set in the Blue Ridge Mountains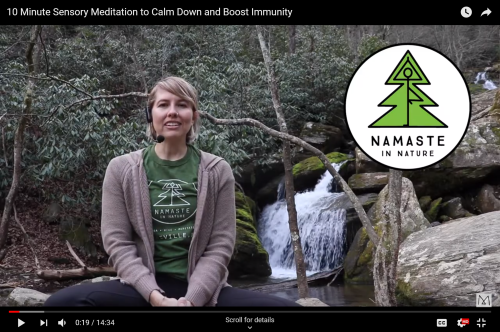 Find your zen during this stressful time. Miranda Peterson of Asheville yoga hike company Namaste in Nature has developed a series of free, online videos to help you relax. In the videos, Miranda guides you in front of a backdrop of vistas, waterfalls and forest trails in the Blue Ridge Mountains. 
From a 10-minute sensory meditation to a gentle, immune boosting yoga asana practice, these videos are designed to "calm and support your immune system." The videos are easily accessible on YouTube.
Asheville Community Yoga, West Asheville Yoga and Pure Barre Asheville are among local studios livestreaming classes so you can get your workout in from the comfort of home.
Tap into Asheville's Wellness Culture
Invite Asheville's unique and storied wellness culture into your home. 
Asheville Wellness Tours is offering online experiences to help you bring you and your friends/family together even while you're separated. Choose from group tarot readings, private yoga classes, meditation and dance (coming soon). Gather your group (virtually, of course) to foster connection, balance and self care. 
Discover Art Through Online Activities
Thanks to an online treasure trove of material, take a panoramic virtual gallery tour of the Asheville Art Museum collection. Through its Collection, the Museum provides "an overview of significant movements and trends in American art of the 20th and 21st centuries and art of significance to the Southeast." Other online resources include works of the week and kids' activities.
The Southern Highland Craft Guild provides a similar online experience with a virtual tour of current exhibitions.
The Black Mountain College Musem + Art Center has created a new "Museum from Home" resource center where you can find ways to experience art and performance, learn more about Black Mountain College and its artists, and even participate in virtual events. Over on their Instagram, Facebook, and Twitter, they are sharing daily posts, creative prompts, updates, and articles, plus curator-led video tours of the exhibition Question Everything! The Women of Black Mountain College on Instagram Stories.
On April 16, the Center for Craft unveiled a 3D tour of its newly renovated building. Within the stunning 3D virtual tour by Gabe Swinney, you'll find factoids to help you understand what you're seeing. The tour includes "factoids" about the "Craft Futures 2099" and "Shapeshifters" exhibits, our Craft Research Fund Study Collection, Cowork at Center for Craft, building history, permanent artist installations, and more!
Binge on Video of Beautiful Vistas and Asheville Favorites
Enjoy the beautiful sights and sounds of Asheville thanks to video playlists on Explore Asheville's YouTube channel. From the inspiration Return Again video featuring music from Asheville band River Whyless to a timelapse footage of mountain sunrises, sunsets and cloud inversion, experience the beauty of the Blue Ridge.
To make you smile, check out Sammy the rescue dog's adventures in Asheville!
Enjoy Family Fun with Science
During its temporary closing, the Asheville Museum of Science wants to help you and your children experience science! You can join their email list for a Daily Dose of Science so that the "science never stops." Content will include videos, activities, worksheets, and other science-related material for you to enjoy at home!
Take a Campus Tour
Asheville is home to the University of North Carolina Asheville, a public liberal arts and sciences university with more than 30 undergraduate areas of study. UNC Asheville also has an acclaimed undergraduate research program, NCAA Division I athletics program, and a world-renowned Osher Lifelong Learning Institute. While the university is unable to host campus visits right now, you can take a virtual visit of everything from the Quad to the student union to the residence halls by visiting the university's virtual experiences page on its web site. 
Give Yourself a "Nature Minute"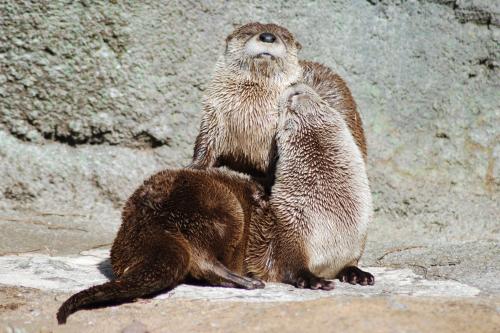 One of the Asheville area's most beloved outdoor attractions, Grandfather Mountain, is hosting a series called "Nature Minute." In the videos, park staff will showcase the adorable animals such as otters, cougars and bears that call this nature preserve home. You'll also be introduced to the natural wonders of the mountain. You can watch the series on Grandfather Mountain's Facebook page. 
Photo of otters by Frank Ruggiero/Grandfather Mountain Stewardship Foundation.
Dance to the Beat of Asheville Symphony Sessions
Find comfort in the sounds of Asheville's Symphony Orchestra. The Asheville Symphony Sessions showcase collaborations between the Symphony and Asheville musicians/bands.
The music you'll hear (and watch) is from an album was produced by Michael Selverne at Asheville's Echo Mountain Recording Studios. A number of notable arrangers worked on the project including Michael Bearden, who works with Lady Gaga and Neil Young and was Michael Jackson's musical director for the This Is It tour.
A collaboration between the Asheville Symphony, Asheville-area based, Grammy winning Steep Canyon Rangers and iconic R&B group Boyz II Men, earned international acclaim from the likes of Rolling Stone. Watch a video of the first time the three groups came together on stage to perform the song Be Still Moses.
Brighten Your Day with Music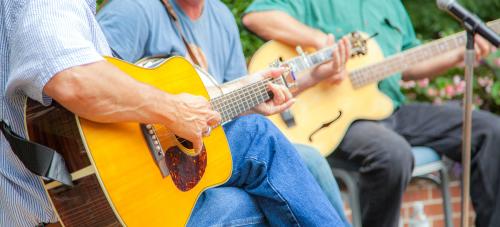 IAMAVL, an Asheville company that provides high-quality video and audio streaming for musicians, wants to brighten your spirits with Asheville music. 
Each day, IAMAVL is "restreaming" favorite Asheville music performances they have captured on video. You can watch the videos on the IAMAVL Facebook page. And, consider making a donation to the performers through the Musician Relief Fund. 
A similar Asheville music effort, Keep Music Live Project, is offering free, onlive streaming of music performances by Asheville musicians. Keep Music Live is a partnership by Streamside Concerts, Acoustic Journeys Concert Series, Dream Guitars, Asheville Music School, Deb Cornish Audio and Fretboard Journal. Keep Music Live is also on Facebook.
You can also give the gift of Asheville music to someone you love. Asheville musician Hannah Kaminer has organized a new service that you can use to order a personal virtual concert (and conversation). Order the virtual concert to brighten someone's day or to help mark a special occasion you may not be able to celebrate together. All the musicians will be drawn from the Asheville/Western North Carolina music scene.   
And, every Saturday night from 9-11 p.m., Off the Wagon Dueling Piano Bar wants to brighten your spirits with a virtual, all-request live show on its Facebook page.
Stream Movies Set in Asheville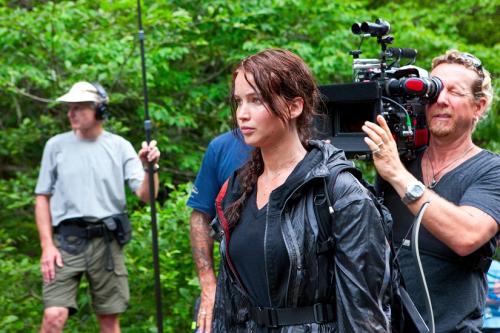 As you browse for something to watch on your favorite streaming service, keep an eye out for these movies that were filmed here in the Asheville area.
From Three Billboards Outside of Ebbing Missouri to The Hunger Games to Richie Rich to The Last of the Mohicans, you can easily put together a movie playlist that would make any Asheville enthusiast proud.
Speaking of movies, Asheville's Grail Moviehouse has launched a new streaming service called Sofa Cinema. SOFA CINEMA titles are arthouse theatrical streaming exclusives -- these films are not available on other streaming platforms. A portion of each purchase goes directly to Grail Moviehouse to help the theater through its temporary closure.
Use Laughter as Medicine
You know them for their purple funny bus, now LaZoom Comedy Tours is working to keep the laughs going with their weekly "What's Up Your Asheville" videos series on the LaZoom Facebook page. Think of these videos as similar to SNL's Weekend Update but with appearances from some of your favorite LaZoom characters such as Cookie Carter and Sister Bad Habit.
Modelface comedy is hosting a series of online comedy shows and events to keep you entertained. Shows include their weekly "Formal Fridays" which stream live on their Instagram channel.
Support #AshevilleStrong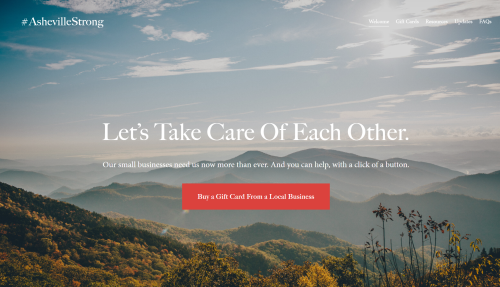 Are you an Asheville fan? Here's how to support the people and Asheville businesses who make the community so special.
Created by Asheville entrepreneur Catherine Campbell, the #AshevilleStrong web site offers the opportunity from afar to provide an immediate boost to the people of Asheville's small businesses. #AshevilleStrong encourages you to purchase a gift card now that can be used later. The web site has direct links to make it easy to purchase the gift cards from small businesses in Asheville and western North Carolina. The list of businesses is being updated daily!
Show your support with an #AshevilleStrong t-shirt from Asheville's MTN Merch. The shirts are available in numerous sizes and come in the colors of Navy and Cardinal.
*Have an idea for a virtual experience to include here? We want to know and share! Please send an email to news@exploreasheville.com.