Hickory Plank Salmon Recipe
This healthy seafood recipe uses a hickory plank to cook a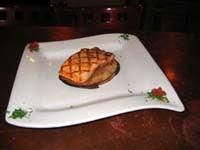 salmon filet, and hickory syrup adds a sweet kick.
4 Hickory Planks 4-6in
 4 8 oz. Salmon filets
Salt and pepper to taste
2 oz. Shagbark Hickory syrup
2 oz. rice wine vinegar
1 green onion, chopped tops only
½ tsp. red pepper flakes
1 tsp. garlic
Place last five ingredients in a small sauce pan and reduce by half.
Season filets with salt and pepper. Place flesh side down on hot grill for 3 minutes. Turn half a turn and cook three minutes more.
Place planks on the grill the same time as the fish. Flip when you turn the fish.
Place filets on planks, and brush with syrup glaze.
If your grill has a lid, close for six minutes more. If not, place in a 400-degree oven for six minutes. Serves 4.
Recipe provided by Lobster Trap, a locally-owned seafood restaurant in downtown Asheville.