Hanukkah Latke Recipe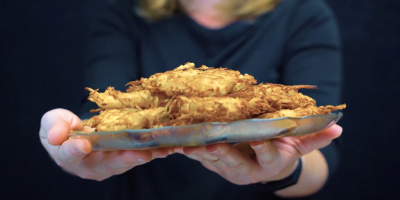 Latkes are a kind of potato pancake or fritter that are commonly made during Hanukkah. Because they are fried in oil, latkes help celebrate one of the miracles in the Hanukkah story: the Maccabees' oil that lasted eight nights after the destruction of their temple.
The Executive Director of the Asheville Jewish Community Center shares with you her family's own delicious latke recipe.
Ingredients:
6 potatoes
1 onion
2 eggs, beaten
¼ teaspoon baking powder
¼ teaspoon pepper
½ teaspoon salt
3 teaspoons flour or matzo meal (to thicken)
oil
Directions:
Peel and grate the potatoes and onion (Ashley's hint: use a food processor with a grating blade to speed the process! Also drain off the liquid that will form in your bowl of grated potatoes/onions as you go). Add the beaten eggs to the grated vegetables. Add the rest of the ingredients except the oil and mix well.
Heat a couple of inches of oil (vegetable/canola) in a frying pan.
Take a spoonful of the mixture and shape it into a round, flat pancake (Ashley's hint: it doesn't have to look perfect to taste delicious). Drop the latkes into hot oil, fry on both sides until they are browned and crisp.
Drain well on paper towels (Ashley's hint: heat your oven to its "warm" setting. Take a baking sheet, top it with a brown paper bag and paper towels, and place your fried latkes on the baking sheet to drain and stay warm in the oven while you fry the rest).
Serve warm with ketchup, sour cream, and/or applesauce.