Great Tours for Fall in Asheville, NC
Fall is a magical time in Asheville. The city and surrounding Blue Ridge Mountains offer one of the longest fall color seasons in the world — giving you ample time to explore! A guided tour can be the perfect way to experience the stunning fall foliage in unique and unforgettable ways.
Given the majority of these tours take place in the great outdoors, they are perfect social distancing activities. As another layer of safety, you can book private tours with most of these tour operators so that the only people joining you on your adventure are your family members and friends.
These tours, some of them relatively new, are perfect for experiencing autumn's glory in Asheville.
Mountain Hike Tours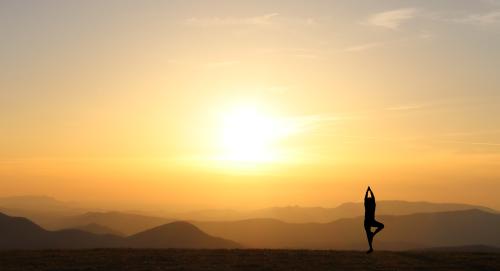 Namaste in Nature offers Blue Ridge Parkway and Sunset Yoga Hikes at Craggy Gardens through the end of October. 
Experience the relatively new Sunset Yoga Hike with Asheville Wellness Tours. Unplug, unwind and meditate with sweeping views of the fall color change. After beginning with a mindful meditation, sink into a nourishing yoga practice on the mountain top.
Get to know the local trails with the guidance of hiking experts and naturalists on a guided hike from Asheville Hiking Tours or Blue Ridge Hiking Company.
Waterfall Tours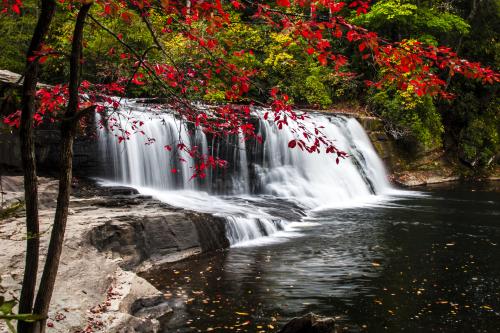 When wearing their autumn colors, waterfalls become even more enchanting. Tumblestone Waterfall Tours will transport you to at least three beautiful waterfalls, making stops along the way to take in the remarkable beauty of the Blue Ridge Mountains. Most tours involve only three miles of total hiking on easy-to-moderate trails. Tours are limited to up to seven people (min. of two people). Private tours are available upon request.
Namaste in Nature gives you the opportunity to either hike 2.5 miles to an epic 100-foot waterfall or hike four miles to see three amazing waterfalls. You'll meditate at the waterfall and practice yoga in the forest.
River Tours
For an up close look at Asheville's fall foliage, paddle down the French Broad River on a Wai Mauna Stand Up Paddle Board (SUP) Tour. Wai Mauna is open throughout October for you to enjoy a Fall Foliage French Broad Float.
Photography Tours
Experience how to capture the fall colors with your camera thanks to expert photographers in the Blue Ridge Mountains!
Asheville Photo Tours and WNC Photo Tours will guide you all the way.
Tours on Wheels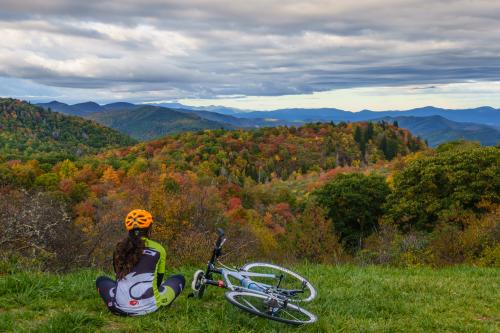 Easily explore the city's charming character and history on an electric bike. The Flying Bike Tour will give you the chance to experience everything from Asheville's noteworthy architectural gems to the stunning scenery. Tours are limited to seven people. Private tours are available upon request (use the form on their web site to make your request).
Take to the sidewalks and streets of downtown Asheville on a Moving Sidewalk Segway Tour. The two-hour tours are an unforgettable way to tour a large area. Tours are up to six people or you can book a private tour.  
One of the newest tours in Asheville, Shaka Street Tours gives you the opportunity see Asheville and the surrounding area on a stylish, new moped. You'll have a guide to help you explore and provide local information. 
Haunted Tours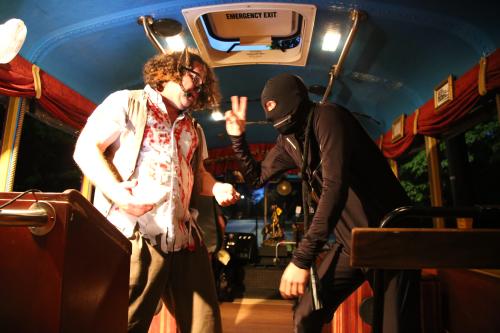 *Please note: As of August 2020, LaZoom Comedy Bus Tours are not currently operating. Gray Line Trolley Tours are suspended until at least August 31, 2020. Please check back for updates.
Be prepared to be scared silly! The LaZoom Comedy Bus offers a Haunted Comedy Tour that will help you see Asheville after dark as you've never experienced it before. Hop on the Gray Line Trolley Haunted History and Mystery Tour for more than an hour of ghoulish delights.
The tours from Haunted Asheville Tours have been developed by a renowned paranormal expert and TV personality.
Art Tours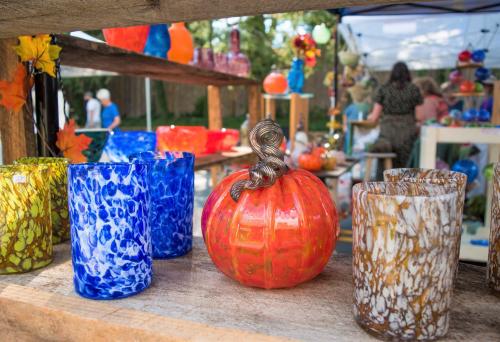 Experience the creative art culture of the Asheville area with the help of expert guide Sherry Masters of Art Connections. With 30+ years of experience in the art community, Sherry has a knack for customizing tours that will appeal to your interests. She offers private tours upon request of artist studios upon.
Asheville Art Studio Tours begins offering a an Art and Beer Tour of the up-and-coming South Slope District. Your knowledgeable guide will bring you to artist studios in the South Slope District with additional stops at several of the district's nine breweries.
Rooftop Tours
Sip and see the city of Asheville, and the beautiful fall foliage, with an Asheville Rooftop Bar Tour experience. The tours take you to three or four Asheville rooftop bars/restaurants in one afternoon. The tours also incorporate history with photos from the 1800's and early 1900's for an Asheville "then and now perspective."
Biltmore Tours
For an expansive view of the nearly 8,000-acre Biltmore Estate, add on the Rooftop Tour to your visit. On this guided tour, you'll get a closer look at the design and construction of Biltmore, in addition to enjoying the amazing views.
Other Biltmore Tours include a custom two-hour tour of Biltmore House based on the interests of your small, private group.
You can take self-guided tours of Biltmore House, adding on an audio guide for an enhanced experience. Biltmore has put measures into place to reduce the number of people in each room of Biltmore House at any given time and to extend its visitation hours to help promote social distancing.
Aerial Tours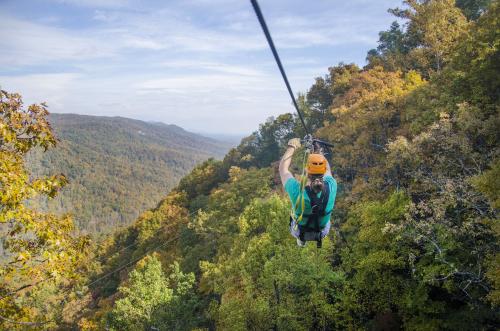 Soar above the colorful fall trees on a zipline tour. The Asheville area offers some of the best zip line canopy tours in the nation, including Navitat Canopy Adventures, Adventure Center of Asheville, French Broad Adventures and The Gorge Zipline.
Float above it all with an Asheville Hot Air Balloon ride. Your ride will include a aerial views of the Blue Ridge Mountains, Pisgah National Forest and downtown Asheville.
Photo credits: Top photo by Jason Tarr. Waterfall photo by Rob Travis. Bicyclist photo by Jared Kay. LaZoom photo courtesy AshevilleChannel.com. Art photo by Jason Tarr. Zipline photo courtesy of The Gorge Zipline.
Updated February 4, 2021