Getting Into the Hometown Team Spirit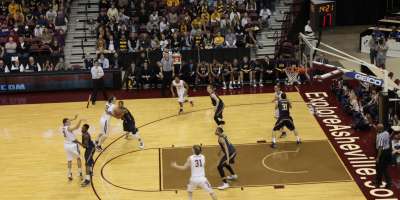 Cheer on Asheville's Sports Teams
Americans love spectator sports, and in Asheville there are plenty of opportunities to experience what longtime sports commentator Jim McKay called "the thrill of victory and the agony of defeat."
Take Me Out to the Ball Game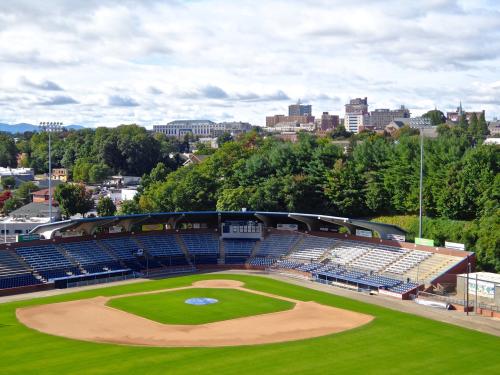 The Asheville Tourists have a long and colorful history that dates back to 1897. Today this minor league team plays in the Class A South Atlantic League against opponents such as the Charleston River Dogs and the Hickory Crawdads.  Since 1994, it has been the farm team for the Colorado Rockies.
Home games are played at McCormick Field. The park, which opened in 1924, provided occasional scenes for the movie Bull Durham prior to its 1992 renovation. With 4,000 seats, there is plenty of room for local fans and visitors alike to enjoy the excitement of America's national pastime on a balmy summer evening.
Keeping up with the runs, hits, outs and errors is the scoreboard that reads Visitors and Tourists. Whether you are a visitor or a tourist, the family-friendly atmosphere and player engagement make Asheville Tourist games a perfect outing for young and old alike.
Bulldogs in the Big South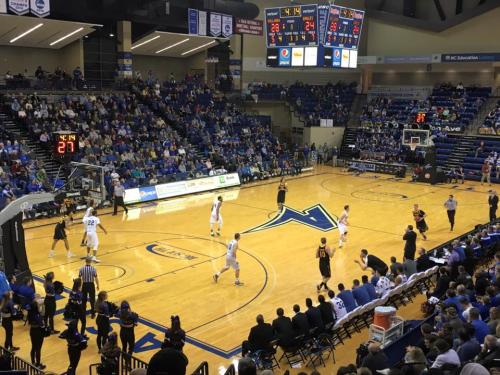 Head to Asheville to experience the excitement of Division 1 college athletics competition! The UNC-Asheville Bulldogs compete in the Big South Conference with rivals such as Winthrop and High Point. The Bulldogs compete in family-friendly spectator sports such as baseball, basketball and soccer.
In recent years, they have been especially dominant in basketball, playing at Kimmel Arena just minutes from downtown Asheville. In 2017, the men's team won its sixth Big South regular season conference championship. Just one year before, the Bulldogs earned an invitation to the NCAA Tournament by winning the Big South Conference Tournament. The women's team won back-to-back Big South Tournament championships in 2016 and 2017 to make the NCAA Tournament in both years.
UNC Asheville's impressive winning records are matched only by the university's accolades for sportsmanship. Top notch athletic facilities, convenient parking, and America's favorite games are all good reasons to cheer the UNC Asheville Bulldogs on to victory.
March Madness Starts Here
For schools in the Southern Conference or SoCon, the road to the Final Four begins in Asheville, host city for the annual men's and women's basketball tournament. The city rolls out the red carpet for fans from East Tennessee State University, Furman, Mercer, Samford, The Citadel, UNC Greensboro, University of Tennessee at Chattanooga, Virginia Military Institute, Western Carolina University and Wofford. Along with the welcome mats are wrestling mats. This is also home to the SoCon Wrestling Championship.
During the first week of March, Asheville goes crazy for basketball with a host of activities. There are welcoming parties for the community and fans; and the Downtown Dribble, a "dribble" parade for 500 children through downtown Asheville to the US Cellular Center, site of the tournament. Local restaurants and shops get in the act with basketball-themed menus and window displays. Regardless of which team earns a ticket to the "Big Dance," sports fans come away winners after a weekend of spirited Asheville hospitality.
Two More Jams, Nickels and Can Openers: Roller Derby Action in Asheville
In the 2009 movie Whip It, Ellen Page (of Juno fame) ditches her beauty queen crown for a roller derby helmet. From March through August, 33 women ditch their street clothes and given names, strap on skates and take to the track. They are the Blue Ridge Rollergirls, Asheville's first all-female, flat track roller derby league.
Roller derby as a sport grew out of the 1930s skating marathons. Today it is a fast-paced spectator sport that requires skaters to have strength, agility and endurance. The Blue Ridge Rollergirls' bouts take place at the US Cellular Center in downtown Asheville. With names like Dixie Kicks, Dragon Slayher, Rolli Cannoli, and Lexistential Crisis, it's no wonder they have a following among locals and visitors.
Blue Ridge Rollergirls team is a not-for-profit organization that helps raise funds for other not-for-profits through their bouts and appearances. Founded in June of 2006, the team is a member of the Women's Flat Track Derby Association (WFTDA).