Getting Around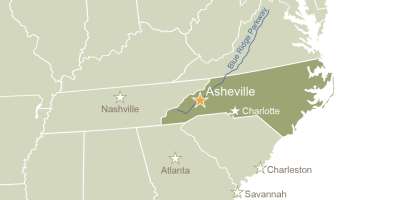 Maps and transportation options for finding your way to and around Asheville.
The city has many innovative transportation options such as the historic trolley in addition to more traditional taxi service and fixed-bus routes. This pedestrian-friendly area is perfect for setting your own pace, and the outlying areas offer everything from Segway tours to llama treks.
In Asheville you can have it any way you like it. Kick back and ride the trolley, take a taxi, rent a car or see historic sites on a bike taxi, if you're into something unique.
Remember to check out our maps and map-it options if you intend to drive yourself. Consider starting your trip at the Asheville Visitor Center, open 7 days a week. Located at 36 Montford Ave (Exit 4C off I-240) near downtown Asheville, the Visitor Center is the place for maps, local information and insider tips on how to get around. Call (828) 258-6129 for more information.
---
Coming to the area?
Air Travel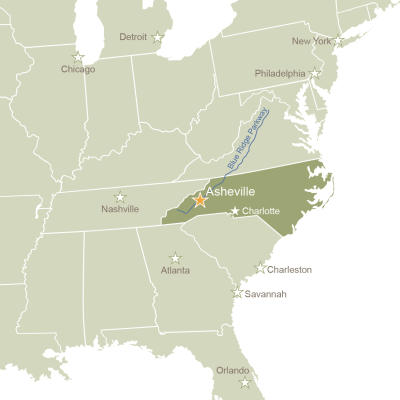 The Asheville Regional Airport (AVL) serves approximately 750,000 passengers per year. It offers non-stop flights and easy connections through the major US hubs of Atlanta (ATL), Newark (EWR), Chicago (ORD), LaGuardia (LGA), and Charlotte (CLT), as well as service from Orlando (SFB), Ft. Lauderdale (FLL), St. Petersburg/Clearwater (Tampa Bay area) (PIE), Palm Beach (PBI), Ft. Myers/Punta Gorda (PGD). In season, with approximately 25 round trip flights per day, a non-stop flight or one connection can get you to Asheville from just about anywhere.
Located 10 miles (approximately 15 minutes) from downtown, AVL is served by major rental car companies as well as a host of other ground transportation providers.
Interstate and U.S. Highways
Asheville is an easy drive from most of the eastern United States. It is centrally located in the epicenter of numerous major cities and easily accessible from the following: I-26, I-40 and I-240; U.S. 19/23, 25, 25A, 70, and 74.
Blue Ridge Parkway
Considered the nation's most scenic highway, the 469-mile Blue Ridge Parkway winds along the Blue Ridge Mountains, through Asheville and into the entrance of the Great Smoky Mountains National Park. Numerous overlooks, roadside exhibits and hiking trails make a trip along the Parkway a delight year-round. The Parkway intersects with Asheville at four points: US 25, US 70, US 74 and NC 191.
Assisted Vacations
If you are an Elder, or if you are a family caregiver, it can be difficult to take a vacation. An Assisted Vacation allows everyone to benefit from vacation. AV.E Health provides skilled, caring staff to support Elders and their family caregivers on wellness-focused vacations.
---
Already here?
Asheville Trolley Tours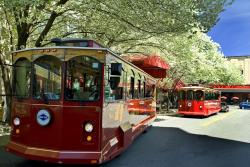 See the best of Asheville from aboard a vintage trolley. Enjoy a fully narrated tour covering all major points of interest in Asheville including The Grove Park Inn Resort & Spa, Historic Biltmore Village, the downtown shopping and restaurant district, the Asheville Art Museum and art gallery district and much more. Step off the trolley at any of the convenient stops to shop, dine or sightsee, then re-board and continue the tour. Two tours are offered seven days a week. Purchase your tickets at the Visitor Center.
Pay-by-phone Parking Meter App
PassportParking provides the easiest way to pay for parking using your mobile phone.
Bus Service

ART System: (828) 253-5691
Greyhound and Trailways: (828) 253-5353

Taxi Service

A Red Cab Company: (828) 232-1112
Metro Cab: (828) 254-1155
Yellow Cab Company: (828) 253-3311
Your Cab: (828) 259-9904
1st Class Executive Transportation: (828) 258-1623

Car Service

1st Class Executive Transportation: (828) 258-1623
Stevens Transportation: (828) 243-9622

Parking Garages
---
Asheville Area Maps
Asheville Area

Downtown Asheville

Town of Black Mountain

Western North Carolina

Major Highways of the Southeast
---
Mileage chart
Alabama
Birmingham: 331 miles
Huntsville: 315 miles
Florida
Fort Lauderdale: 726 miles
Jacksonville: 408 miles
Miami: 749 miles
Orlando: 547 miles
Tampa: 585 miles
Georgia
Atlanta: 188 miles
Augusta: 170 miles
Savannah: 288 miles
Kentucky
Lexington: 265 miles
Louisville: 340 miles
New York
New York City: 690 miles
Albany: 813 miles
New Jersey
Newark: 680 miles
Jersey City: 685 miles
North Carolina
Chapel Hill: 224 miles
Charlotte: 122 miles
Winston-Salem: 146 miles
Raleigh: 231 miles
Wilmington: 318 miles
Ohio
Cincinnati: 372 miles
Cleveland: 540 miles
Columbus: 471 miles
Pennsylvania
Philadelphia: 628 miles
Pittsburgh: 477 miles
South Carolina
Charleston: 259 miles
Columbia: 153 miles
Greenville: 59 miles
Florence: 214 miles
Myrtle Beach: 281 miles
Tennessee
Chattanooga: 226 miles
Gatlinburg: 71 miles
Knoxville: 111 miles
Memphis: 494 miles
Nashville: 288 miles
Virginia
Charlottesville: 324 miles
Lynchburg: 262 miles
Richmond: 346 miles
Roanoke: 232 miles
Virginia Beach: 398 miles
In the Region
Black Mountain: 12 miles
Blowing Rock: 86 miles
Cherokee: 48 miles
Chimney Rock: 25 miles
Grandfather Mtn: 78 miles
Hot Springs: 25 miles
Lake Lure: 25 miles
Maggie Valley: 34 miles
Mount Mitchell: 34 miles
Pisgah Forest: 41 miles
Weaverville: 7 miles