Fringe Arts Festival: Winter Whimsy in Asheville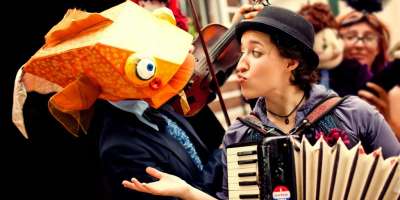 Countdown to the festival: January 25-28, 2018
During the winter, the Asheville Fringe Arts Festival brings a burst of artistic color to downtown, with innovative theater, dance, spoken word and performance arts at venues all around town.
Wonder what Fringe is all about?
This edgy performing arts tradition got its start in Edinburgh, Scotland in the 1940s when several performing groups who had been excluded from the city's mainstream festival decided to perform on their own. Over the past 65+ years, Fringe events spread across the world and today more than 50 such events are held each year in the U.S.
Founded in Asheville in 2002, the festival has the unique mission of supporting small and emerging local acts. In fact, the lion's share of the event schedule features local actors, dancers, writers, directors and artists, but the festival also brings in top traveling acts, many of which originated at other Fringe events around the world.
The Details
The Asheville Fringe Arts Festival takes place between January 25-28, 2018, in several different locations around downtown.
In 2018, there are more than 30 ticket performances and several Random Acts of Fringe (free to the public).
Performances are typically paired up so that each show lasts approximately one hour, with plenty of time in between to grab a bite to eat and travel to the next venue. Festival organizers strongly suggest seeing more than one performance to discover the incredible variety of artists and work.
Take the LaZoom Fringe Bus Tour to experience comedy, butoh, improvisational dance, and an audience interactive spy piece! The LaZoom Room, which the tour departs, will be "Fringe Central" -- a central place for you to buy tickets to any performance and mingle with the artists.
A special fringe preview party will be at the Sly Grog Lounge in West Asheville on Saturday, January 20, 2018, from 5-8 p.m.
Visit AshevilleFringe.org for more information as performances are added. You will be able to experience the variety of Fringe by taking advantage of different ticketing options. Best of all, when the curtain closes, the after parties keep the fun going.
Photo courtesy of the Asheville Fringe Arts Festival.
January 8, 2015