Fall Color Report for October 6, 2016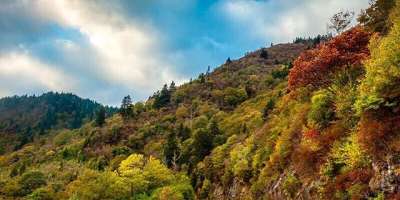 After a slow start to the season, fall color is picking up at the higher elevations around Asheville, N.C., with visible changes every day.
Fall Color Guy, Dr. Howard Neufeld of Appalachian State University, says while there is still a lot of green along the slopes, colors will start becoming more noticeable and strong at the high elevations after this weekend and into next week.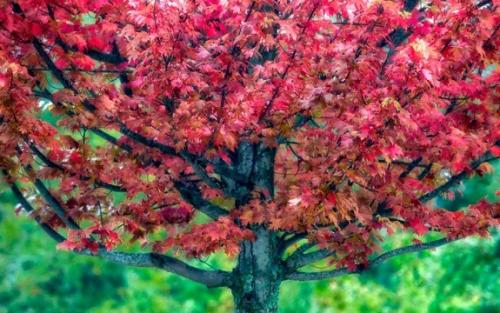 Grandfather Mountain, where the peak elevation is 5,946 feet, is among the spots that will see color intensifying in the coming days. The color progression has also been slower to start there this year, but this week "has seen colors begin to turn very quickly," said Jesse Pope, Executive Director of the Grandfather Mountain Stewardship Foundation.
The red berries of Mountain Ash continue to highlight the high elevations, including parts of the Blue Ridge Parkway around Craggy Gardens. Witch hobble, which features orange and purple leaves, is also "peaking." Dr. Neufeld says widely scattered red maples are showing off their fall display. Birches are now "yellowing up," as are tulip poplars.    
Live Update From Hickory Nut Gap Farm
Join us every Thursday on the Visit Asheville Facebook page for live broadcasts from a top fall color spot of the week. 
Best and the Brightest
Your best bets continue to be the higher elevations.
Waterrock Knob – The Blue Ridge Parkway just below and at Waterrock Knob is starting to show an autumn glow. There are some reds and many yellows emerging in the area.
Mt. Mitchell – Fall is just getting underway at the highest peak east of the Mississippi River. From the overlook, some pops of color are already visible.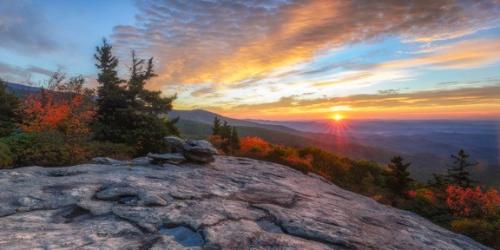 Other high elevation spots along the Blue Ridge Parkway - Colors in the High Country continue to progress. While Beacon Heights continues to be the brightest, Grandfather Mountain and Rough Ridge shouldn't be far behind this week. Farther to the south, Craggy Gardens and Graveyard Fields should also be showing good color in the coming days.
Events & Adventures
The nationally-known Carolina Bonsai Expo takes over the North Carolina Arboretum from 9 a.m. to 5 p.m. both Saturday and Sunday. The event, now in its 21st year, features juried exhibits by regional bonsai enthusiasts, as well as live bonsai plants for purchase, workshops, and free demonstrations.
DuPont State Forest, home to some of the area's most beautiful waterfalls, offers a unique opportunity Saturday and Sunday. You can ride a shuttle bus to see four spots: Triple Falls, High Falls, Bridal Veil Falls, and Lake Julia, during the family-friendly Tour de Falls! The 3-hour guided tour, hosted by Friends of DuPont State Forest, runs every 30 minutes from 9:30 a.m. to 2:30 p.m. 
Grab your lederhosen and head to Asheville's Oktoberfest! Celebrate one of the nation's best beer scenes from 1 p.m. to 6 p.m. Saturday in Pack Square Park. The $40 ticket also includes mini golf, giant games, and great food.     
Western North Carolina presents one of the nation's largest regional celebrations of craft during American Craft Week now underway through Oct. 14th. Exhibits, demonstrations, markets and more are available to visitors. Click HERE for a list of events.
Fall is also a great time to head on down to the farm!  Hickory Nut Gap Farm in the nearby community of Fairview hosts a celebration of its 100 years of farming. The celebration on October 15th from 5 p.m. to 9 p.m. will include a picnic, music and entertainment.
Top Photo by Robert Stephens (SolitaryTravelerPhotography.com).  Red Maple and Sunset photos taken by Skip Sickler (Courtesy of Grandfather Mountain Stewardship Foundation).