Fall Color Report for September 29, 2016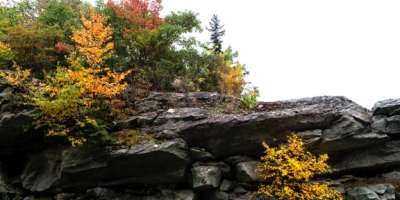 Fall Color Hunting
The first pops of fall color are just beginning to crop up in the highest elevations of the western North Carolina mountains, and an early fall dip into sweater weather looks to accelerate the changing of the leaves.  
Many high-elevation spots are still about a week away from seeing their brightest foliage, thanks in part to unseasonably warm weather earlier in the month. But, there will be plenty of color to see in leaves and wildflowers this weekend. And, experts have forecast the overall effect of extended summer temperatures will be a longer than usual fall color season.   
Over the next couple days, temperatures will drop considerably, which is expected to have an immediate impact.
"Now that it's starting to cool this week, we're going to see a big change in color," said Dr. Howie Neufeld, an Appalachian State University biology professor and fall color expert.
Neufeld says the yellows are most prominent right now, with trees such as the Tulip Poplar, Birch and Magnolia already seeing the transition. Sourwood and some maples are also starting to show fall color. 
Live Update from Grandfather Mountain
Join us every Thursday on the Visit Asheville Facebook page for live broadcasts from a top fall color spot of the week. 
Best and Brightest
There is a lot of green still on the mountainsides, but some golden color has begun at elevations of about 5,000 feet and above. Here are your best bets to enjoy the early autumn leaves this weekend:
Grandfather Mountain (elevation 5,946 ft.) – Fall color is on display at Grandfather Mountain – one of the highest elevation spots in the Blue Ridge. Leaf lookers are invited to see the change for themselves this weekend (Oct. 1-2), as Grandfather Mountain kicks off its "Colors of Grandfather" guided walks.
Beacon Heights (elevation 4,340 ft.) – This dramatic vantage point with views of Grandfather Mountain is traditionally one of the first places to see fall color and this year is no different. Park for Beacon Heights along the Blue Ridge Parkway at milepost 305.2 for the short one-mile hike. Bright oranges, yellows, and even some reds are prominent around the rock platforms.
Craggy Gardens (elevation 5,500 feet) – This favorite spot along the Blue Ridge Parkway is just 20 miles from Asheville. While still about a week from peak, some good fall color has started and Mountain Ash is showing strong.
Weekend Events
What better way to kick of fall than with a celebration of the forest! Saturday, Oct. 1st, is Forest Festival Day at the Cradle of Forestry.  Traditional craftsmen, exhibitors, forestry students gather at the Cradle of Forestry for this celebration and competition from 9 a.m. to 5 p.m. A small admission fee is charged.  
Get into the rhythm of fall with the Barnaroo music festival at Franny's Farm in the nearby community of Leicester. The festival, which runs Friday through Sunday, is designed to showcase and celebrate area singer-songwriters and bands. 
To spice things up, try the Western North Carolina Garlic Fest. It's an opportunity to eat some creative and inspired garlic dishes. The festival runs from noon to 6 p.m. on Saturday at Sow True Seed (146 Church St.).
And, Asheville Art in the Park kicks off its fall schedule Saturday. Meet some of the finest artists in the region and have a chance to purchase one-of-a-kind creations. The event, now in its eighth year, will run for the next three Saturdays in Asheville's Pack Square Park. 
Photos courtesy of Frank Ruggiero of Grandfather Mountain
Updated December 19, 2018