Fall Color Report for October 8, 2015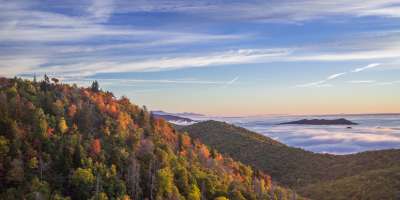 Fall Color Hunting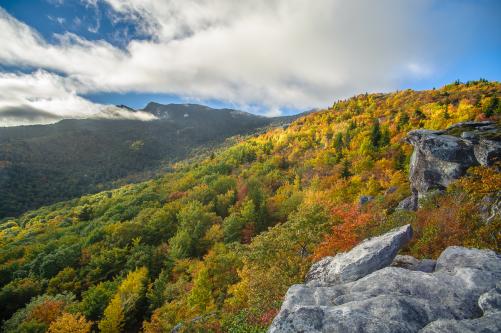 A colorful view from Rough Ridge (milepost 302.8 on the Blue
Ridge Parkway). Photo by Robert Stevens.The significant rainfall has finally passed us by and we've returned to our normal weather patterns of warm sunny days and cool nights, which are the key ingredients to a stellar fall color season. Fortunately most of the forests were predominantly green across Western North Carolina so the leaves were strong enough to withstand the storms. This is great news for leaf lookers planning a trip this season as we're back on our regular timing for color progression.
To get a better idea of our fall color timeline check out this cool 3D flyover, which shows how color progresses across the Blue Ridge Mountains.
According to officials at the Blue Ridge Parkway, elevations between 3,000 and 5,000 feet in elevation are seeing a 30-50% color change, depending on where you're viewing. The vibrant crimson of Dogwoods, Virginia Creeper and Red Oaks is blending nicely with rusty orange and yellow hues of the Buckeye, Beech and Mountain Ash trees. In the area immediately surrounding Asheville, the color progression is currently around 15-20%.
Best and Brightest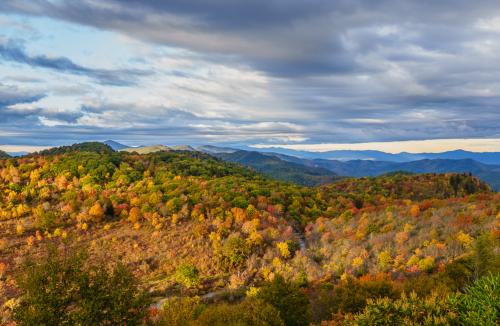 Fall foliage lights up Graveyard Fields. Photo by Jared Kay.You'll want to take the high road this week to see the best color. Areas above 4,000 feet in elevation are your best bets for colorful patchworks of fall foliage.
Craggy Pinnacle (elevation 5,817 feet): To the north of Asheville, along the Blue Ridge Parkway, you'll find the majority of trees are displaying bright yellow and orange hues. This area is typically among the first to transition and is the fastest to drop its leaves, so this week should be one of the best. This area includes a moderate hike (less than a mile) with an incredible 360-degree view.
Graveyard Fields (elevation 4,960 feet): This area continues to be one of the best for early fall color, and is currently around 75% in color transition. This week will be the strongest for this particular area, and should begin waning past peak starting next week. From Asheville you'll head south on the Blue Ridge Parkway to milepost 418.
Photo by Jared KayPedal Across Pisgah: According to Courtney Long, our leaf peeping eyewitness at the Cradle of Forestry, the Pisgah National Forest is beginning to shine with fall color. She says, "Tulip poplars and larger leafed magnolias are crispening into hues of red-brown, while birches and sassafras display the 'yell' in yellow." That makes this a perfect week to take a fall color tour on wheels! Pisgah Mountain Bike Adventures offers a guided ride through the heart of this national forest, with customized rides to accommodate skill level. You can engage in a challenging uphill climb or start from the top and coast downhill.
Get Crafty: American Craft Week is drawing to a close this weekend, with plenty of events and demonstrations left to see. Next week, October 15-18, Asheville is hosting the Craft Fair of the Southern Highlands, one of the best handmade craft expos in the Southeast. Here you'll discover fine traditional and contemporary crafts with a focus on authentic Appalachian craftsmanship, and we're giving away a pair of VIP tickets! ENTER TO WIN!
Asheville Oktoberfest: Grab your lederhosen! Asheville's annual Bavarian celebration takes place this Saturday, October 10.  Highlights include a parade, live music (polka anyone?), and some of Asheville's finest beer being served alongside German favorites. This is a 21-and-over festival, but tickets are available for children if necessary.
Photo of East Fork Overlook (Parkway milepost 418) by Jared Kay.