Fall Color Report for October 29, 2015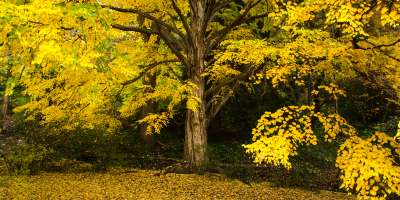 Fall Color Hunting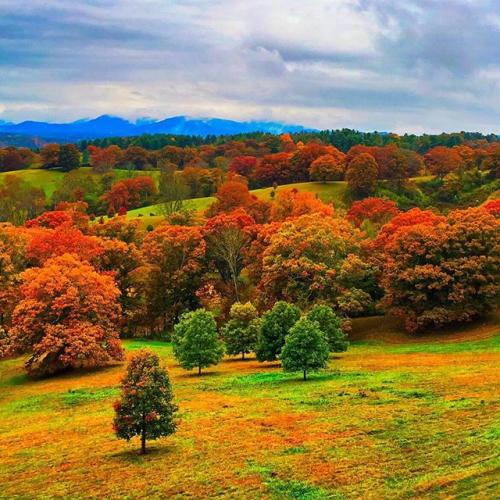 Color shines on the rolling hills of Biltmore Estate. Photo by
Amanda Green Bottoms.This is Asheville's week to shine as fall color has descended from the highest elevations to areas around the 2,000–3,000 foot range. Many areas above 3,000 feet are now past their prime, but there's plenty of color yet to come as the transition slides down into surrounding valleys. Folks with the Blue Ridge Parkway report that many reds, yellows, oranges and browns are still visible along lower elevations, especially around the Folk Art Center.
Around Asheville, be on the lookout for Sugar Maples, Sassafras and White Oaks to be displaying some of the brightest colors. The NC Arboretum says sourwoods are fading to a peachy red now, which adds to the continuing red and yellow of the maples and oaks.
Best and Brightest
Montford Historic District: With Asheville in full fall splendor, this is the best week to take a scenic drive along the tree-lined streets of Asheville's Historic Montford neighborhood, where Victorian-era homes are currently enveloped in beautiful fall color. This neighborhood is also home to Riverside Cemetery, which serves as the final resting place of many notables including Thomas Wolfe and O'Henry. Walking tours are available, and are a perfect activity for Halloween weekend.
Biltmore: The Estate's director of horticulture, Parker Andes, says fall color is now in peak conditions across the estate. "In the gardens close to Biltmore house, the Japanese maples are the stars of the show accompanied by fall colors on viburnums, oak leaf hydrangeas, fothergilla, summersweet and other shrubs. From the Shrub Garden down through the Azalea Garden, guests can stroll through some of the best color of the year - though it is foliage, not flowers.  The backdrop of yellow-orange maples, dark burgundy of the oaks, bright yellow leaves on hickories and light red, almost pink on sourwoods make walks in the gardens and drives on the Estate very enjoyable this time of year."
NC Arboretum: Sitting at the base of the Blue Ridge Parkway and the Bent Creek Experimental Forest is a 65-acre cultivated garden and over ten miles of forested hiking and biking trails. Clara Curtis, our leaf-peeper at the Arboretum, reports, "Cercis (redbuds), hickory (carya), white oaks (quercus) and other forest trees are adding color to their leaves."
Omni Grove Park Inn: Fall color has gradually transitioned to peak conditions across Sunset Mountain, where Grove Park Inn has stood for over a century. This week offers a perfect opportunity to see fall color covering the magnificent viewshed from the Inn. New this season, make plans for Sunday brunch at Edison, where each week they're spotlighting local craft brew, beer flights, and beer cocktails like the Sage Manmosa, a combination of sage-infused pineapple juice and Mama's Lil Yella Pils from Oskar Blues Brewing. Yum!
UNCA Botanical Gardens: Centrally located in Asheville is a 10-acre garden brimming with over 600 native species of Appalachian plants. Trees in transition right now include dogwoods, scarlet oaks, sassafras and maples. The trails that wind through this wooded preserve are paved, handicapped accessible, and are free to the public.
Fall color fills the valley alongside the
Outcroppings Trail at Chimney Rock State
Park. Photo by Shannon Quinn, courtesy
of Chimney Rock State Park.Chimney Rock State Park: This is a great week to head to Chimney Rock to take in beautiful fall color and a stunning 75-mile view. Fall color hunter Shannon Quinn says, "color has flooded Hickory Nut Gorge over the last week. The Park is full of bursting reds and glowing yellows. Our famous hickory trees have filled the landscape with their golden hues, and our red oaks are complementing them perfectly. The view from the top of Chimney Rock over Lake Lure offers colors for as far as you can see, but don't forget to check out our trails for up-close encounters of the seasonal changes."   
Haunted Asheville: This Halloween, get to know the spookier side of Asheville with one of these spine-tingling tours. LaZoom's Haunted Comedy Bus Tour will kill you with comedy, as your guides share local tales of scandals, deceit, murder, and ghosts – punctuated with bawdy bits of humor. The Ghost Hunters of Asheville will let you get hands on with ghost-hunting equipment along one of their walking tours that visit some of the most notoriously haunted locations surrounding downtown.
Yellow tree photo by Jared Kay.