Fall Color Report for October 1, 2015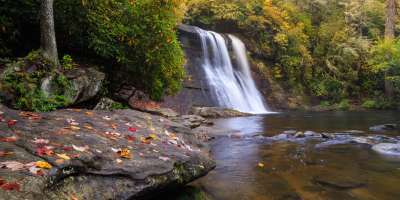 Fall Color Hunting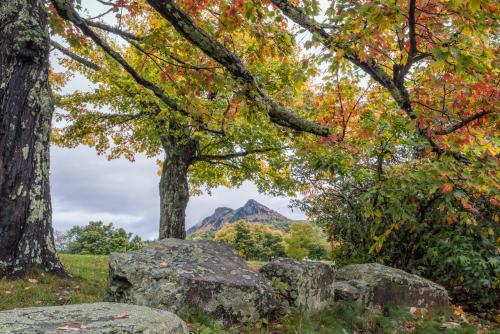 Colorful leaves light up MacRae Meadows at Grandfather
Mountain. Photo by Skip Sickler and courtesy of
Grandfather Mountain.What a difference a week makes. Last Thursday, our fall color hunters reported early patches of color in areas that don't typically transition until later in the season, and it appeared we were on course for an earlier color schedule than usual. However, according to Fall Color Guy Howie Neufeld, recent rainfall has slowed the progression for now, putting us at our regular timing for peak color in the mountains. That means the best color conditions will remain at elevations over 4,000 feet for the next week, with pockets of color appearing at elevations above 3,000 feet.
According to leaf-peeping eyewitness Courtney Long at the Cradle of Forestry (elevation 3,280 feet), red is currently the dominant color. "Early autumn teasers of dogwoods, black gums and sourwoods have transformed to vivacious reds. Virginia creepers ornately encompass many tree trunks, and horse sugar edges our trails. An array of oranges are settling into the landscape, primarily in the sugar maples, flashing a dazzling spectrum from deep yellow to burnt orange."
Best and Brightest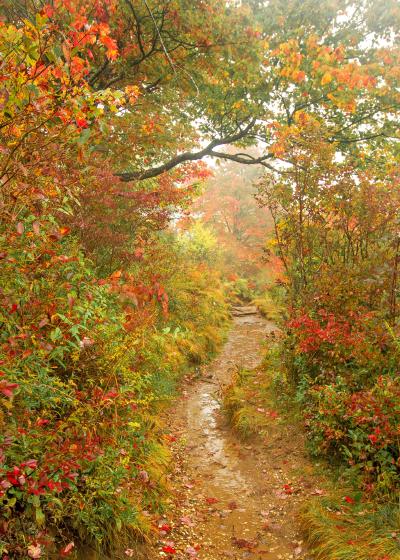 Fall color shines on a misty day at Graveyard
Fields. Photo by Jennifer Mesk.It's still early in the season, so the forests immediately surrounding Asheville are still predominantly green. To find vibrant color, the higher elevations are your best bet this week. With rain in the forecast, you'll have a unique opportunity to visit waterfalls flowing at full strength amidst the autumn hues. Just remember to pack your wet weather gear, be careful of slippery rocks while hiking and do not enter or approach fast-moving water.
Graveyard Fields (elevation 4,960 feet): Located south of Asheville, this popular stop along the Blue Ridge Parkway is always among the first to transition. It's currently displaying significant color change, making this a great week to explore the area's numerous hiking trails and waterfalls.
National Scenic Highway 276: Along this scenic drive through the Pisgah National Forest you'll find poplars and other members of the Magnolia family have dressed themselves in yellows. There are plenty of areas to pull over and explore including Looking Glass Falls. If you're traveling through this area on October 17, you can visit the Cradle of Forestry for their Forest Festival Day.
Great Smoky Mountains: To the west of Asheville, color is looking best along Clingmans Dome road. This scenic roadway leads to a 6,644-foot summit and an incredible 360-degree view. Color is in full transition around Purchase Knob, however the viewshed is still predominantly green. Fall wildflowers like ironweed, great blue lobelia, and goldenrod are in abundance right now.
NEW! Take a day trip with Asheville's newest waterfall hunting adventure Tumblestone Tours. You'll be picked up from your accommodation and taken on a guided tour through the heart of the Blue Ridge Mountains, where the hikes are easy and the waterfalls are breathtaking.
Experience Free Fall: Rooms are going to start filling up quickly around the mountains so be sure to book now if you haven't already. Carolina Mornings is currently offering an accommodations deal that includes a cool vacation rental, a free Biltmore pass, and one free zipline ride with French Broad Ziplining.
Main photo, Silver Run Falls in nearby Jackson County, by Jared Kay.