Fall Color Report for November 5, 2015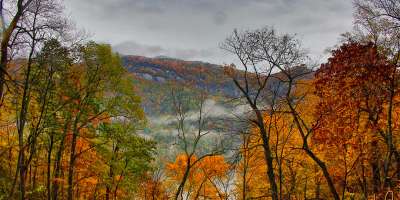 Fall Color Hunting
Japanese Maple. Photo courtesy of The Biltmore Company.Never fear, leaf-peeping procrastinators, the mountains are still displaying beautiful autumn hues with the best color now reaching into lower elevations around 2,000–2,500 feet in elevation. Around Asheville you'll still find color in the downtown area and through the tree-lined streets of Biltmore Village. Color will continue to transition in the foothills surrounding Asheville over the next two weeks, so anyone who wants to experience a fall color adventure in the mountains should plan to visit soon.
According to fall color hunter Shannon Quinn from Chimney Rock State Park, you will find a beautiful patchwork of fall color in the lower elevations, including "vibrant red sourwoods and maples hiding among the towering golden hickories, yellow poplars and red oaks." Other trees in colorful transition include birch, bald cypress, sycamore, ironwood and sweet gum.
Best and Brightest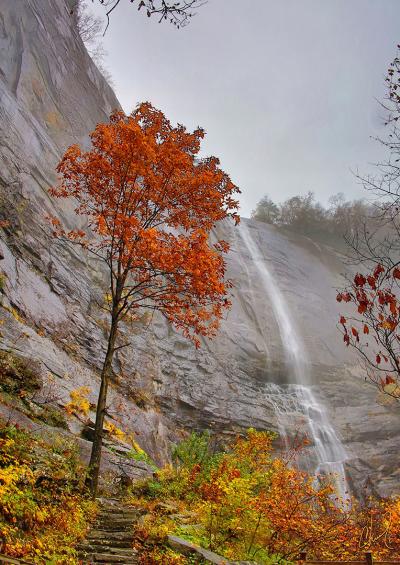 Hickory Nut Falls. Photo by Chuck Hill Photo-
graphy, courtesy of Chimney Rock State Park.Chimney Rock State Park: Hickory Nut Gorge is at peak with a landscape full of yellow, red and orange hues. Experience color as far as the eye can see from the Park's Outcroppings and Exclamation Point trails, and check out the 404-foot Hickory Nut Falls, which will be raging due to the recent rainfall across the region.
North Carolina Arboretum: Our eyewitness at the Arboretum, Clara Curtis, says the forest oaks are coming into full color in reds, browns and golds. In the garden, grasses and shrubs are turning yellows and maroon. Japanese maples are beginning to show their colors of red, orange and yellow depending on the cultivar. Hostas, peonies and other perennials are also coloring up on the ground floor of the garden. And this may be your last chance this season to see the brightly colored quilt garden before the annual Winter Lights display takes over on November 20th.
Catawba Falls Trail: Located just east of Asheville at the base of Old Fort Mountain is an easy-to-moderate, family-friendly hiking trail that leads to two beautiful waterfalls. The lower falls is easy to reach, but the upper falls requires climbing a rope up a steep grade. Only the most experienced hikers should attempt to reach the upper falls. Since it's located in the foothills of the mountains, fall color will still be transitioning to peak in this area over the next couple of weeks. *Catawba Falls will be closed May 2, 2022 through Spring 2023 for major improvements*
Pearson's Falls: Southwest of Asheville you can explore a 268-acre forest cove with a quarter-mile hike to a dramatic 90-foot waterfall. Melinda Massey, our fall foliage finder in this region, says beautiful fall color is just now starting to spread through Columbus and Tryon (1,102 and 1,067 feet in elevation, respectively). "We have lots of green leaves mixed with peak color.  I think we'll hang on to color for two more weeks, since the understory leaves are still green."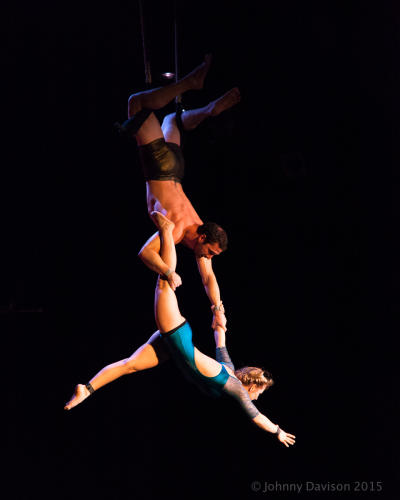 Photo by Johnny Davison, courtesy of Asheville
Aerial Arts.City of Color: This weekend, Asheville Aerial Arts is flying high with their newest production they say will please the senses with a mix of color, diverse music and costuming. The acts range from dance, contortion, trapeze, silks, adagio and hoops to physical comedy, dark acts and uplifting, elegant aerial artistry.
Photo of Hickory Nut Gorge by Chuck Hill Photography, courtesy of Chimney Rock State Park.
Updated April 21, 2022