Exclusive Services for Meeting Planners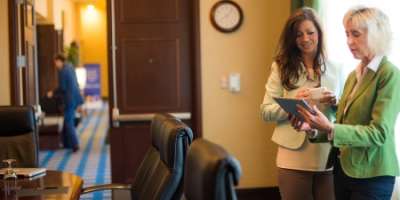 Sending a  RFP to the Convention & Visitors Bureau is the first step in securing valuable support and services for your meeting in Asheville. Involving our staff will help you save time and make the best host property decision.
And that's just the beginning. Additional incentives are available to planners who send their RFP to the CVB. Exclusive Services include:
Amenity gifts for VIPs - Gifts for 2 or 4 VIPs are provided depending on your contracted room total. Gifts include locally made products.
Attraction Value Cards for all attendees - Value cards offer discounts to area attractions and businesses.
Staff member can travel prior year to promote destination to your attendees - We can help you begin promoting Asheville to your meeting attendees and help you build the highest attendance.
Gift Card to incentivize early registration - One gift card to a local business will be provided. The planner can offer the chance to win the card if attendees register for the conference by a certain date.
Qualifying meetings are eligible for CVB's Meetings Incentive Funds - If a meeting meets specific criteria, incentive funds may be available to help offset some meeting costs.
Custom micro website providing visitor information for attendees - A webpage designed to welcome a specific group will be provided to the planner. Information provided will help attendees plan exploration of the Asheville area
Delivery of visitor information to meeting site - CVB staff will deliver Asheville Travel Guides and maps to the meeting site.
Staffed information table (based on availability) - Staffing of a visitor information table can be provided based on availability of staff or Visitor Center volunteers.
Mention of your event in CVB partner newsletter with information on opportunities to participate - Need volunteers, local support or want to spread the word to our tourism partners? A blurb can be included in our partner newsletter.