Enrich Yourself With Asheville Experts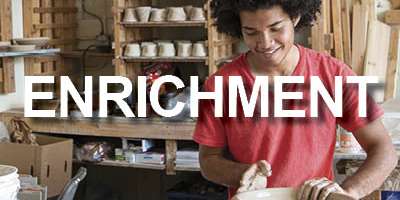 You've likely had it on your to-do list for some time: learn a new skill. Maybe you've always wanted to try your hand at pottery, test the waters with acting or simply educate yourself on a topic that interests you.
In the hustle and bustle, taking the time to learn something new can easily take the back burner. But during this time of social distancing, you may finally find yourself with time at home to develop new skills.
Asheville's local artists, creatives and businesses have put together everything from virtual classes to podcasts to a crowdsourced cookbook to help you tackle boredom and pursue self-enrichment at the same time. 
Sharpen Your music, art and culture knowledge with classes presented by LEAF
LEAF is a local organization dedicated to bringing music, art and culture to the community. Prior to the "Stay Home, Stay Safe" order, LEAF had just opened its new LEAF Global Arts Center in downtown Asheville.
The organization has introduced a series of 6-week online courses accessible to anyone and everyone. Classes include interactive rhythm and drums, Easel Rider crafts, West African Music/Culture/Language and hip hop for all ages.
Dive into the Magnetic Theatre Virtual Laboratory and Magnetic U
The Magnetic Theatre wants you join together online for what they call, "Distant Socializing." The actors and artists have put together a steady stream of virtual events for you to enjoy. And, you can tap into their knowledge with Magnetic U -- a series of virtual classes in writing, design and more.
Love music AND have pets? Head to Magnetic Theatre's Facebook page and send them your pet videos and photos! Magnetic Theatre will pair your pet with a Magnetic actor, who will bring these creatures thoughts to life through voiceover! They will also create a video montage of the fun. 
Contribute to "The World's First Crowdsourced Pandemic Cookbook"
Up your at-home cooking game with recipes submitted to this crowdsourced pandemic cookbook. The crowdsourced cookbook is the brainchild of Asheville's Sarah Ubertaccio as an effort to raise funds for Feeding America. 
You're encouraged to submit your favorite "isolation recipes" or pre-order a copy of the cookbook. Also, stay connected on social media by creating an Instagram story of your dish and tagging @rachelciao and using the hashtag #CovidCookbook. There are a several featured recipes posted on the web site to give you some inspiration! 
Use Laughter as Medicine
You know them for their purple funny bus, now LaZoom Comedy Tours is working to keep the laughs going with their weekly "What's Up Your Asheville" videos series on the LaZoom Facebook page. Think of these videos as similar to SNL's Weekend Update but with appearances from some of your favorite LaZoom characters such as Cookie Carter and Sister Bad Habit.
Modelface comedy is hosting a series of online comedy shows and events to keep you entertained. Shows include their weekly "Formal Fridays" which stream live on their Instagram channel.
Take a (virtual) campus tour
Virtually tour the University of North Carolina Asheville, a public liberal arts and sciences university located in the heart of Asheville. The university offers 30 undergraduate areas of study, an acclaimed undergraduate research program, NCAA Division I athletics and a world-renowned Osher Lifelong Learning Institute.
Check out the video information session and tour to virtually visit campus. And, take advantage of weekday counselor chats with the Office of Admission and Financial Aid to get started on planning your academic future.
Try out creating pysanky (Ukrainian Easter eggs)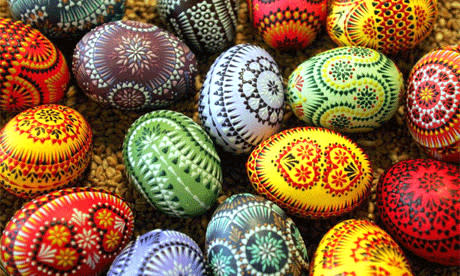 Create pysanky, Ukrainian Easter eggs, with symbols wishing for good health, long life, strength and protection. The classes are presented by Andrea Kulish, a first-generation Ukrainian-American who learned the intricate art of pysanky eggs as a young girl sitting in on her mother's weekly classes. Normally, you could find Andrea working in Studio A in the River Arts District. But for now, she's brining her classes to you virtually. Choose from a class on the Pysanky Process, History and Symbology or create pysanky yourself during the Pysanky Workshop.
Tap into Malaprops' Quarantine Conversations 
Malaprop's Bookstore/Café, a beloved independent bookstore founded in Asheville in 1982, is hosting a weekly Youtube series to keep you connected to the store and authors. So far, conversations have featured Hernan Diaz (author of Pulitzer Prize finalist novel In the Distance), Scott McClanahan (author of books including The Sarah Book, Hill William, Crapalachia, and The Incantations of Daniel Johnston) and Juliana Delgado Lopera (author of the debut novel Fiebre Tropical). 
Discover New Films
Asheville's Grail Moviehouse has launched a new streaming service called Sofa Cinema. SOFA CINEMA titles are arthouse theatrical streaming exclusives -- these films are not available on other streaming platforms. A portion of each purchase goes directly to Grail Moviehouse to help the theater through its temporary closure.
Find inspiration in CreativeMornings talks
CreativeMornings is a free, monthly breakfast lecture series for creative types in Asheville. While the meetings are on hiatus during social distancing, you can browse videos of past talks from the series. Typically, the videos are about 20-minutes long -- the perfect length for a quick inspiration creative break during your day!
Creativity is contagious thanks to the Roots + Wings Creative Institute
For over a decade, Roots + Wings School of Art and Design has been teaching people of all ages to enjoy the discovery of creativity. Now, the school welcomes you to its online creative community and resources. These adventures are perfect for families with young children. Discover everything from free parent resources to kits and classes you can purchase to keep your family active and creative during this time. 
Enjoy Family Fun with Science
During its temporary closing, the Asheville Museum of Science wants to help you and your children experience science! You can join their email list for a Daily Dose of Science so that the "science never stops." Content will include videos, activities, worksheets, and other science-related material for you to enjoy at home!
Join in an online gathering where earth and racial justice meet
JUST US features a dynamic lineup of speakers, artists, healers, educators, organizers + special guests. This project is a collaboration with adé PROJECT, YWCA Stand Against Racism and Racial Justice Coalition.