Early Girl Eatery Vegan Chili Recipe
Make this Asheville chef's fav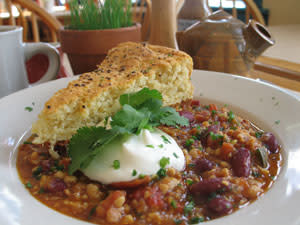 orite chili recipe one of your new favorite dishes.
2 yellow onions, diced
6 cloves garlic, minced
1/4 cup olive oil
1 red bell pepper, seeded and diced
1 green bell pepper, seeded and diced
1 poblano pepper, seeded and diced
1 Anaheim pepper, seeded and diced
2 jalapeno peppers, diced (keep seeds)
5 lbs. ripe tomatoes, pureed
5 lbs. water
5 cups kidney beans, cooked
6 roma tomatoes, diced large
3 tbsp. chili powder
2 tsp. cumin
2 tsp. black pepper
1 tsp. oregano
2 tbsp. miso
1/4 cup turbinado sugar ( sugar in the raw)
1 lb. sautéed tempeh seasoned liberally with salt and pepper
Sauté the onion and garlic in olive oil until the onions are clear. Add all the peppers and sauté for 5 more minutes. Next, add all remaining ingredients EXCEPT kidney beans and tempeh; cook for 2 hours on medium heat. Last, add kidney beans and tempeh and cook for 20 minutes more. This will be ample chili for ten and you should have some for reheating (yields: just over a gallon). Chili is amazing reheated; maybe even better.
Early Girl Eatery serves it in a deep bowl topped with either soy cheese or thinly sliced green onions.