Discover the Newest Outlet for Shopping in Asheville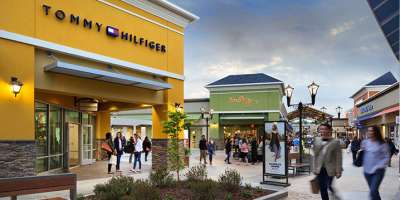 From the tree-lined streets dotted with independent boutiques to the open-air markets featuring local crafts, Asheville's shopping scene is as diverse as it is unique. The relatively new Asheville Outlets, just five miles from downtown, offers a destination for shoppers looking for national brands at great prices. The Asheville Outlets are conveniently located near the intersection of I-40 and I-26 at Brevard Road.
The options are endless
Choose from more than 70 name brand retailers and restaurants as you stroll the expansive 325,000-square foot open-air outlet. Stores offering jewelry, children's clothing, menswear, ladies apparel, home furnishings, outdoor gear, and sportswear make up a wide variety of options. And, there's something for every budget, too.
As you walk from store to store under the covered breezeways, music fills the air. The wide pathways allow easy access for strollers and wheelchairs. Ample soft seating offers the opportunity to take relaxing breaks in between shopping adventures. The mall's focal point is a beautiful fire and water fountain that serves as a gathering place.
Going green
The Asheville Outlets has two DC Fast Chargers, or electric vehicle charging stations. The stations can charge up an electric vehicle in under 30 minutes! Overall, the Asheville Outlets has four Level 2 medium speed charging stations and eight Tesla Superchargers. Any type of plug-in electric vehicle can now charge at one of these stations.
Dogs make great shopping companions
Not only are the Asheville Outlets a perfect place for families, but family pets are welcome to come along on the shopping adventure. Nearly all the outlet stores allow dogs inside. There's also a special "doggie way station" with a water fountain and a grassy area for pets to enjoy.
There's always something to celebrate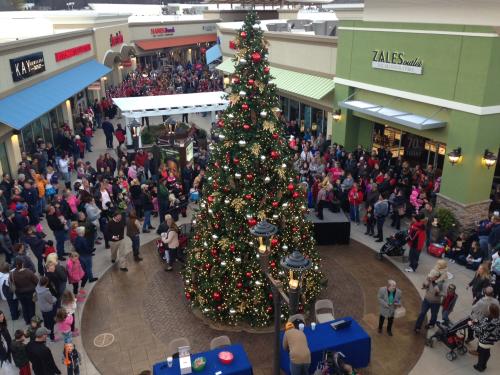 The Asheville Outlets host special events throughout the year including a Kid's Day, Community Day, Air Dogs Competition, and other fundraisers to benefit local organizations and communities.
Location, location, location
The Asheville Outlets are convenient to some of the best Asheville-area adventures and experiences. Virtually across the street are numerous popular local restaurants, including Papas and Beer and Stone Ridge Tavern.
Just a couple miles down Brevard Road (a five-minute drive) is the entrance to Bent Creek Experimental Forest, a great spot for hiking and biking. Less than a mile past the turn for Bent Creek, is the North Carolina Arboretum, which features beautiful manicured gardens and trails. An entrance to the Blue Ridge Parkway is next door to the Arboretum's gates. A short drive south on the Parkway takes visitors to area landmarks including Mount Pisgah, a favorite hiking and picnic spot.
Turning the other direction on Brevard Road, leads to the WNC Farmer's Market which is open seven days a week, all year round. The 36-acre market offers panoramic views of the mountains and features high quality produce, crafts and other farm-fresh items. Speaking of farm-fresh, nearby is the Moose Cafe, a farm-to-table southern country cooking restaurant. 
With a 10-minute drive from the Asheville Outlets, visitors can reach Biltmore, America's largest private home, and downtown Asheville, where shoppers can find locally-owned specialty shops, craft galleries, and independent bookstores.