Costumes Return to Biltmore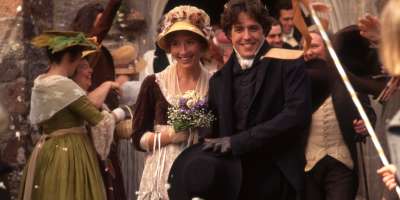 New Display to Highlight Wedding Fashion from the Big Screen
Long a destination for weddings and romantic getaways in its own right, Biltmore is celebrating that history with a new exhibition opening next year. "Fashionable Romance: Wedding Gowns in Film" will run from Feb. 12 through July 4, 2016 and will be included with estate admission.
It follows in the successful footsteps of the estate's recent "Dressing Downton: Changing Fashion for Changing Times" display, which featured costumes from the hit PBS series Downton Abbey in early 2015. The new exhibit will have a much broader scope, hosting award-winning costumes throughout the house from 19 classic films and spanning 300 years of wedding fashion (from 1645 to 1935).
Much-beloved movies to be represented include the Jane Austen romances Sense and Sensibility, Emma and Pride and Prejudice. Complementing each era of attire depicted will be elaborate flower arrangements from Biltmore's esteemed floral-design team.
As with its previous costume display, Biltmore will again incorporate Vanderbilt and Cecil family stories into the mix, starting with the marriage of George and Edith Vanderbilt in 1898. The Biltmore Legacy in Antler Hill Village will host the family's exhibit of mementos from weddings and special occasions from over the years.
Among these will be the first-ever display of the veil worn by Mary Lee Ryan Cecil (married to William A.V. Cecil, grandson of George Vanderbilt) and her cousin Jacqueline Lee Bouvier Kennedy. Meanwhile, renowned costumiers Cosprop, Ltd., London will recreate the wedding dress worn by Cornelia Vanderbilt in her marriage to John Cecil in 1924.
Photo: SENSE AND SENSIBILITY ©1995 Columbia Pictures Industries, Inc. All Rights Reserved. Courtesy of Columbia Pictures.